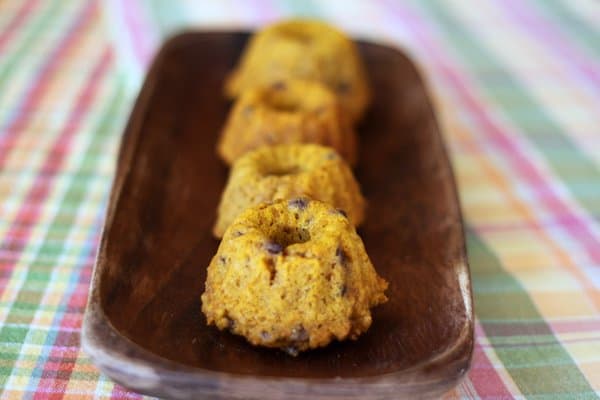 WELL, WE MAY HAVE A PICKY ONE. Usually a voracious little eater, every time I've tried to give 17-month-old George a bite of anything other than carbs lately, he chucks it across the room. Airborne. Veggies, cheese, certainly meat, all of it hits the floor moments after I set the offending food in front of him. (I know this never happens to you.) Bad manners aside, it's a waste of perfectly good food and at least a bit annoying to the housekeeper, who is ME. (I know you never feel this way.) Breathing deeply, and sweeping the floor for the 5th time on Friday, I made a new plan.
If we're going to have a bread, muffins and pasta-only phase, I'm going to do my best Jessica Seinfeld over here, stuffing every baked good full of as many good-for-you ingredients as possible. That's where these muffins come in. He's eating one right now, and paying strict attention that not a delicious crumb gets away from him. There's no cloth napkin laid across his chubby little lap but I'll take it as a sign of better things to come.
We made these when Phoebe had a friend over the other day. They fall into the "kids can help without driving you crazy" category because it's such a simple process: put everything in a bowl and stir. Estelle (two) was dumping in flour and oil, Phoebe (four) was cracking in eggs and Anna (also four) was a stirring machine. Baking time is also pretty short so the payoff of a freshly baked muffin comes in the amount of time it takes the little bakers to play Candy Land.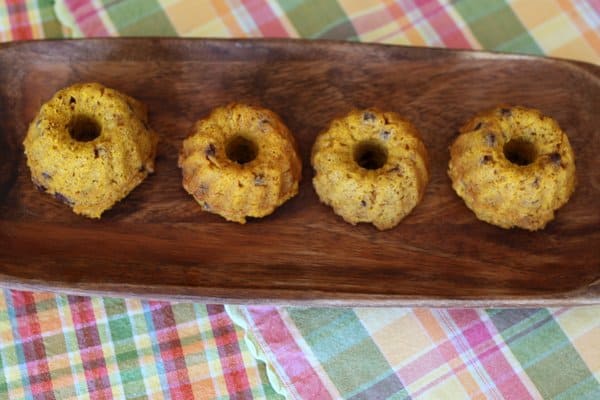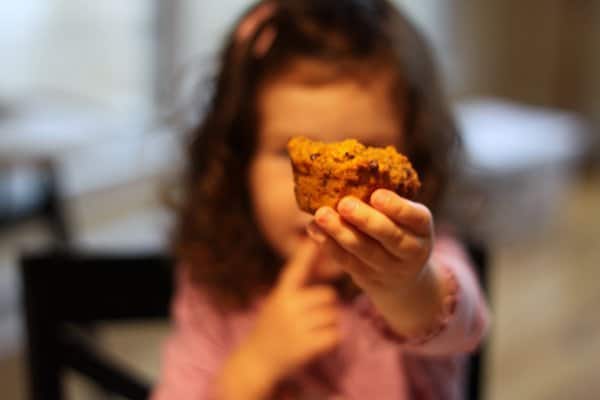 Pumpkin Bran Muffins with Chocolate Chips
Makes 24 muffins or 48 mini muffins
ingredients
2 1/2 cups fiber cereal
1 1/4 cups milk
1 15 oz. can pumpkin puree
2 eggs
1/3 cup canola oil
1 1/2 cup whole wheat flour
1 cup sugar
1 1/2 teaspoons baking soda
1/2 teaspoon salt
2 teaspoons cinnamon
1/2 cup mini chocolate chips
instructions
Heat oven to 400 degrees F. Prepare muffin pans with butter or liners.
Pour the cereal and milk into a large mixing bowl and let sit for 3-4 minutes. After the milk soaks in, add pumpkin, eggs and oil. Stir. Put a mesh strainer over the bowl and add flour, sugar, baking soda, salt and cinnamon. Stir until just mixed. Fold in chocolate chips. I love miniature chocolate chips (which we recently discovered at our American grocery store — they don't even have regular chocolate chips in Rome) because you can use a small amount but every bite is still likely to have a bit of chocolatey goodness.
Bake regular sized muffins for 15 minutes. Minis bake for 10-12 minutes, or until a toothpick comes out clean.
Like almost all baked goods, I like to store leftover muffins in the freezer using gallon sized freezer bags. Just put a couple on the counter when you hear the kids wake up/the crack of dawn and they'll be thawed in time for breakfast. (Bonus, you have plenty for those very tired, very rushed mornings when nothing else seems to be going well. But I'm sure that never happens to you.)