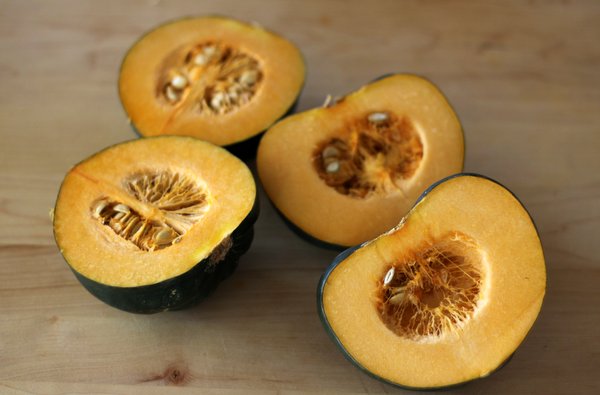 PHOEBE CALLED THIS "THE BEST IN THE WHOLE WIDE WORLD". She is also four and when two-year-old Estelle doesn't share stickers, markers or whatever the hot commodity of the day is, Phoebe declares the incident "the worst in the whole wide world". The whole wide world is mentioned a lot these days, so take the squash compliment with a grain of salt. But know that she ate her entire serving happily, making yummy noises and asked if we could have it again another time. So, we will.
Also please note that neither George (17 months) nor Estelle (2 1/2) would eat one bite.
Even though that's the family rule. Estelle actually preferred to not be eligible for dessert rather than taste a single forkful. But I'm not deterred. I'm not jazzed, but also not giving up. Experts say it can take 10 times before kids develop a taste for new food, and that's once they actually try some. Dinner is tough in our house at these ages. Estelle and George are kinda kaput about 5:30pm, which just happens to be dinner time. Neither ever eats a lot, unless it's roasted broccoli or cauliflower (I know), so I try not to let it throw me when the meal generic valtrex for cold sores ends up this way.
It's important to me to keep introducing new foods, new flavors and new ways to be healthy, so I'll keep on cooking. And cleaning it off the high chair. Ho, hum.
Now, I thought this squash was delicious. Paul thought it was delicious. And even though the two littlest rascals weren't takers, we'll try, try again. Here's how you can too.
Maple Roasted Acorn Squash
Adapted from The Pioneer Woman's Baked Acorn Squash
Cook's note: It takes a long time to cook so start this one during nap time.
Makes 4 adult servings (which could certainly be halved for small kids)
ingredients
2 medium acorn squashes
1 teaspoon kosher salt
2 tablespoons butter
4 tablespoons pure maple syrup
instructions
Preheat oven to 400.
Slice squash open and scoop out seeds. Score the flesh with a knife. Arrange on a sheet pan, cut side up. Sprinkle the inside of each squash with salt, then add half a tablespoon of butter, followed by a generous drizzle of syrup.
Fill pan with an inch or so of water, cover with foil and bake for 1 hour. Remove foil and bake for an additional 20-30 minutes.