I ONCE POSTED ABOUT ROASTED ACORN SQUASH and how my four-year-old declared it "the best in the whole wide world." Awesome yes, but at the time the other two rascals wouldn't even try it. Well I have good news. Not only do all of them devour squash now but they say things like this.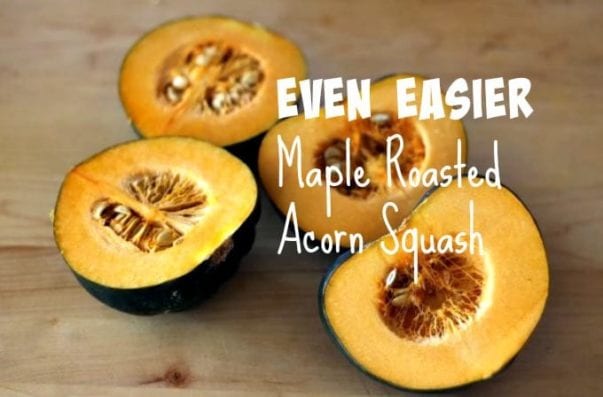 "I don't like squash. I LOVE it."
Then giggle like mad.
Here is our even easier method for making amazing roasted squash in half the time.
Print
even easier maple roasted acorn squash
These will be piping hot once they come out of the oven so allow about 10 minutes for them to cool before serving to the little guys.
Author:
Prep Time:

5 mins

Cook Time:

35 mins

Total Time:

40 mins

Yield:

4
Ingredients
2 small acorn squashes
2 teaspoons olive oil
1 teaspoon kosher salt
4 tablespoons pure maple syrup
Instructions
Preheat oven to 400 degrees F.
Slice squash in half and scoop out seeds with a spoon.
Pour about half a tablespoon of oil into each squash and rub into the flesh with your hands. Sprinkle on salt and set cut side down on a baking sheet lined with parchment.
Bake 30 minutes.
Flip over and fill each squash with 1 tablespoon of maple syrup. Cook an additional 5 minutes or until the entire thing is soft and squishy.