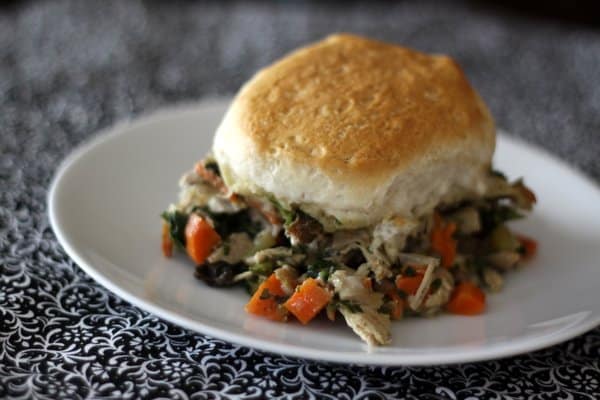 WHEN YOU HAVE A FRIDGE FULL OF TURKEY and a house full of guests, the best way to handle both is a big casserole of turkey pot pie, just like this one. It's a new riff on the Barefoot Contessa's chicken pot pie recipe we made over once (and still the number one recipe of all time on Foodlets), but it's simpler, almost healthier and of course you could make it with chicken too.
Because I have three children under the age of five (and the patience of my 18-month-old), speed is key in my kitchen. But so is nutrition, at least usually. To Ina Garten's original chicken pot pie recipe I added more carrots, mushrooms and spinach then removed a bit of butter and cream. The nutritional downfall was one of ease: I used a roll of pre-made biscuits from the butter aisle for the pie part. Yeah, the ones that pop! Knowing it would be a busy time with the grandparents visiting, I picked up a pack and never looked back. These are not good for you. But they're easy and yummy and on this occasion, the latter won.
I love cooking healthy food, usually from scratch and the benefits can't be beat (just consider this infographic by Mr. Michael Pollan) but I'm also just a person. Sometimes I'm tired, sometimes I'm rushed and I never feel bad about taking a shortcut here or there. The point of this whole blog, and my entire outlook on food, is that homemade is great. It's a lovely activity to do with kids, for kids. Creating happy memories and sensory memories that make them want these same types of healthy food as adults? That's the idea. If a couple of pre-fab biscuits make their way into the mix, so be it. At least they kids might remember mom being in a good mood at dinner that night, not a frazzled lady with flour all over her.
The thing I loved about this dish, other than the fact that we used the remaining turkey from Thanksgiving, was that it's the kind of thing you can throw something in for everyone. Mushrooms for Phoebe. Biscuits for Estelle and George actually liked the turkey, the first meat I've ever seen him eat willingly. The extra spinach and carrots? Those were just for me.
Of course this meal works just as well with chicken and you could roast a breast or two, buy a rotisserie chicken or even roast a turkey breast. The point is a hot, one-pot meal that's brimming with comfort and a bit of nutrition too. (Bonus points for anyone who makes your own biscuits. I salute you!)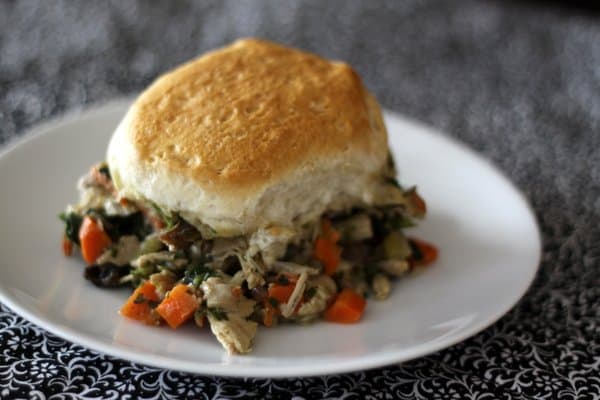 Super Simple Turkey (or Chicken) Pot Pie 
ingredients
2 tablespoons butter
1 tablespoon olive oil
2 onions diced
4 cloves garlic, minced
6 carrots diced
4 stalks celery diced
3 tablespoons flour
32 ounces chicken stock or broth
4 cups cooked turkey or chicken, cut into small pieces
1 cup frozen chopped spinach
1 teaspoon salt
1/4 teaspoon pepper
2 teaspoons fresh thyme
1 roll pre-made biscuits
instructions
Heat the oven to 350 degrees F.
In a Dutch oven or other large pan, cook onions and garlic in butter and olive oil until soft, about 5 minutes. Add carrots and celery and continue cooking about 5 more minutes. Add a pinch of salt while they cook. When the vegetables start to get soft on the edges, stir in the flour and cook for 1 minute. Then slowly add stock, stirring with each drizzle until all the liquid is in and bring to a boil. Once you see bubbles, turn off the heat. Add turkey, spinach, remaining salt, pepper and thyme. Pour into a large casserole dish. Pop open those biscuits and place each one over the top of the chicken mixture. Bake for about 20 minutes, until the biscuits become brown on top and cooked through.