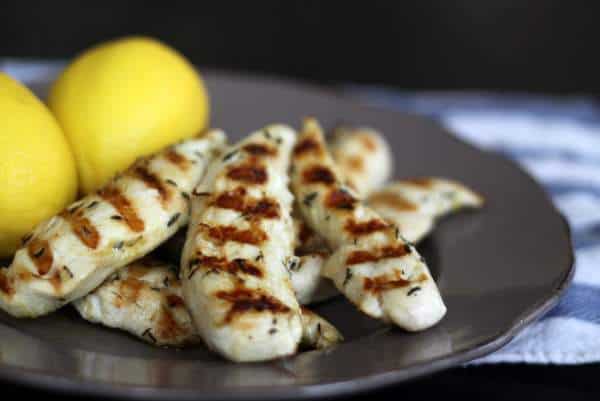 MOVE OVER CHICKEN NUGGETS. These lemony chicken strips are so juicy and full of flavor that your kids may never ask for the frozen stuff again. They also MAY put their shoes and coats on tomorrow without whining one bit (and if they do, please tell me exactly how that happened, okay? Thanks!) Well anyway, let's just see how these go at your house because I'll tell you what: my rascals love them.
I wrote about this recipe a couple of years ago when we were on vacation at the beach but I didn't include all of the specifics so this time there's a proper recipe below. The two most important things are: use the lemon zest and definitely marinate overnight. Also, if you have access to some hormone-free, free-range chicken, that's even better. We've got this great grocery store brand available at our local Food Lion now, Nature's Place, and whenever I see it on sale I stock up. (I don't have a relationship with them, just a fan.) So, that was the beginning of tonight's dinner. And the end? I'm eating it for lunch right now. Spinach greens plus grilled lemon chicken…mmm.
Lemon Chicken Strips
ingredients
2 lemons: juiced and zested
1/4 cup olive oil
1/4 teaspoon dried thyme
1/4 teaspoon salt
couple cracks of freshly ground pepper
1-1 1/2 pounds chicken breast strips (mine were already cut but you could certainly just cut up some chicken breasts or even thighs)
instructions
Combine everything into a zip-top back, including the chicken. Shake it a little, mash the ingredients around the chicken a little then put it into the fridge overnight.
Pull the chicken out of the fridge about 10 minutes before you're ready to cook. Use a skillet or grill pan set on high then place chicken in pan, working in 2 batches (ore more if needed). Cook on each side for about 3 minutes–but not more (they'll dry out). When all the chicken is done, I put it on a serving plate and cover with foil while I set the table, etc. This gets the juices redistributed and keeps it warm.
BUT, this is also an amazing dish to serve cold. Come spring picnic season, look this one up again!