YES I PUT BROCCOLI (AND SPINACH) IN THE MAC & CHEESE BUT HEAR ME OUT. When Estelle turned three she actually asked for this dish to be served for her birthday lunch with friends. Despite a pretty serious invasion of vegetables, this stuff is very tasty. Downright company-worthy. Especially when you're two going on three.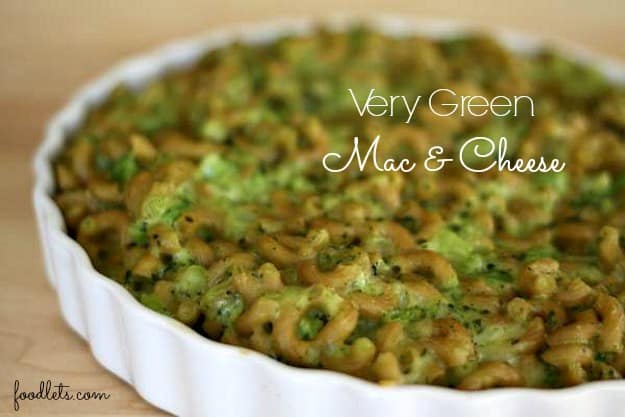 Getting a St. Patrick's Day color is simple: bust out the blender and add baby spinach plus blanched broccoli florets (or previously frozen florets that have thawed out) to the milk before adding to your pasta. This is similar to our macaroni & cheese with carrots, or macaroni & cheese with cauliflower. The point is, why not add another layer of flavor, color and nutrition to an already good thing?
If you have anyone who will object to broccoli in her pasta–the way Phoebe kept asking Why do you keep putting broccoli in the macaroni?–use a food processor to get the chunks very small. If you want to use the blender twice (you'll need it for the spinach), steam the broccoli in water using the microwave then blend. Pour the whole broccoli mixture into the pasta at the 3rd step below, instead of adding to the pasta water to cook.

Ingredients
2 cups whole wheat macaroni
2 cups pureed/chopped up broccoli
¼ cup whole milk
1 cup fresh spinach
2½ cups grated sharp cheddar cheese
¼ cup (1/2 stick) unsalted butter, cut into pieces
¾ cup sour cream
2 large eggs, beaten
1 teaspoon kosher salt
¼ teaspoon freshly ground black pepper
¼ cup finely grated parmesan cheese
Instructions
Preheat oven to 400°F and grease 8-inch square baking pan.
Cook macaroni according to package instructions in a large pot of salted boiling water; add chopped broccoli 3 minutes before pasta is finished cooking; drain well. Use a blender to combine milk and spinach.
While pasta is hot, stir in all but ½ cup of the cheddar, butter, sour cream, milk + spinach, eggs, salt, and pepper.
Scrape the mixture into the prepared pan. Sprinkle the remaining cheddar and the parmesan over the top. Bake until the casserole is firm to the touch and golden, green-ish brown, about 30 minutes.