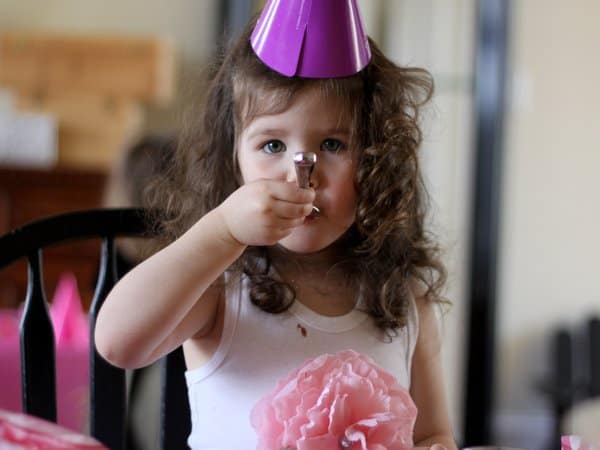 WHEN I ASKED ESTELLE WHAT SHE WANTED for her 3rd birthday, she said, "chocolate cake with chocolate frosting". Okay, then I explained that she could ask for presents too, like at Christmas time. "Oh!," she said. "And a chocolate bear." That's what she got in her stocking, apparently making quite an impression–more so than the giant vintage dollhouse complete with furnishings and a family? Yes, this is my child. A pint-sized chocoholic. So, chocolate it was. But this cake had no sugar, only maple syrup and to my surprise, a grown-up chocoholic, it was delicious.
When we invited four friends over for an after-school lunch, I planned to make the party more about fun, less about food. So we started with a little cup decorating activity. (Michael's, you outdid yourselves with this one.) That kept the kids busy while I got lunch served. Along the way I learned a few things.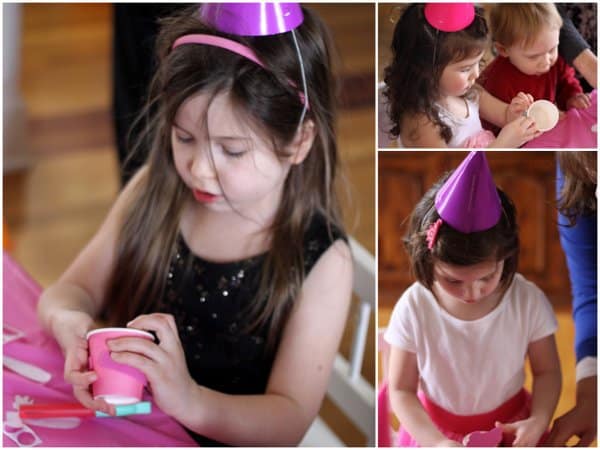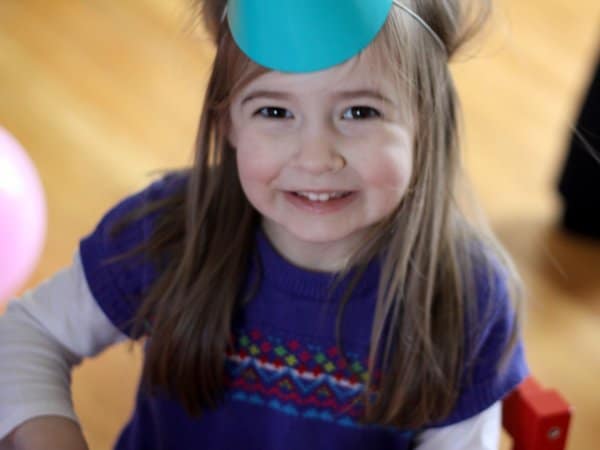 Lesson 1. Let Kids Help Themselves. I mentioned last week that we tried a new recipe, mini mac & cheese cups and they went over alright. The kids who tried them, ate them. But I should've done a better job of letting kids help themselves, just to boost the chances that they'd try something new. Noted for our next party. The fruit and veggies were totally simple and more successful, so again, noted.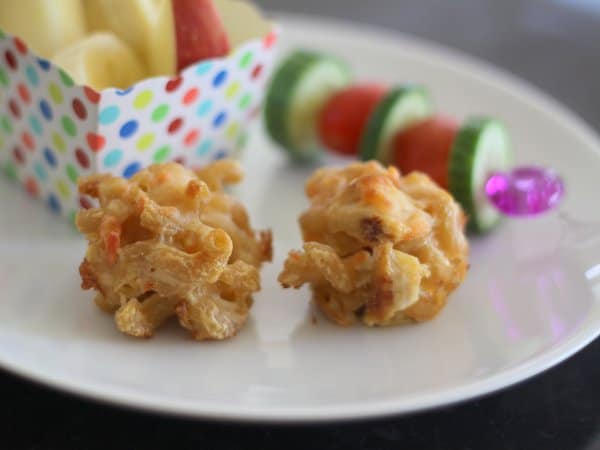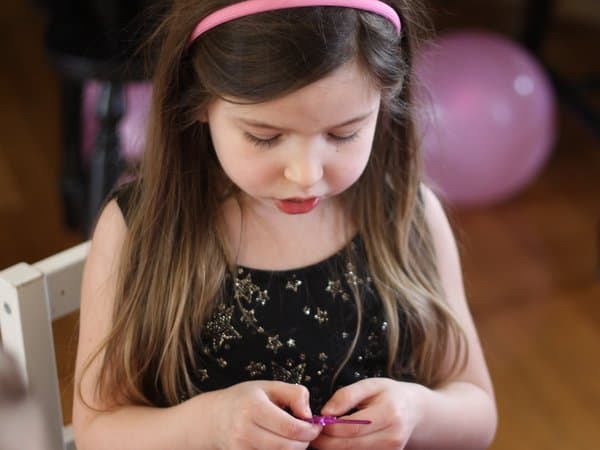 Lesson 2. You Need at Least One BIG Kid to Break a Pinata. When we moved on to the pinata, which had been hovering over the little table during lunch, everyone was thrilled. I filled it with little prizes like sunglasses, necklaces and notepads plus…chocolate. Everyone got a little bag to put their loot in and everyone had a few chances to whack the cupcake. In the end, I had to break it open. But I did feel good about having the wherewithal to explain to everyone ahead of time that there were plenty of prizes for everyone and we could arrange trades (plus I had a stash of extras) where needed. No fights, no tears. Phew.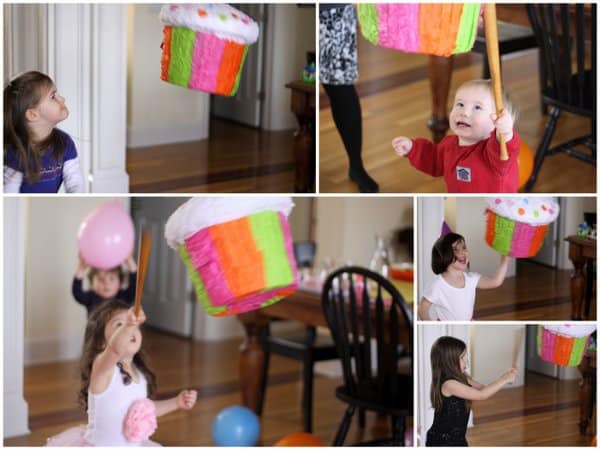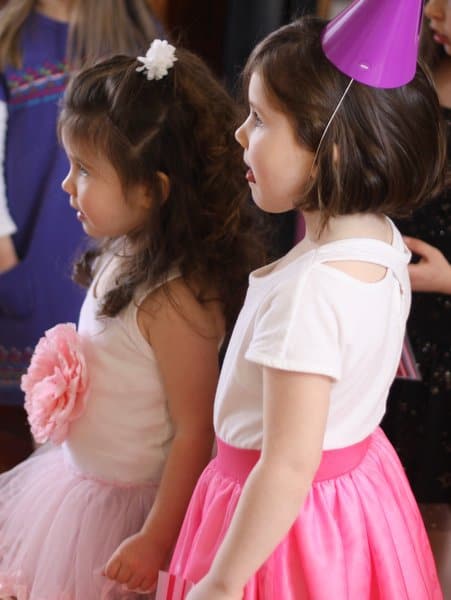 Lesson 3. Older Sisters Need Help Being Good Sports. Estelle's friends brought lovely presents–and now she totally understands this birthday set-up. THANK YOU to each partier and parent. Books! Dress up clothes! Games! Even Phoebe, who at age 4 1/2 had a very hard time with Estelle's first big girl birthday party, got a respite from her grief when a thoughtful mom brought her a little something to unwrap. (THANK YOU!) Isn't that one of those parenting moments when you're deeply wishing your little one could rise above? Here's to coaching her through a more generous day next year.

Lesson 4. Don't Bake at Night. In the end there was cake for everybody. Chocolate cake with chocolate frosting. Ice cream too. I like Breyer's, because I can pronounce all of their ingredients. For the cake, I made it myself…twice. The first time I forgot to add the butter that I'd set to the side to soften. I'll tell you this, it was better with the butter and here's how you can make it too.
Maple Syrup Sweetened Chocolate Cake
ingredients
3 cups flour (whole wheat, white or a blend)
2 teaspoons baking soda
1 teaspoon salt
2/3 cup cocoa powder (unsweetened)
1 cup butter, softened
1 1/4 cup maple syrup
1 1/2 cup milk
2 teaspoons vanilla
2 teaspoons vinegar
instructions
Preheat oven to 350 degrees. Grease two 8 or 9 inch round cake pans.
Combine flour, baking soda, salt and cocoa powder in a large bowl. Stir then create a little well to add the wet ingredients: butter, syrup, milk and vanilla. Stir then add vinegar just before stirring a final time.
Pour into prepared pans, splitting the batter between the two. Bake for 25 minutes, or until the center is set.
Low Sugar Chocolate Frosting
Combine: 8 ounces of softened cream cheese plus 1/2 cup softened butter plus 1/4 cup powdered sugar and 1/4 cup cocoa powder. Add 2 tablespoons milk, one at a time and stir until smooth.