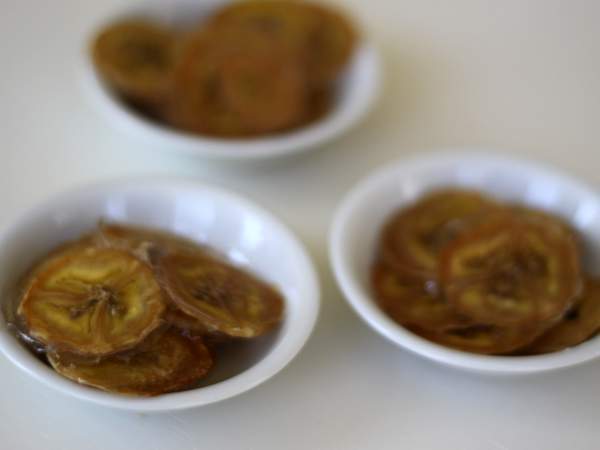 LIKE OUR FAVORITE BAKED APPLE CHIPS, this is one snack that smells amazing as it bakes. And it bakes for a long time. Two hours for chewy rings, 3 hours for crispy. But if you've got the time, these baked banana chips only require two ingredients and neither one is sugar. 
It's not that bananas are hard to eat as a snack themselves but they're pretty lame in a lunchbox because those one yellow skins bruise so easily. That's one benefit of these little slices, there's really no way to harm them. And also, they're delicious. All that banana flavor becomes concentrated, sweet and practically addictive. Which is fine by me. In terms of portion control, it takes only one banana to make a whole baking sheet worth of crisps, so I say, eat up little guys.
Baked Banana Chips
This super simple recipe uses a ratio: 1/2 a lemon for every banana. And one banana will fill a regular sized cookie sheet (and become about one snack for three small people), so shop accordingly.
ingredients
instructions
Preheat oven to 200 degrees F. Line cookie sheet with Silpat, other silicone liners or parchment paper. Slice bananas as thinly as possible. I used a simple paring knife. Squeeze lemon right onto your cutting board and use clean hands to toss them, flip them a bit, so each one is coated in lemon juice.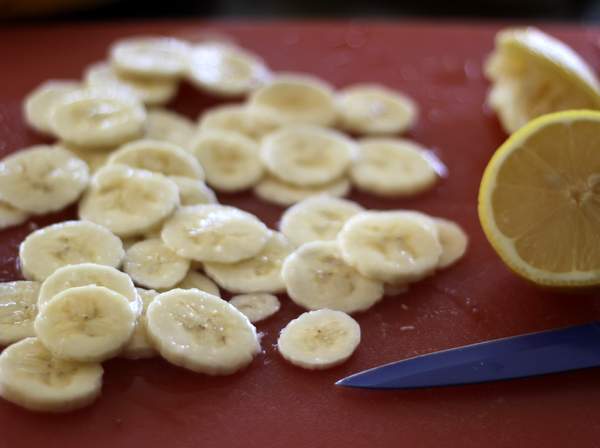 Line on a baking sheet in a single layer. For soft and chewy "chips", bake at 200 degrees F for 2 hours, making sure to use the center rack(s). (I did two pans at a time which worked out well.)  For crispier chips, bake at 200 degrees for 3 hours. The chips will become crispier after they cool.