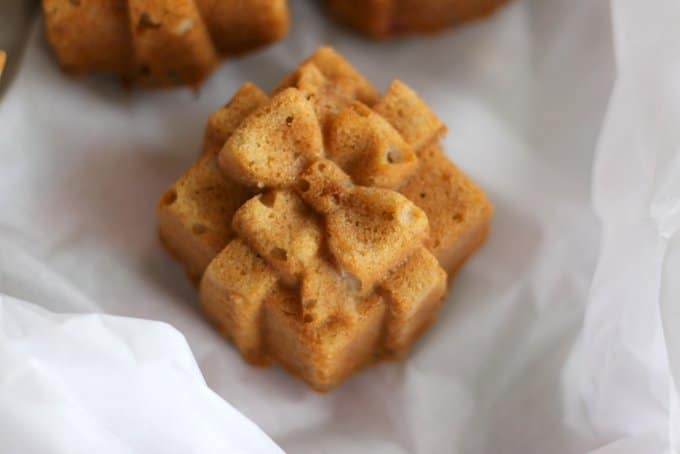 MOTHER'S DAY IS A TRICKY ONE. At least for me. I know the customary "gift" is something along the lines of breakfast in bed, but the only time I've eaten breakfast on a tray since becoming a mom has been inside a hospital, right after giving birth. Otherwise it's off to the races starting around dawn ever since. BUT, if I were to enlist the help of a husband, these are the muffins I'd ask him to have the kids make. And a cute new pan like this one from Nordic Ware wouldn't be a bad gift either.
I found the original recipe on Food 52 around Christmas time, and I used cranberries the first time. But raspberries or blueberries would also be wonderful this time of year, even dried cranberries are a definite yum. Back then we were making them as a holiday gift for our preschool teacher, and with Teacher Appreciation Day coming (May 6), that might work for you too. (Also, don't miss these little apple shaped cake pops. There's nothing healthy about 'em, but boy are they sweet!)
As usual, I cut sugar, added more good-for-you ingredients and used a gift-shaped "cakelette" pan from Nordic Ware. You could certainly pipe some icing along the edges, just for added prettiness but we sprinkled a little powdered sugar on top (after this photo was taken) and that did the trick for us.
Print
low-sugar muffins with berries & ricotta cheese (a Food 52 Makeover)
I always use a blend of whole wheat flour and organic all-purpose flour, and that's my recommendation for this recipe too. My gift-shaped pan makes 6 big muffins, using nearly all the batter from this recipe with a bit left over for a couple of muffins. If you don't want to dirty another pan, use ramekins to bake off the last bit. Alternatively, you should get 11-12 regular sized muffins from this recipe.
Ingredients
1 1/2 cup flour blend (whole wheat flour + all-purpose flour)
1/2 cup wheat germ or ground flaxseed
1 teaspoon baking powder
1/2 teaspoon baking soda
1/2 teaspoon cinnamon
1/4 teaspoon sea salt 8 ounces ricotta cheese
1/2 cup butter at room temperature
1/2 cup sugar
2 eggs
1/4 cup milk
1/2 teaspoon almond extract
1 teaspoon vanilla extract
1/2 cup berries (cranberries, raspberries, blackberries)
Instructions
Heat oven to 350F. Prepare muffin pans with butter on a paper towel. In a large bowl, mix together milk and extracts (the flavors will stick to the milk, then be better distributed throughout all the muffins).
Add cheese, butter, and sugar then beat until smooth. Add eggs one at a time, beating thoroughly after each one. Set a metal strainer over the top of your bowl and add the dry ingredients: flour, wheat germ or flaxseed, baking powder, baking soda, cinnamon, salt. Mix only until everything is almost incorporated then carefully fold in berries.
Fill muffin pan 3/4 to the top. and bake for about 20 minutes. If you want to sprinkle with powdered sugar, wait until the muffins are completely cool, about 45 minutes.