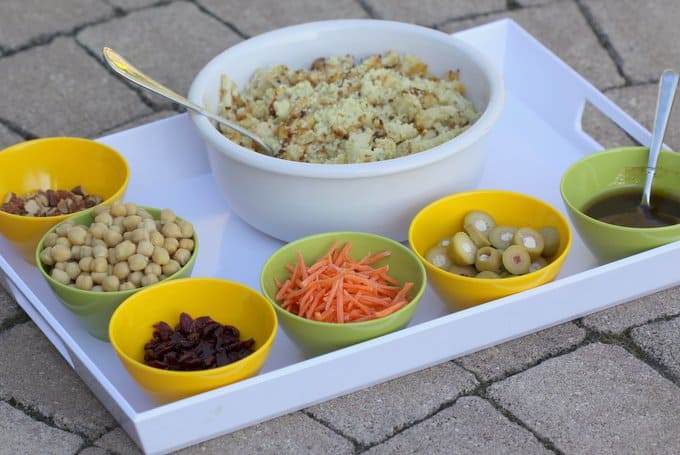 REMEMBER WHEN YOU USED TO EAT ETHNIC FOOD? If you haven't had a zesty international flavor from somewhere other than Taco Bell since before the kids were born, this one's for you. I actually love Moroccan food but wondered how all those unfamiliar spices and unexpected ingredients would go over with my three knee-highs. So we made a deconstructed dish…and enjoyed dinner. Here's how we did it.
We started with couscous, which is a mild little grain that minds its own business until you add any flavors you like. Since our kids love lemon, olive oil and cinnamon, that's what we did. Mix in a little salt and bam, a dressing everyone can enjoy. Or at least try.
Then it was all about the toppings. We did oven roasted cauliflower (a known and beloved favorite), chick peas (a new one that no one really liked), dried cranberries (heart-eyes all around), shredded carrots (thumbs down), feta-stuffed green olives ("more please!") and smoked almonds (thumbs up!). Everyone got to load up on whatever they wanted for their own bowls. Sure, this meant George diving in for doughy handfuls of cranberries, which I then tried to pry out of his fingers. You know, so that the rest of the family could get a berry or two but we made it work. The girls ate tons of nuts and olives then asked for a perilous amount of water just before bedtime. Again, we rolled with it.
I made a bold move and combined the cauliflower with the couscous, which didn't work out. Since they weren't wild about the couscous, they didn't get nearly as much cauliflower as they'd normally eat so here's my advice: make everything separate, let 'em ladle it all on and see who likes what.
Ask them questions like, "How does the couscous taste? Is it lemony? Tangy? Can you 'feel' the cinnamon?" (Which is how our four-year-old describes any flavor.) "Are the beans soft or crunchy?" I love the idea of getting their food vocab going beyond "yum" and "yuck". Building this little arsenal of experiences will help them be more open to trying new foods down the road and to thinking more about what they're eating, whether they like it and why. That's one of the main goals here anyway. Yes, I want them to eat healthy foods without a fuss, but I also want them to be little foodies. People who ENJOY meals, love cooking and sharing both with people they love. Even if it's just a handful of cranberries.