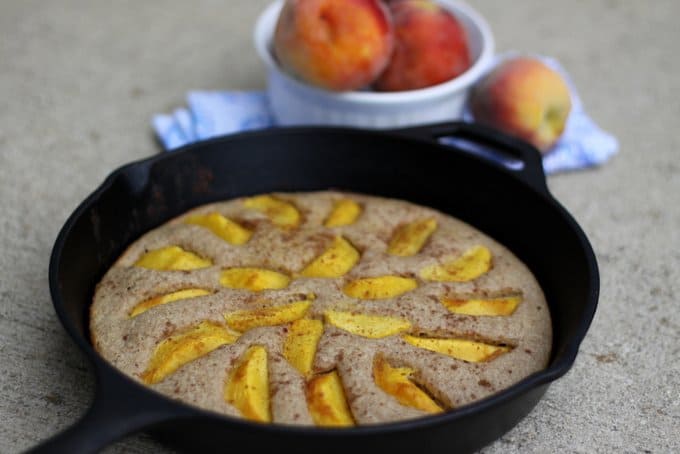 I LOVE MARTHA STEWART, I JUST DO. Always have and I'm sure I always will. A version of this delicious pancake appeared in a recent issue of her magazine and with a bushel of peaches awaiting their orders in our garage, I was inspired to make a big pancake of our own–and think back to happy memories.
The day I got the call from a recruiter asking about an opening in the digital division of MSLO I practically fell out of my ergonomic little office chair at HGTV. "It's like the Mother Ship is calling," a friend of mine said. (Yes the chairs at Martha Stewart.com were also ergonomic but they came in a sleek grey that went beautifully with the crisp white offices enclosed in all-glass walls. Were you expecting something else?)
Nerd/fan/delusional wannabe that I was, I'd actually been collecting issues of Living for years. Carefully arranged by year. In white magazine storage folders.
About a decade before I became the Vice President of MS.com, and during one of my many New York City moves always hoping to find a better apartment (At $2000 a month, there MUST be something nicer than this fourth-floor walk-up with a half-bathtub, right? Answer: No.), I'd roped a lawyer into helping me throw a few boxes into my U-Haul before setting off for a new one-bedroom on the Upper East Side. He glanced over at the periodicals section of my dimly lit living room eying the hundred or so back issues of Living, no doubt trying to estimate the weight involved and wondering what he'd gotten himself into. "Oh, are those all the issues you've written for?," he asked hopefully. At least that connection might have made the effort worth it. "Um, no. I just like the magazine," I mumbled, never having written a freelance article for any magazine anywhere. And off to the rent-a-truck they went. Along with my hopes and dreams.
But eventually I did get there. And ironically, didn't need even one issue to remember my days there. Because it was all online. Just like this very blog.
So these days–one marriage, four babies, one website & consultancy business launched plus four years in Italy later–I have to smile when I see a new issue in our mailbox. I wonder what fresh things I'll find this month, and how we can make them our own. Here's our latest.
Together with the kids, I ate this pancake outside on the patio this morning, each of us cutting off a wedge pizza-style and dipping it in a puddle of maple syrup. Smiles and sticky fingers all around.
Not a bad way to start the day and hopefully the stuff of happy memories to come.

Whole Wheat Baked Pancake with Fresh Peaches
Ingredients
3 tablespoons butter
1 large egg
¾ cup milk
1 teaspoon vanilla
3 tablespoons sugar
½ teaspoon cinnamon plus more for dusting on top
1 cup whole-wheat flour
1½ teaspoons baking powder
½ teaspoon salt
3 tablespoons ground flaxseed (optional)
2 ripe peaches, peeled and sliced
Instructions
Preheat oven to 375 degrees F. Place butter in a cast iron skillet and put in the oven; the butter will melt as the oven heats up. Pull out when the butter is melted but before it starts to turn brown. This will take a couple of minutes.
Meanwhile in a large mixing bowl, beat together the egg, milk, vanilla, sugar and cinnamon. When the butter is ready, pour it out into the bowl. Put the pan back in the oven and beat the bowl mixture again. Add dry ingredients--flour, baking powder, salt--and mix until JUST combined. Take hot pan out of oven and pour the batter in. Arrange peach slices on top and sprinkle with cinnamon.
Bake for 25 minutes and allow to cool for 5-10 minutes before serving.