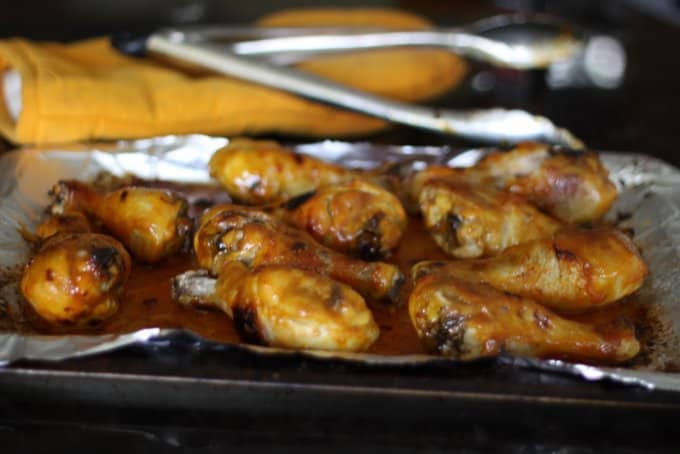 MY KIDS MAY LIVE IN THE SOUTH NOW, but they still aren't huge fans of chicken. Not fried chicken, not BBQ chicken, not chicken in general. Chicken just isn't nearly as big of a thing in Rome, where they were all born. Fast forward to our move to the States and these Euro-rascals, the ones who never met a mud puddle they didn't like (and by "like" I mean gleefully diving in while splashing everyone around them), wouldn't even hold a drumstick. "It's too messy," the girls said. "I need a fork." Little George (2) is less concerned about his dainty palms staying clean, but anything his big sisters swear off of is dead to him too. For heaven's sake.
That's when I found this sauce.
The original is from a Scholastic magazine, Parent & Child, which I'd never heard of before it started coming to my door. My husband is a mad magazine subscriber so we get everything. Oprah? Of course. Real Simple? Yes. But don't forget Birds & Blooms and my favorite, Southern Lady. They all have recipes and this one is actually great.
I found it in their grilling issue, a mandatory summer issue for most magazines, but as the two of you who read this blog recall, I hate grilling. So I made some changes, both to the sauce and the cooking method. It's got way less sugar than store-bought sauce plus it's totally fresh and guess what? Everyone ate a drumstick, or two.

oven baked barbecue chicken drumsticks
Ingredients
2 pounds chicken drumsticks (6-8)
1 teaspoon garlic powder
½ teaspoon smoked paprika
½ teaspoon salt
¼ teaspoon freshly ground pepper
2 tablespoons olive oil
⅓ cup mustard
⅓ cup honey
2 tablespoons ketchup
Instructions
Preheat oven to 425 degrees F.
Set drumsticks on a baking sheet in a single layer. In a small bowl combine garlic powder, paprika, salt and pepper. Sprinkle over the drumsticks and flip to coat all sides. In the same small bowl, combine the olive oil, mustard, honey and ketchup. Then smother the chicken, again flipping to reach every side.
Cook in the oven, flipping once and baking for 10 minutes on each side. Let sit for 5 minutes before serving.