GOT LEFTOVER CHICKEN? Looking for ways to make cooking dinner easier (an endless pursuit around here)? We grilled up half a batch of chicken earlier in the week and saved this part for another dinner tonight as part of our 2-in-1 Dinners series. We're cooking once, eating twice.
I always eat leftovers for lunch but otherwise my aim is to create something new for another meal down the road. That's why I love this one, peanut ginger stir-fry. Bonus: substitute ANYTHING in or out of this dish that your family likes. Carrots a no-go? Try broccoli. No one likes sugar snap peas? How about regular frozen peas? And if you don't have all the stir-fry sauce ingredients on hand, skip 'em. The whole point here is to make something simple, tasty and fresh–and to enjoy it together.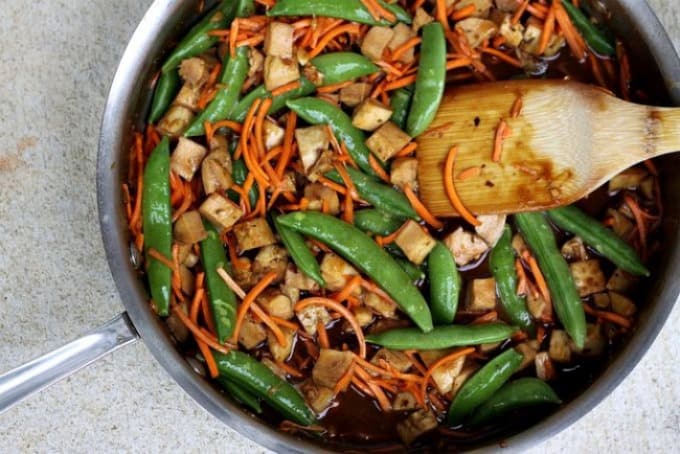 We put roasted peanuts on top, just for fun because nothing gets the kids invested like doing something "myself" and adding a handful of peanuts is as simple as it gets. Even this guy can handle that. (Plus, it's still warm enough to eat outside on most nights here, in North Carolina. Clean up = Mother Nature's job.)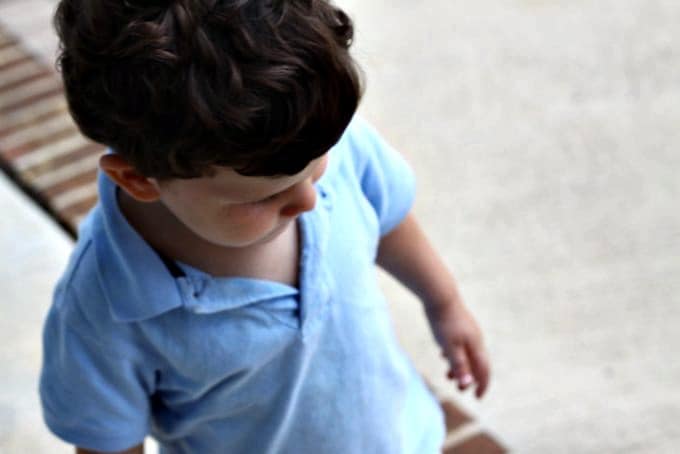 The crunch was also delightful but again, if you don't want peanuts, don't have peanuts or are allergic to peanuts, no problem. No peanuts. Make this one your own and let us know how it goes.
Grilled Chicken + Peanut Ginger Stir-Fry
Use what you have, use what you like. Make substitutions as needed. Matchstick carrots come pre-cut in handy bags at the grocery store. Look for them in the produce section for less than $2. We bought peas on sale this week; use whatever you like, can find and afford.
Ingredients
1 tablespoon oil
2 cloves garlic, finely minced
2 tablespoons fresh ginger, finely minced
⅓ cup low sodium soy sauce
1 teaspoon BBQ sauce
2 tablespoons smooth peanut butter
2 tablespoons honey
1 cup matchstick carrots
1 cup sugar snap peas (or frozen peas, or broccoli, or zucchini, or...)
¾ pound cooked chicken breasts or thighs, cut into bite-size pieces
2-3 cups cooked rice (depending on how much rice you like to eat as a family)
½ cup whole or chopped peanuts, optional
Instructions
In a large skillet, pour oil and cook garlic plus ginger for about 2 minutes on medium-low heat. Add soy sauce, BBQ sauce, peanut butter and honey. Taste it and add salt and/or pepper plus a little more of either sauces as you like. Bring to a quick boil, add ½ cup water and stir.
Add vegetables plus chicken, bring to a simmer again and turn off heat. The veggies will continue cooking in the hot liquid so get the rice ready on plates and serve as quickly as possible. Top with whole or chopped peanuts.
Now for the 2-in-1 Dinner part. Make your chicken and use half now, then save the other half for our Creamy Lemon Chicken with Pasta later in the week. Your work is already halfway done.