MAKING DINNER EVERY NIGHT ISN'T EASY. This, we know. One of my favorite new techniques for getting food on the table is actually cooking less. Yep.  By cooking one base I can make at least two meals. We've done it with ground beef, rice and tomatoes in Stuffed Red Peppers, which later became the base for our Italian Summer Casserole with Zucchini. Beef Tacos were later transformed into Tex-Mex Rice with Beans. This time, it's all about grilled chicken.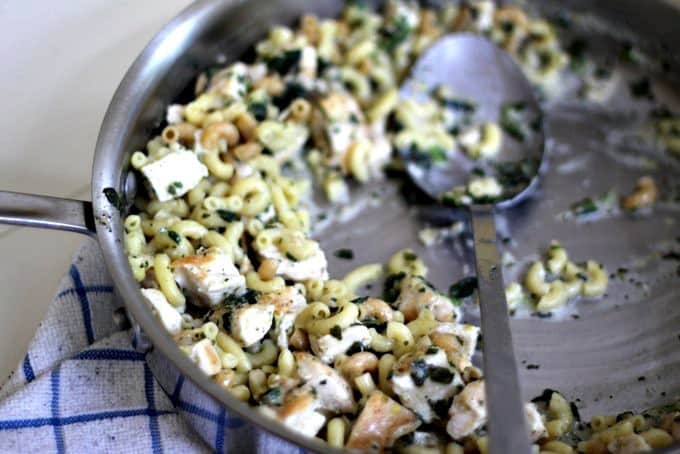 First up is this creamy lemony pasta with tiny flakes of spinach and big juicy chunks of chicken. A one-pot meal if you like, or you could serve a big bowl of crunchy carrots and dipping sauces, which is how we did it. Our kids love lemon and they'll devour lemon chicken strips any day of the week so I knew these flavors would be a hit. Lemon is one of our "gateway" flavors. Any time I put it on anything, they're game. Others are cinnamon and parmesan cheese, but you know, not together.
The recipe is easy and has a few good things going for it:
By only using half a package of chicken, you're eating less meat (but still plenty of protein, don't worry)
By only using half a package of pasta, you're eating less carbs (but still PLENTY, don't worry)
By cooking all the chicken today, you have half of another tasty dinner already done, one with a totally different flavor
Don't think you'll get to another chicken dinner this week? Throw those breasts into the freezer and pull them out when you need a shortcut later on.

Creamy Lemon Chicken Pasta
Ingredients
½ pound (1/2 box) of any short pasta noodles, preferably some whole-wheat version
2 tablespoons Kosher salt (for the pasta water)
1½ pounds chicken breasts (mine were thin, boneless and skinless but even thighs would work)
2 tablespoons olive oil
½ teaspoon salt
¼ teaspoon fresh pepper
zest and juice of 2 lemons
2 tablespoons butter
2 tablespoons flour
½ cup milk
¾-1 cup chopped spinach (we use frozen, but fresh would work as would any other veggie)
parmesan cheese for garnish
salt & pepper to taste
Instructions
Put a large pot of water on to boil, add salt then once it's boiling add pasta. Cook according to instructions MINUS 2 minutes. Drain.
Meanwhile, sprinkle chicken with salt and pepper then add oil to a large saute pan. Cook on each side about 4 minutes. Pour chicken and juices out of pan, onto a plate. Turn burner off. (Store half the chicken for another dinner, dice the chicken you plan to use now.)
In the same pan, zest the lemon then squeeze the juice of both lemons. Add butter and flour and turn heat back on. Cook on medium heat for about 1 minute, stirring constantly, then add milk. It'll be all crumbly and weird initially but keep stirring and it'll come together.
Add chopped chicken, spinach and pasta to pan and stir until creamy. Season with salt and pepper and top with parmesan cheese.
Now just save half that chicken for another dinner later in the week: 
Peanut Ginger Stir-Fry
.
Cook once, eat twice
!