THIS WEEK I PREPPED 5 KID-FRIENDLY DINNERS IN 1 HOUR. It's the first time I've tackled something so organized. What I learned from the whole crazy process is a whole other post, but this recipe for a meatless make-ahead dinner was one of them and it's an unexpected keeper.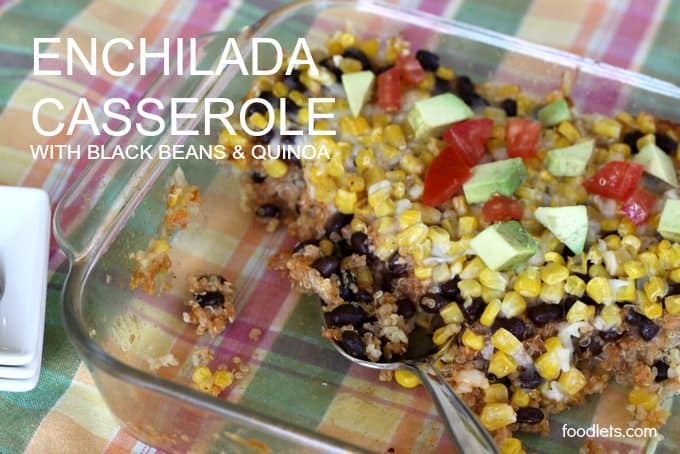 Filed under It's Always Gotta Be Something, my kindergartener actually hates beans. So I came up with a backstory.
It involved a pirate named Black Beard, whose beloved beans we would be eating tomorrow night so everyone needed to keep it on the QT. "Shhh!" the kids went around whispering to each other. We certainly didn't want any pirates showing up and demanding their delicious beans back. They're just that good.
Silly. But so successful.
All three kids ate theirs happily. For toppings, everyone got to pick avocados or tomatoes, both or none. If you have a husband or a hot streak of your own, serve jalapenos or hot sauce on the side.
Just be on the lookout for stray parrots. I'm told those are the first sign of trouble.
Adapted from Damn Delicious
Enchilada Casserole with Quinoa & Black Beans
This recipe is full of flavor but not spicy. It's the most basic form of enchilada flavor, designed for kids. If you want more heat, add green chiles, chili powder, cilantro as you like.
Ingredients
1 cup uncooked quinoa
1 (10-ounce) can mild enchilada sauce
1 can (1 cup) black beans, drained and rinsed
½ teaspoon cumin
Kosher salt and freshly ground black pepper, to taste
¾ cup shredded cheddar cheese (reserve ¼ cup)
¾ cup shredded mozzarella cheese
¾ cup corn frozen corn
1 avocado, halved, seeded, peeled and diced
1 tomato, diced
Instructions
Prepare quiona. Add 2 cups water and salt and bring to a boil. Cover, reduce heat to medium low and simmer until water is absorbed, 15 to 20 minutes. Set aside off the heat for 5 minutes; uncover and fluff with a fork.
Meanwhile preheat your oven to 375 degrees--if you are cooking right away. Otherwise, skip this step.
Grease a 8x8 casserole pan.
Rinse and drain the beans. Grate your cheese and cut up the tomato and avocado.
In a large bowl, combine the beans, cheese, sauce and seasonings.
Once the quiona is ready, spread a thick layer on the bottom of your casserole pan. Add the bean mixture. Then the rest of the quiona. Sprinkle the corn on top then the remaining cheese.
Either cover and chill (or freeze) at this point, or cook for 25 minutes until the cheese is gold and bubbly.
Serve with fresh avocado and tomatoes.