GETTING KIDS TO EAT MORE VEGGIES IS NOT EASY. We have four small kids. One of them is a baby and at that magical stage where she opens her mouth like a little bird as I drop in spoonfuls of veggies. It's so satisfying. I give her food, she eats it.
But the other three? They have opinions. The opinions of people who have never once made a meal themselves, nor read articles about how kids are supposed to eat 5 servings of fruits and vegetables every day–and almost none do.
I know the same thing will happen with baby Violet too, and hopefully these strategies will help.
Sometimes I forget that's what food is for: to help your body function. (Not just another thing to feel bad about doing at a sub-Pinterest level.) Sometimes that requires a little handiwork.
Here's what I do.
1. Talk it Up Earlier. Don't wait for dinnertime to spring a veggie on the kids, especially a new one. I start telling the little guys about new foods when I pick them up from school. They're a captive audience, literally strapped in place, and I can use a voice my Once Upon a Time voice, "We're going to try something really good tonight and I'm cooking it in a new way. Beets! We're roasting them in the oven and then I'll peel the skins off but guess what… My fingers might turn RED!" The idea of mommy's hands turning color is hilarious to my small kids. Choose your story according to your kids' ages and interests but be jazzed about it. This is not the time for cool.
2. Give them One Bite. Growing up in the "clean your plate" era that I did, I've done this wrong many times. Heaping a pile of unfamiliar food on a kid's plates then getting frustrated when they didn't eat much wasn't helpful. But think of how they feel. One of my husband's favorite stories is about being in China when someone proudly placed full plate of duck tongues in front of him. "It's a delicacy!" his host announced. Your duck tongue might be a kid's asparagus. Wouldn't you prefer one tongue at a time?
3. Make it Cute. I also have a bunch of small, cute dishes that I use when I want to spruce up the offering. Tiny tasting plates from Pier One, square soy sauce bowls from World Market, even egg cups from Target or skewers from Walmart are all inexpensive ways to make eating new foods feel special.
4. Encourage Kids to Express Themselves. When I read "It's Not About the Broccoli" by Dina Rose, Ph.D, I learned something brilliant: the Thumbs Up system. Now our kids don't have to say "yuck!" or "I don't like it". They each get a turn to do a Thumbs Up, Thumbs Middle or Thumbs Down. I ask them follow up questions sometimes, but this way it's a conversation, not a fight or a power game.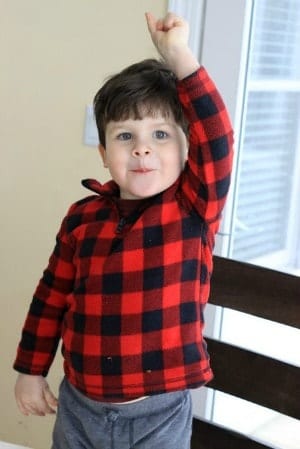 5. Sticker System. My kids will do just about anything for a sticker chart. Write down a few vegetables to try this month and put boxes next to them. Give the kids a sticker for each one they successfully try ONE BITE of and decide whether there will be a prize for completing the chart. Ground rules are key: if you expect them to eat a bite without hemming and hawing, begging or pleading, make sure that's clear up front. Do a practice bite with a food they already like, even ice cream works. You're trying to create a new habit so don't worry so much about quantity or quality. That'll come!
6. Spin-Offs. Some kids just like what they like. If you want to expand their horizons, and I don't blame you because it'll likely expand yours too, try their favorite veggies in new ways. But go slow. For example, tell them you're having carrots this week. Three ways. The first time it'll be their favorite way. The second time will be something different and the third might be a new idea for everyone. Employ the methods above: Talk about it first, dish out one bite and ask about their thumbs.
7. Blend the Veggies In. Other times it's best to go in undetected. Whether you mention the veggies to your kids or not, adding inconspicuous amounts of good-for-you ingredients is easy. Carrot & apple mini muffins, broccoli mac & cheese and tropical green smoothies, (all below) these are all tasty ways to work in veggies.

8. Mix & Match Contest. Sometimes I'll cut up 2-3 veggies and serve 2-3 "dips" (these can be straight up salad dressings, hummus, or one of my favorites: Greek yogurt mixed with some store-bought salad dressing to add flavor to a protein-packed base.) I serve it all on a cutting board and let them dip everything in each dip, telling each other which ones are good, which are weird, which are the best… Last time my kindergartener kept counting all the remaining veggies to keep track. A little math bonus.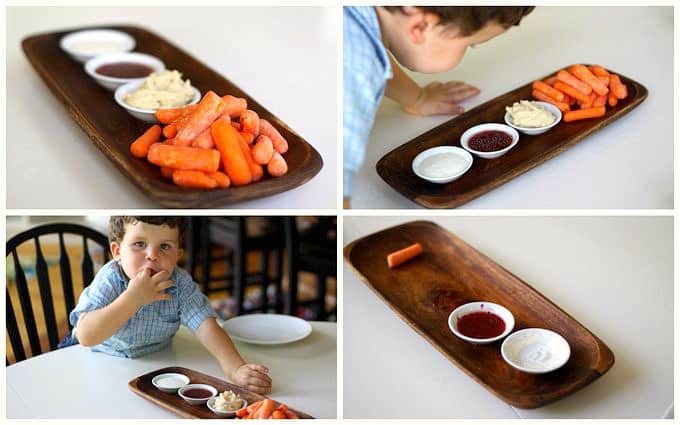 9. Dip It. Speaking of dips, I recently spoke with the manager of the big co-op in my town where they prepare hundreds of fresh take-and-go meals every day using gorgeous locally sourced ingredients. This is a woman who cooks healthy food for a living and do you know the rule is for her preschooler at home? He can put anything he likes on his food: salsa, ketchup, mustard. Accessorize as you like, she says. You just can't add something like say, a banana, which would basically be a different meal. Personalizing the flavor is something adults do all the time. The kids are still eating the vegetables; one doesn't "cross out" the other.
10. Roast Them. When it comes to recipes, the fastest, easiest and most universally accepted way to cook vegetables in our house is with olive oil, salt and into a hot oven. Roasting vegetables brings out a little crispiness on the edges and a sweeter flavor than steaming. Bonus: it works for everything, carrots, broccoli, cauliflower, sweet potatoes, and more.

This post is part of a spe­cial March #Love­Healthy Veg­gie Cam­paign fea­tur­ing fresh ideas, tips and recipes from the fol­low­ing bloggers:
All month long, we'll be shar­ing inspi­ra­tion and resources to help get your whole fam­ily eat­ing and enjoy­ing veg­eta­bles. Plus, we'll be offer­ing some amaz­ing prod­uct give­aways. So don't miss out! "Like" our #Love­Healthy Face­book page for your daily inspi­ra­tion and chances to win. Fol­low our Veg­gie Love Pin­ter­est Board, which is loaded with fun ideas and recipes.