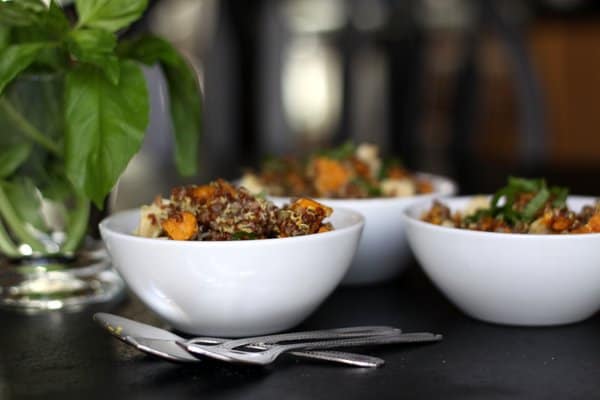 WE'RE PASTA PEOPLE, and I'll bet any family with small kids will say the same. But when it comes to other fluffy fillers, rice is always an easy sell around here. Barley is not. Millet has a so-so track record (good in muffins, not great as a dish). And that pretty much exhausts the options that were available to us in Rome, even with a health food store around the corner. But now that we're back in the US and the shopping options have opened up–picture Moses and a certain Red Sea–I'm diving right in.
Armed with a bag of organic red quinoa from one of two Trader Joe's in our area I made this meal with the whole family in mind, including a preschooler, a toddler, a baby and a husband who just wants to eat something good. My expectations were low (more on this in a minute) but it turned out to be a hit. Sort of.
First I roasted the sweet potatoes and chicken. You could put everything on one big baking sheet but I separated them because I needed a whole sheet to make extra sweet potatoes that I pureed and froze for Baby George. Either way, slather both with olive oil and if you aren't serving babies, add salt and pepper to the sweet potatoes (If you are, just season after they're cooked, as the food hits the plates.)  Since I was, I only put S&P on the chicken. Into a hot oven they both go, 400 degrees for about 35 minutes, flipping the sweet potatoes once along the way.
Separately, I put together a little mustard vinaigrette. In my experience, whole grains can be a little dry and need a big dose of flavor if you want to pull it off. Serving something "new" isn't always easy and something "healthy" certainly doesn't help. In my experience.
Now, here's where the low expectations came in. I'm not a big fan of "feedback" in the way of frowns or small faces refusing to even try something that took me an hour to make, so I try to set the stage for things like this.
First, I might try a cute little bowl. Right now I'm talking about the girls, so anything that feels fancy or festive is a step forward. These are just dipping bowls from Pier 1, bought for $1.95 about seven years ago. They're sturdy, heat-resistant, dishwasher safe and best of all, make them feel like something special is going on.
We also have a one-bite rule. Everyone tries one bite of everything. If you don't like it, don't bother yourself with even another mouthful. But if  you do, by all means… If you can't try a bite, you are not eligible for dessert. Mine are really little (3 1/2 and almost 2) so I can get away with sliced bananas for dessert, but this week we also had these.
I like meals like this one, which are a combination of several things, because I can load up each bowl with things each person likes. Chicken, hit. Sweet potatoes, miss. Quinoa, hit. I did not put fresh basil on the girls' portions but I did drizzle everyone's with extra virgin olive oil because our whole group always loves it. Play to your strengths, I say. And on that note, I'm a big fan of ADDING things instead of taking away. So I let them sprinkle a few tart dried cranberries or almond slices on top. Again, both good and good for you and if it sweetens the deal, literally in the case of the cranberries, fine by me.
So, George got his sweet potato puree. Phoebe and Estelle tried quinoa, nibbled a lonely cube of sweet potato each, then doubled up on diced chicken. Paul, to his surprise, actually liked it a lot. A heartier-than-you-think meal, one that's packed with protein, vitamin C and tasty too.
PS. I just got a ton of food molds, sandwich cutters and muffin tins that are so cute that I can hardly stand it. Stay tuned because meals like this might just get a whole lot sweeter very soon.
ROASTED CHICKEN BREAST AND SWEET POTATOES WITH QUINOA
ingredients
2 chicken breasts split (bone-in, skin off or on, either one works)
2 sweet potatoes, peeled and cut in large dice
1 package quinoa (about 1 cup)
2-4 tablespoons fresh basil
1/4 large red onion, diced VERY small
salt & pepper
1/2 cup olive oil, to use in 3 places
3 tablespoons mustard
1 tablespoon apple cider vinegar
optional: handful of dried cranberries or raisins
optional: handful of toasted almonds
instructions
Preheat oven to 400. Coat chicken with olive oil then sprinkle both sides with salt and pepper. Do the same for the sweet potatoes. Put them on one large baking sheet or two medium size sheets. Bake for 35 minutes, until chicken is golden on outside and juices run clear. Flip potatoes halfway through; they're done when the edges look brown and the inside is soft. When the chicken is cooked, let it sit for another 5 minutes before cutting into bite-size pieces (whatever that is for your brood.)
While the chicken and s. potatoes are in the oven, prepare the quinoa. Mine was a package from Trader Joe's with specific instructions (boil water, add quinoa, cook for a few minutes…)  If yours is in bulk or without cooking suggestions, try these instructions for preparing quinoa.
Then make the mustard sauce. It's mostly mustard and the main job is to add flavor. If your family doesn't like mustard definitely don't add it. But do put in some flavor element that's usually a hit; for example, if your crew enjoys curry, that would be a delicious way to go (use coconut milk and curry powder). I use a 2-cup glass measuring cup with a spout so I can pour it out easily. Into the cup, mix mustard, 2 tablespoons extra virgin olive oil, vinegar, diced onion, 1/2 teaspoon salt and 1/4 teaspoon freshly ground pepper.
Put everything together into a big serving bowl: sweet potatoes, chicken, quinoa, mustard sauce. Mix gently and top with any combination of fresh basil, cranberries, toasted almond slivers, olive oil and salt and pepper.