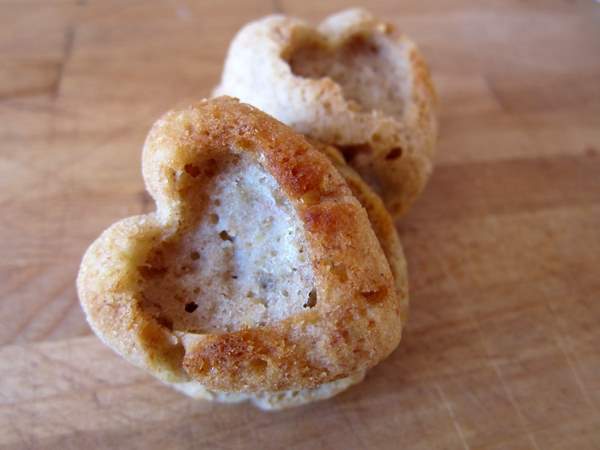 YES, MILLET. THIS GOOD-FOR-YOU GRAIN is not only a source of protein but also heart-healthy magnesium and niacin. Plus it and adds a mega-dose of fiber to unsuspecting muffins like these. A regular food source in Ethiopia, it's uncommon in the US (except for bird seed!) and usually found in health food stores. We love millet in these banana muffins because the tiny beads add the slightest bit of crunch to every tasty bite.
The batter includes quite a few ingredients but falls into the can't-mess-it-up category. This makes life easy (and yummy) when you have little helpers in the kitchen. When Phoebe saw these heart-shaped muffins come out of the oven she was psyched. They're hearts AND slightly larger than the mini-muffins we usually make, so a double win. "These are the biggest muffins I've seen, EVER!" Now making a regular appearance at a certain miniature white table for breakfast and snack time…
BANANA MUFFINS WITH MILLET
ingredients
3 bananas, mashed
1/2 cup applesauce
1/4 cup sugar
1 teaspoon vanilla
1 cup Greek yogurt
1 egg, lightly beaten
1/2 cup canola oil
1/2 cup honey
2 1/4 cup wheat flour plus more for pan
1 teaspoon salt
1 teaspoon baking soda
1 teaspoon baking powder
1 teaspoon cinnamon
1/4 teaspoon nutmeg
1/4 cup millet
butter or cooking spray for pan
instructions
Preheat oven to 400. Prepare baking pan or muffin cups with butter and a light sprinkle of flour.
Combine wet ingredients: mashed bananas through honey. Mix thoroughly. Using a sifter placed over the bowl, combine the dry ingredients except the millet. Sift through, add the millet and stir until just incorporated.
Use an ice cream scoop or 1/4 cup measuring cup to spoon batter into regular size muffin cups.
Bake for 15 minutes or until a toothpick comes out clean.
MORE BREAKFAST IDEAS WORTH TRYING: