WE'VE MADE A LOT OF THINGS LIKE THESE. Homemade Lara Bars, DIY Kind Bars, Oat & Chocolate Balls and more…but these are the easiest. And the least expensive. They're also the lowest in sugar, without any sweetener at all.
One more thing. They're the yummiest too.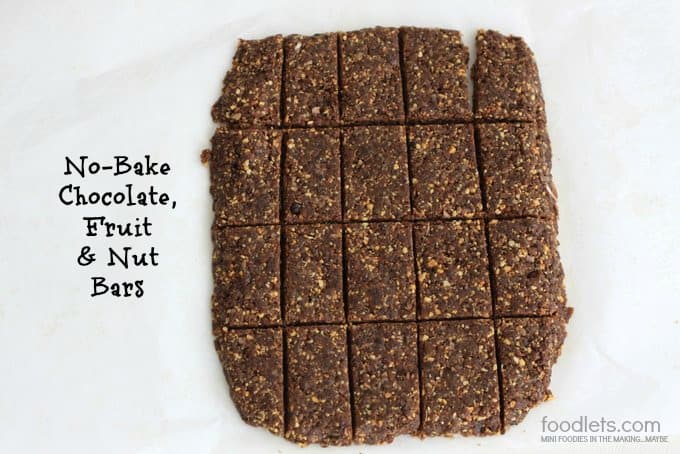 The formula for these healthy no-bake bars is simple:
2 cups dried fruit (we used dates + raisins)
1/4 cup nut butter (we used peanut butter)
3/4 cup nuts (we used unsalted peanuts)
We also added:
1/4 cup shredded coconut
2 tablespoons unsweetened cocoa powder
Next time we'll try one of these too:
chia seeds
dried cranberries or cherries left whole
diced dried apples or apricots
You just grind everything with a food processor and squish it into shape on parchment paper. Tip: use the bottom of a measuring cup to make it level.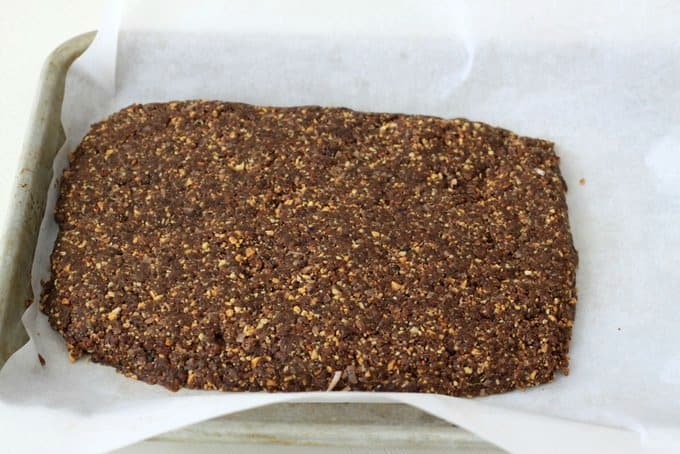 Cover (I used the parchment paper with a piece of tape, then set a cube of butter on top to hold it in place) and chill for 30 minutes.
Remove from the fridge.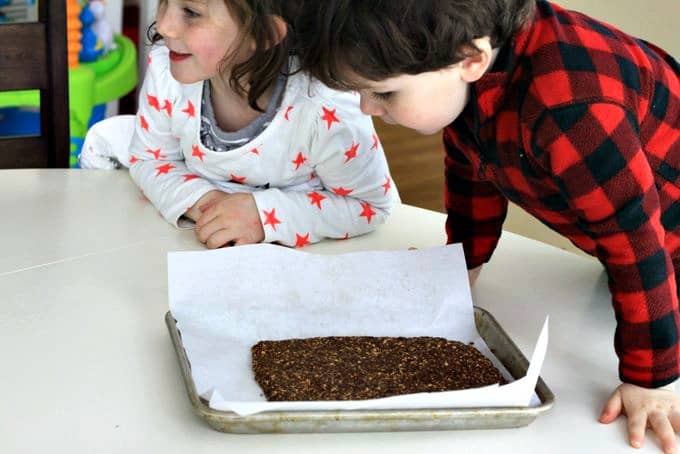 Assemble your helpers, rabid snackers, whoever happens to be around.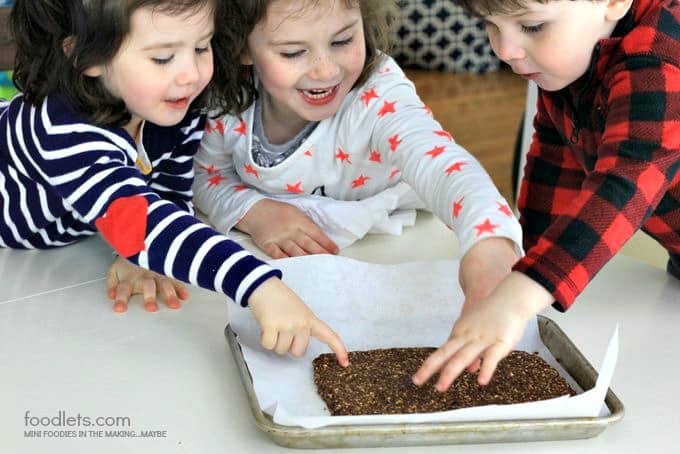 Think you'll scare everyone with the big knife but realize they don't care.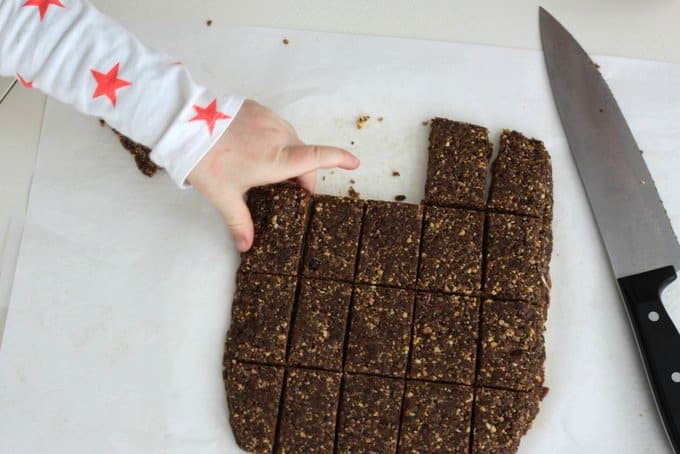 Get the review.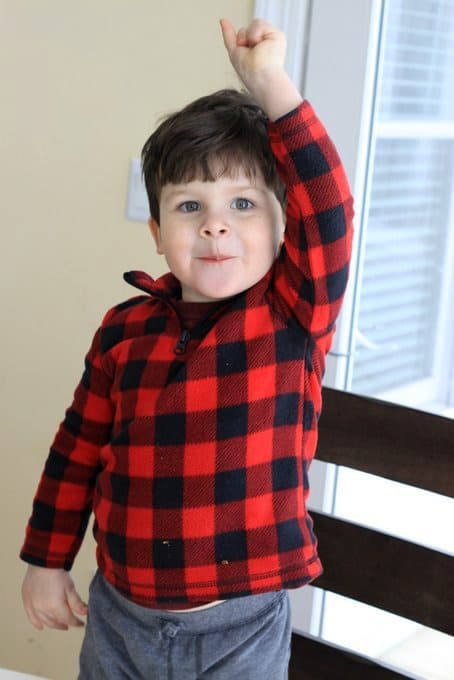 Put what's left in the freezer.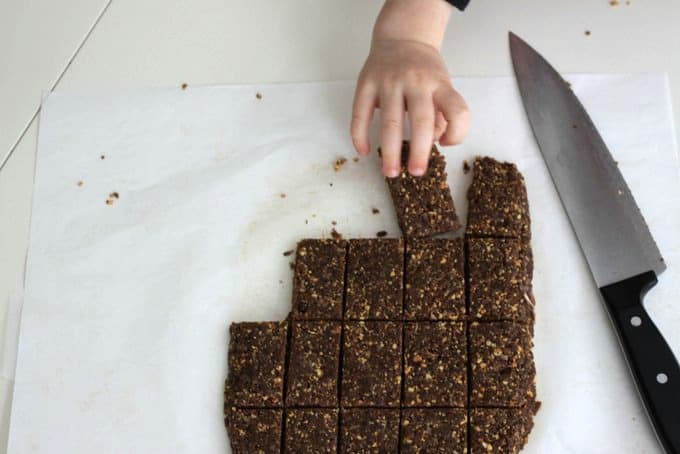 Fold up the parchment, then put everything in a large zip-top bag. I used a Post-It to label this so I can reuse the bag easily.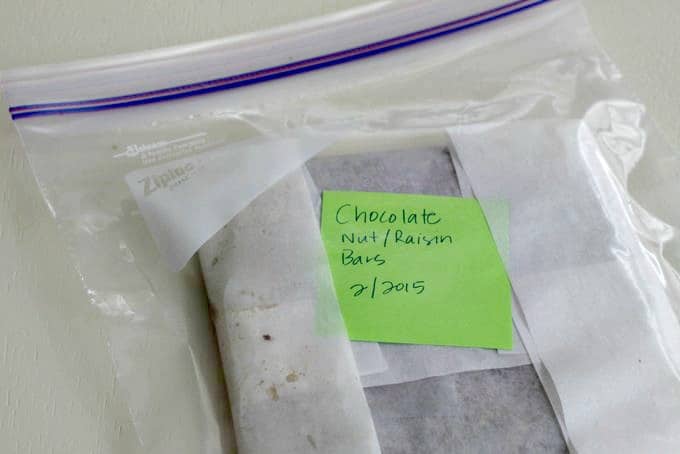 Print
No-Bake Chocolate, Fruit & Nut Bars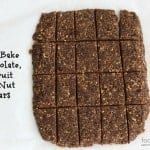 You can use any combination of fruit and nuts but we used these inexpensive (and beloved) versions below.
Ingredients
1 cup raisins
1 cup pitted dates
1/4 cup natural peanut butter (the kind with only peanuts and salt as ingredients)
3/4 cup unsalted peanuts
1/4 cup shredded coconut
2 tablespoons unsweetened cocoa powder
Instructions
Prepare a baking sheet with parchment paper so there's enough extending over the edges to make it easy to lift the whole thing out later on.
Put all ingredients into a food processor and pulse until it comes together. Ours was chunky but slightly sticky.
Make a rectangle about 8×9 inches and 1-2 inches thick. Use the bottom of a measuring cup to press the "dough" down.
Wrap it up and refrigerate for 30 minutes.
Remove from fridge and slice into bars.
Store in the fridge in an air-tight container or freeze, wrapped in the parchment and inside a zip-top bag.