WANT A MAKE-AHEAD BREAKFAST packed with nutrition? These super simple banana oat cups come together using just a few ingredients–and none of them is sugar.
They're sweetened with pure honey instead of sugar, which is a habit we've been working on for a while.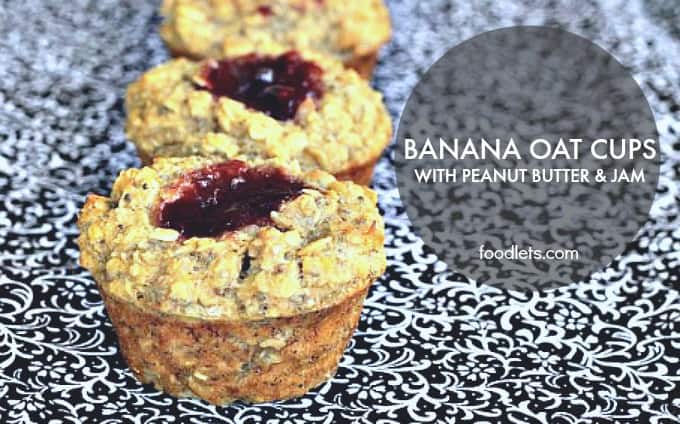 Plus these are full of chia seeds, a super power brain food that also adds a protein boost.
They freeze beautifully and you certainly don't have to fill them with jam. Try a sprinkle of chocolate chips instead. That's what Sally at Real Mom Nutrition does in her version here. Or give them a proper lid so they're ready to take on the go, like Kristen does at A Mindful Mom.
One last thing. Like our banana oat cookies, these have a chewy texture; they're not your average muffin. What they are is a make-ahead kid-friendly breakfast that combines two of our kids' favorite things: oatmeal plus PB&J, minus the sticky pan to clean out first thing in the morning.

Makes 12 oat cups
Ingredients
3 ripe bananas
1 cup milk (any kind)
½ cup natural peanut butter
¼ cup honey
¼ cup chia seeds
⅓ cup chopped unsalted peanuts (optional)
2 eggs
3 cups old fashioned oats
¼ cup chocolate chips
1 tablespoon baking powder
1 teaspoon vanilla
½ cup jam or fruit spread
Instructions
Preheat oven to 375 degrees F.
Combine all ingredients except the jam in a large mixing bowl.
Line or grease a muffin tin then fill each cup completely. They won't rise much during the baking process.
To add jam: Using a small spoon (dessert, baby or sugar works well), scoop a spoonful of jam onto the spoon, then press the side of your spoon into the top of the oat cup creating a divot. Smooth out with your fingers as needed. It's super simple, no shaping required.
Cook for 25 minutes (if using jam, about 22 minutes if you skip it.)