THAT'S RIGHT. No jam, but a thick smear of fresh avocado instead. Squeeze a little fresh lemon juice and a sprinkle salt and breakfast (or snack) is done faster than you can say, "My kids will NEVER eat that".
I know because I didn't think mine would either.
But because we're always gluttons for punishment trying new things around here, the kids were riding a wave of confidence. They remembered how much they liked a certain cabbage, sausage and apple dinner the other night, the one that NO ONE would even try initially.
Now they won't stop talking about this toast. This totally sugar-free, fill-you-up, easy-to-make and even better-for-you breakfast.
And that's fine with me.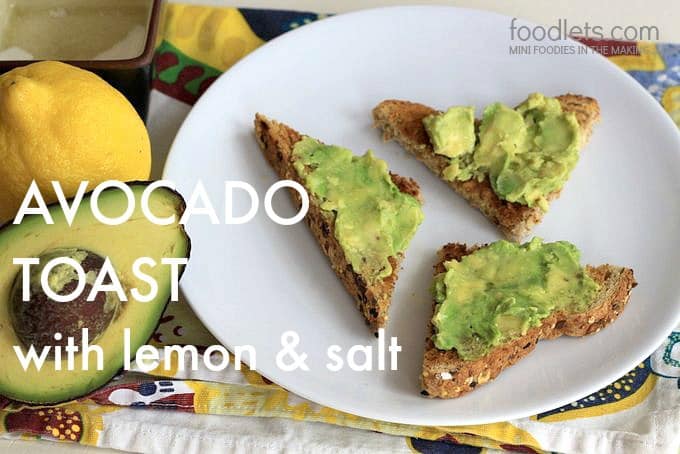 Health benefits of avocados:
Packed with more than 22 vitamins
More potassium than bananas
High in monounsaturated fatty acids (which reduces inflammation and helps ward off cancer)
Loaded with fiber
Helpful for lowering cholesterol
Antioxidants that protect eyes
TIP: After you cut the avocado in half, remove the side with the pit. Hold the remaining half in your palm and use a fork or spoon to mash up the insides right there, using the skin as a bowl. You could add the lemon juice and salt right there, or let the kids do it All By Myself, which mine prefer every time.