It's already been a year! We celebrated Violet Agnes' first birthday in exactly the way you'd expect. With balloons, grandma visiting from the West coast and of course, a low-sugar birthday cake.
This one is our version of a "hummingbird cake", which Wikipedia calls "a banana pineapple spice cake common in the Southern United States". My mom came up with the idea (and baked the whole thing) because our family lives in the South now. But really, they had me at banana pineapple.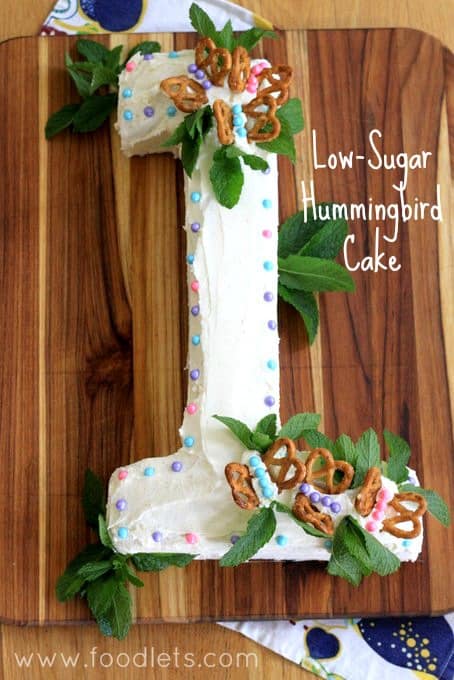 We added our own low-sugar cream cheese frosting, fresh mint from the garden and butterflies.
Butterflies = mini pretzels with candy dots in the center.
SO easy, pretty darn sweet.
And that #1? It's from a new cake pan I got from my mother-in-law, who was cleaning out her kitchen as she prepares to move. You can slide the squares around to make numbers or letters. (I filled this one too full so I filled the right side with beans in order to keep the squares in place.)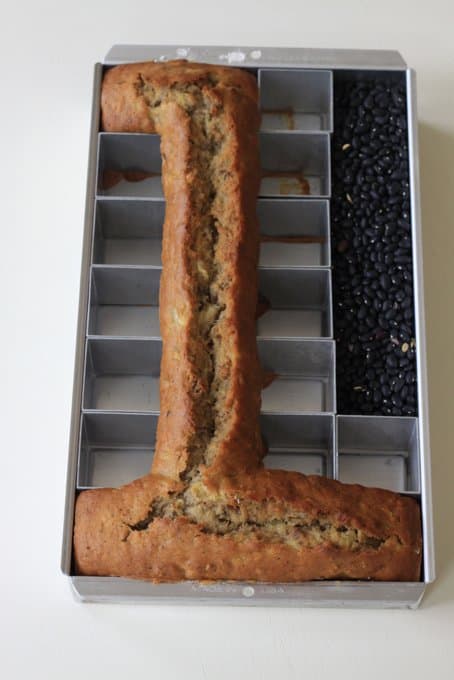 The whole thing was easy to make, and because it's so full of fruit and nuts (without tons of sugar) I even served slices of leftover cake for snacks the next day.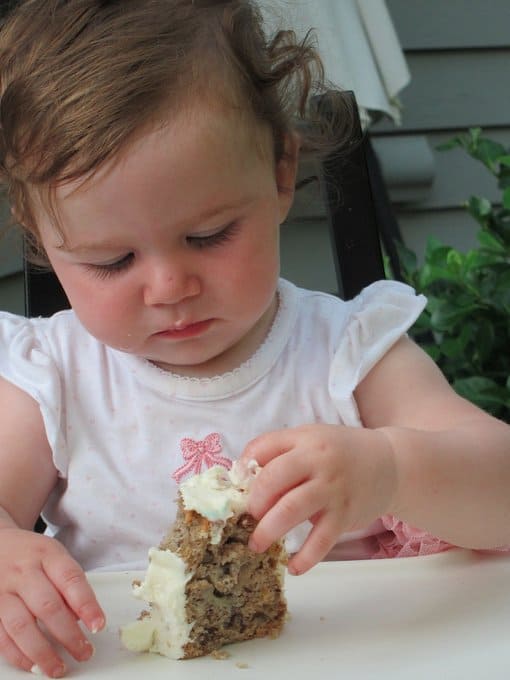 With a technique like this, how could I not?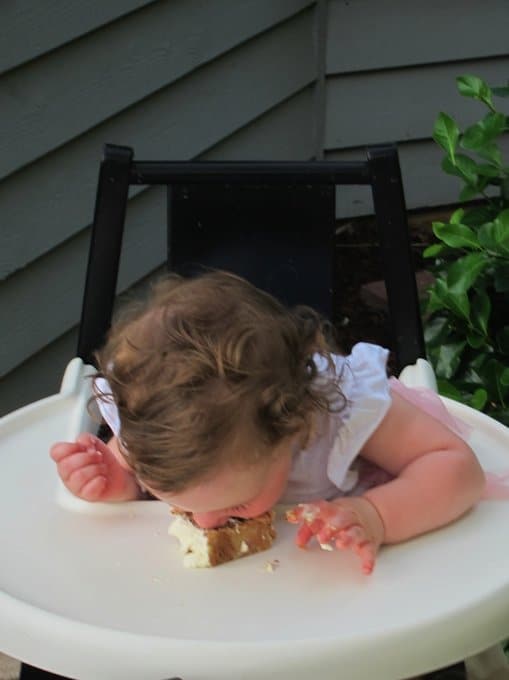 low-sugar hummingbird cake
Ingredients
3 cups flour (I use a mix of all-purpose + whole-wheat)
1 teaspoon baking soda
1 teaspoon salt
1 cup sugar
2 teaspoon ground cinnamon
3 large eggs, beaten
½ cup vegetable oil
½ cup applesauce, unsweetened (those individual cups work perfectly)
2 teaspoons vanilla extract
1 (8-ounce) can crushed pineapple, undrained
1 cup chopped pecans
2 cups ripe bananas, chopped (about 3 medium bananas)
Instructions
Preheat oven to 350 degrees F. Prepare pan (either 2 round cake pans or one large sheet pan/shaped pan like ours) with butter and flour.
Mix dry ingredients (flour, baking soda, salt, sugar and cinnamon).
Add applesauce, eggs and oil, mixing until just incorporated.
Fold in vanilla, pineapple, pecans and bananas.
Pour into pan(s) and bake. Round cake pans: 25-30 minutes. Sheet pan: 45-50 minutes. Test with a toothpick; if it comes out clean the cake is done. Remove and let cool before frosting.
Low-Sugar Cream Cheese Frosting
1 8-ounce package of cream cheese, room temp
1 stick of unsalted butter, room temp
1/4 cup buttermilk (or regular milk)
1 tablespoon vanilla
1 cup confectioner's sugar
Combine all ingredients until smooth. Note: This is NOT as firm as traditional cream cheese frosting so you may want to cool it in the fridge before spreading and definitely refrigerate the the iced cake. But it's delicious and works perfectly for a baby or toddler's cake if you want to limit the amount of sugar.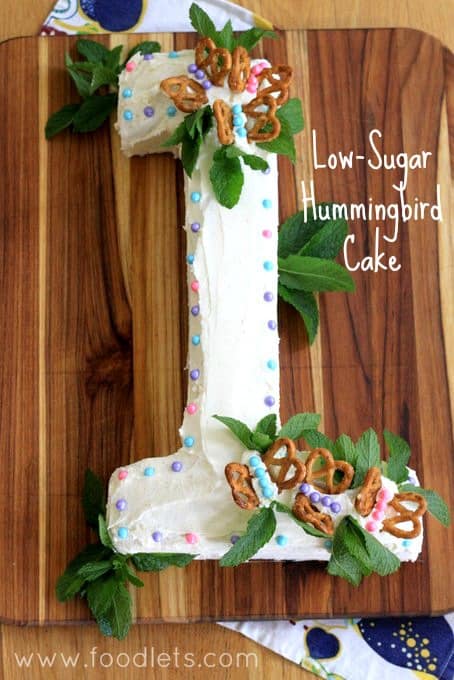 More birthday party ideas!
More low-sugar cake ideas!
And if you liked this post, please be sure to like our page on Facebook. You'll never miss a new idea or post.