Do your kids eat too much? Do you? Those can be tough questions but part of my mission here is to teach my kids to love good food. And to enjoy it, whether they're together or alone. And not eat too much of it. That's right. Just like Michael Pollan says, "Not too much." Even if it's healthy food, you can still overdo it.
They may not exactly be life skills, but these traits will serve them well for their whole lives. I should know, because I'm trying to do the same thing. At 42.
So with four kids, ages six and under, we're a two-snack a day family.
We don't graze.
We fuel up, and have fun.
Teach Portion Control by Serving Snacks Family Style
One of my most used techniques for serving snacks to a brood like this is on a cutting board. Part useful tool, part serving tray, part clean up machine, the board works wonders. You can serve it on the porch, on a kid-sized table or on the breakfast bar. This thing was made to travel.
Yesterday's snack included 2 Golden Delicious apples, pretzels and organic hummus we buy in giant tubs from Costco. Because it's delicious. I used the board to cut the apples, then loaded on the pretzels. In came a bowl of hummus and bam! Snack was ready to go.
Put the whole thing in the center of a table and let the rascals go for it. But they're more polite than you might expect. Sure, there's grabbing and chomping. But these are tea party experts. So they know about sharing, about "manners", about taking a little at a time and trying everything in front of them. That's what's so great about serving a snack Family Style, where everyone shares. (Plus it's very easy to set up.)
When the whole thing is done, packing up is easy. Pile any leftovers on the "tray" and head for the sink.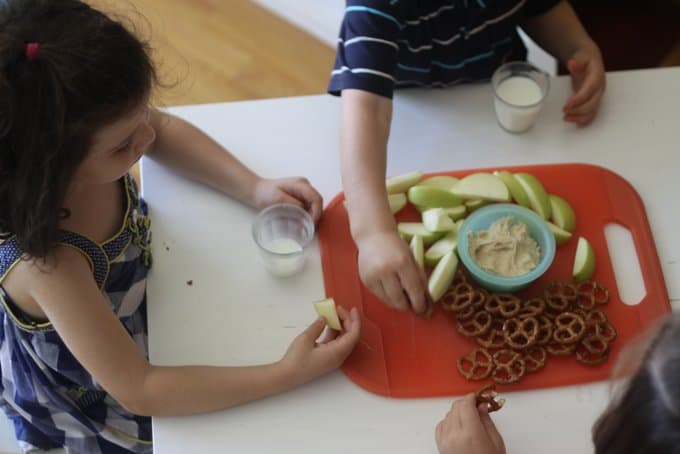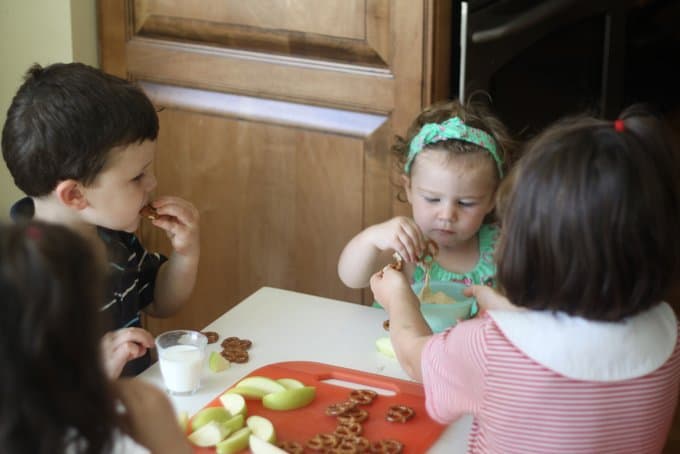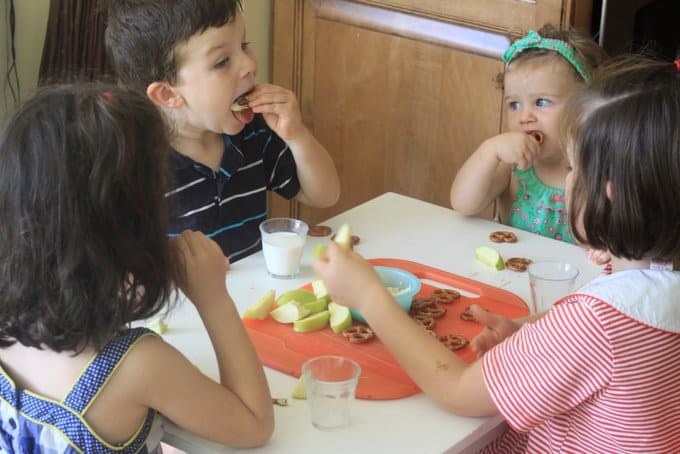 For Myself: Eat More Protein, Even at Snacktime
Since I started having–and feeding–kids, I've learned many, many (just keep going with the manys here) things. One of them is that the kids usually eat healthier than I do. I went through a spell recently where I actually ate WAY more sugar than they did. Grazing, stress-eating really, my way through mornings when my head felt foggy and stressful afternoons when there always seemed to be at least one person fussing. I just needed a boost. A little piece of chocolate here. A handful of Raisinets there. A giant sugar crash here and another sugar boost needed there.
I don't do that anymore.
It's nothing new. No revolutionary breakthrough here. I'm just not eating sugary treats throughout the day. I'm focusing on big salads for lunch, plenty of water in the day and actually using portion control at dinner. That leaves snacks. Through this sponsored post, I've found a new snack that hits the spot: Zone Perfect Simply Perfect bars.
They're available immediately, just unwrap and eat. And with 11 grams of protein, they're magically filling. Yes, there's sugar in there. But I'm not eating sugar elsewhere right now, so it's a perk I feel fine about. It's a tiny package that fits in a purse, in the car, or, more likely right at the dining room table where I'm working today. (And there's a coupon! Get $1.00 off your own box right here.)
I tried the Roasted Cashew & Dark Chocolate bars this week. They're like a cross between a Rice Krispies treat and a brownie. They're good. And filling. So filling. They also come in 3 more flavors:
Bonus: You can get $1.00 off any of them with this handy coupon right now!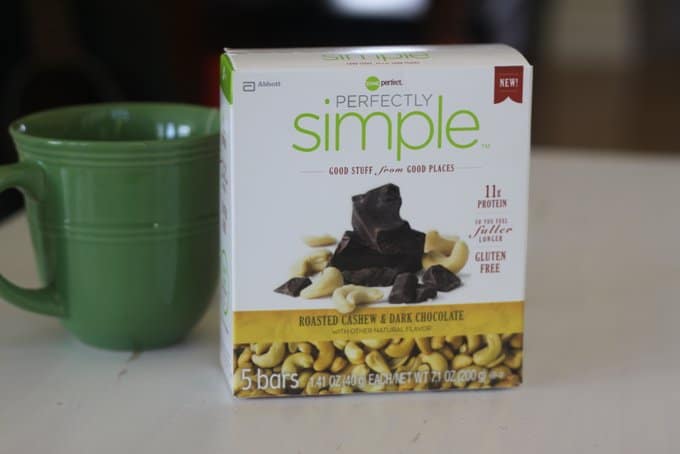 It's not too much. One small bar.
That'll get me through my morning of working, playing with Violet, and working a little more. Then picking up the preschoolers, feeding them lunch and getting them settled for Quiet Time.
Then it'll be a big salad for me. I've always loved salad, so this is no hardship. Instead, I feel like it's another way I'm nourishing myself. Quickly and easily. Deliciously. That's a new focus for me, including MYSELF in the on-going mission to eat well and be well.
We're off to a great start and that's something to feel good about. #FeelGooder
Coupon! Get $1.00 off your own box of Zone Perfect Perfectly Simple bars right here.