Christmas stockings are part of my master plan.
As I try to mold and shape our kids into half pints who love real food, who value good food and who enjoy food together, I find that including a few awesome treats helps establish a positive (if not downright giddy) association with food.
Fun things. Cute things. Delicious looking things.
Things just like these…
The Mini Foodie Gift Guide: Food-Themed Holiday Gifts for Kids (Plus a Few Ideas for Parents, Too)
STAR WARS COOKIE CUTTERS

At $34.95 they're not cheap but this set of 6 cookie cutters are BPA-free and include Darth Vader, Boba Fett, Chewbacca, Yoda, C-3PO, and a Stormtrooper.
Books, Books, Books
Little Pea has to eat CANDY every night for dinner and guess what…he doesn't like it. This adorable book shows just how silly eating–or not eating–can be.

I love this board book that uses food to illustrate the A-B-Cs.
This one's not about food, it's about feelings. And Amazon sums it up perfectly: Meet Spoon. He's always been a happy little utensil. But lately, he feels like life as a spoon just isn't cutting it. He thinks Fork, Knife, and The Chopsticks all have it so much better than him. But do they? And what do they think about Spoon? A book for all ages, Spoon serves as a gentle reminder to celebrate what makes us each special.




Poor dragon. He ate too many tacos..and way too much spicy salsa. If you have kids who love crazy stories (that just happen to involve creatures who love eating), this is the one.
Chalkboard Placemats

Do your kids get antsy waiting for dinner? These $19 wipe-off placemats may change everything! Based on the 5-star rave reviews on Amazon, I'm putting a set in my cart too. (Along with these liquid chalk markers.)
Wooden Kitchen Play Set
This is my Plan B. If my experiment at woodworking/crafting/Pinteresting a kitchen out of this TV stand fails, I've already got one of these gorgeous play sets in my Amazon cart. It's made of wood and comes in red, pink and white. And at $139, it's not outrageous as a group gift.
Construction Plate with 3 Equipment-Themed Utensils


I've got one little boy in my house who will be eating so happily so often, starting December 26th. $32.44
Curious Chef Nylon Knives

Nope, these are not toys. They're real nylon knives that are (pretty) safe for kids to use. At $8.90 for a 3-piece set of knives, I'll be popping one into each of the bigger kids' stockings.
Ice Cream Bars

Who doesn't love to play ice cream shop? At $18.36, this beautiful wooden set hits the spot.
Monkey Peeler

Our Montessori preschoolers love helping in the kitchen and peeling is one of their "works". But I'm sure they don't have an awesome monkey at school so… $7.18
Melissa & Doug Stainless Steel Pots & Pans Set

These guys make so many gorgeous things, it's hard to narrow it down at all. But this set is at the top of my list this year. Because it's not plastic. And it's even dish washer safe (I love throwing kids' toys in the dishwasher for a good clean up.) Also, I'm attempting to up-cycle an old wooden TV stand into a new kids' kitchen for the rascals this year. (Stay tuned. I'll share my progress.) $24.33
Cheater Chopsticks


We have a version of this 6-piece set ($12) that our kids use every time we eat anything Asian. And they love them. One Amazon reviewer also had the brilliant idea to use them for plucking hot toast out of the toaster and any other pincher task needed.
Baby Doll Feeding Set

Something happens when you have lots of kids in a row. They all become little parents. (Or maybe that's just little kids.) Either way, our brood is a little obsessed with feeding their dolls. This adorable set from Melissa & Doug includes an easy-attaching bib plus "disappearing" milk and orange juice bottles. (Other than the question of who feeds their babies OJ?, this $13.55 set is perfect.)
Soft & Squishy Fabric Vegetable Set

We've had this $14 set for about four years (Yep, we bought ours way back when we lived in Rome). The veggies are soft, colorful and not afraid to be popped in the washer as needed. Our kids have made everything from pretend soup to make-believe casseroles with them–and the basket works as a kicky hat too. Trust me, I've seen it. Bonus: all the pieces are big (and soft) enough for each baby who's come along to play along as well.
PLANET BOX ROVER


We are on our second year of daily use with our Planet Box. And it still looks (and works) the same as it did on Day 1. It comes with everything: the box, the two liquid holders and the outer case. But my favorite part is simple: All those compartments guide you toward filling it up with a nice variety of lunch ideas, plus somehow all the colors just look beautiful in there. Also, the covers come in a bunch of cute designs, as do the magnet sets that go with it. Our then, kindergartener was delighted to get a new lunch box as a gift. And at $61.95, it's definitely a special splurge.
Now for the aprons…
We picked three because there are so many options AND so many kids who just love different things. Here goes:
For Cuteness: Ruffle Apron


If fancy is as big of a deal at your house as it is in mine, this is the one. $12.99
For Serious Baking: Chef Set
This set includes baking tools that some reviewers have called "more of a toy" but still. That apron looks pretty darn official. And it comes in 2 colors: blue and pink. $19.99
For Sheer Volume: A Baker's Apron Set

Our kids have a simple policy about toys: more is better. The fun of this $15.99 apron set is HOW MUCH STUFF comes with it! There's a rolling pin, wooden mixing spoon, oven mitt, hot pad, tea towel, apron and chef's hat. It's all 100% cotton and machine washable.
Wooden Eggs

Look at how gorgeous these are! If you're going to be picking up play food toys all the time, I say let them be beautiful. $6.88
MINNIE MOUSE BAKING SET


This is not a toy. It's a real baking set. Just a really cute one. Now, there is a certain 4-year-old at my house who wears a Minnie Mouse costume for up to 3 days (and nights!) at a time. That is when I peel it off her and sneak it into the washer while she's busy in the bathtub. For her, this is an amazing present. Plus, it comes with cellophane bags to make baking for others even more fun. $19.95
Practical Tools You Will Use Over and Over and…
Silicone Baking Molds

I use these for lunch boxes on a daily basis. They're soft and squishy so you can bend and mold them into almost any shape you want or need. Want to throw in a juicy pickle but worried it'll taint that sandwich? Use a cup. How about a couple of cookies that don't quite fill up a whole portion of the lunchbox? Cup! This set is good value. At $8.99 for 24 cups, you'll never run out and you'll pay less than I did when I bought a set half this size.
Animal, Vegetable, Miracle

Warning: If you've ever dreamed of living off the land, Barbara Kingsolver's family memoir will fill you with so much inspiration you may have a hard time not doing the same. It's a sweepingly beautiful story you won't be able to put down.


STAINLESS STEEL VEGETABLE CUTTERS

I just used these again (for the zillionth time) this morning. To produce star-shaped cheese for lunches. In about 25 seconds. For 4 lunches. That's timing I can live with! They're also awesome for veggies, especially if you've got kids who are new to salad. (And if they are, this is the balsamic-maple dressing that'll get 'em hooked on greens for good.) $4.84
Heavy Duty Baking Sheets

These babies aren't just for cookies. These Nordic Ware half sheet pans are my work horses for roasted broccoli, roasted cauliflower, stuffed acorn squash and more. I've had mine (along with a pair of quarter sheet pans) for 7 years and they're working as well as they did on the first day. $19 including the lid, which I do not have and deeply wish I did! Hint, hint…
Good Knives: Wusthof Classic

When we moved to Italy seven years ago, we seriously pared down our belongings. Only keep what you'll always use became our motto. These are expensive knives ($185 for 3) BUT I'll never need another set. And I still use them every day.
A Family Cookbook full of Simple, healthy Recipes Everyone Loves

I get a lot of cookbooks with this gig and if there's one I've turned to over and over again this year, it's this one. Laurie David, who produced the film "Fed Up" (not to mention "An Inconvenient Truth") is the mastermind behind it–and the results are delicious. Just try her Banana Muffins with Coconut Oil and you'll be a believer…
 Non-Toxic Non-Stick Pan: Green Earth Frying Pan
This one is on MY list. I've got to make pancakes. And eggs! And not spend 30 minutes scraping off the pan in the end. Santa, are you listening? $38.95
And my favorite gifts…for kids who are hungry all over the world.
We've been sponsors of children through World Vision for 5 years. Do you know what their number one most popular gift is? It's a goat and 2 chickens. For $100. For a family in need, this will change their whole year. Merry Christmas!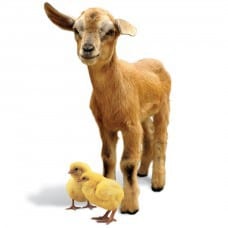 This post contains affiliate links and if you purchase one of these items from this post, I will receive a very small portion of the proceeds.