Are your kids getting 5 servings of fruit & vegetables a day? That's what experts recommend. At least. Sound hard?
Here's where an inconvenient fact of life — packing school lunches — dovetails beautifully with a nutritional challenge almost all of us face.
That school lunchbox is the perfect place to pack at least 2 servings of fresh fruit and veggies. And because you already know about turkey sandwiches, these are our best school lunch ideas beyond anything that involves sliced bread.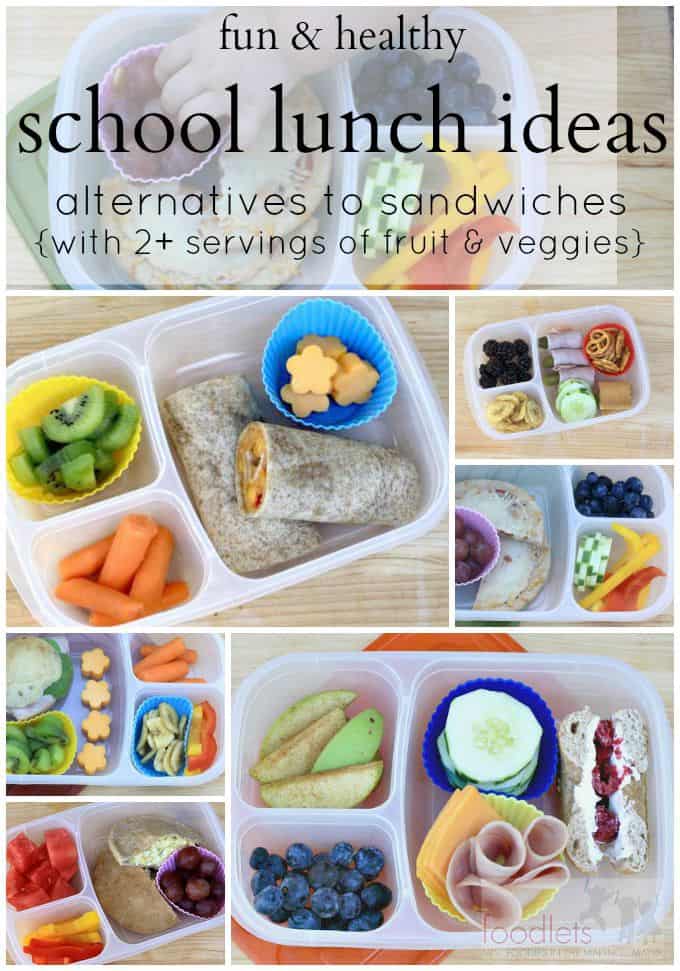 About lunch boxes
My first grader loves her PlanetBox. Made out of stainless steel, it's practically indestructible and boy does it make food look nice. But since I needed to take lots of photos here, I decided to use other lunch boxes that aren't as visually appealing. Kidding.
Since we have four of them AND they're a lot less expensive (yet still BPA-free, dishwasher safe and easy for even small kids to open), we're using our Easy Lunch Boxes for these photos.
Peanut Butter Wraps with Fresh Peaches. These whole wheat fajita-size tortillas are delicious with a schmear of peanut butter and fresh fruit sprinkled on top. (Here's our lightening fast tutorial featuring strawberries.) Throw in baby carrots, with or without a little Ranch or Goddess dressing for dip, plus cubed kiwi and cheddar cheese cut out into flowers using a set of stainless steel veggie cutters.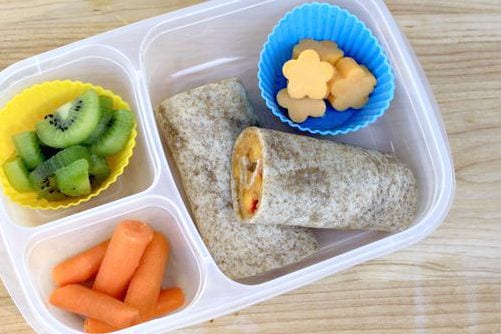 Very Pickly Egg Salad in Pitas. This basic egg salad recipe combines hard boiled eggs, with three quick ingredients for a protein-packed lunch all of our kids love. Add grapes (and consider fashioning them into a caterpillar if you've got 30 seconds and a long toothpick), fresh watermelon and bell peppers.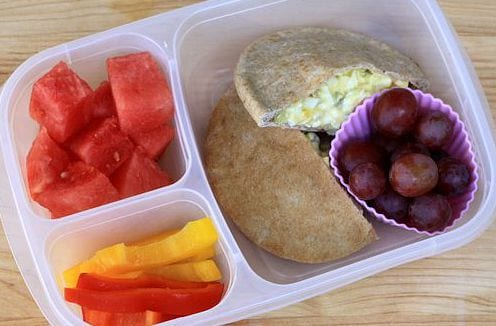 Sliced Cucumber Sandwiches, with Ham & Cheese. Let kids assemble their own cucumber sandwiches, using fresh cukes as "bread". We've added half a whole wheat mini bagel here, layered with cream cheese and raspberries. Rounding out lunch are fresh blueberries and cinnamon apple slices–just apples sprinkled with cinnamon to keep them from looking brown, and giving a touch of flavor too.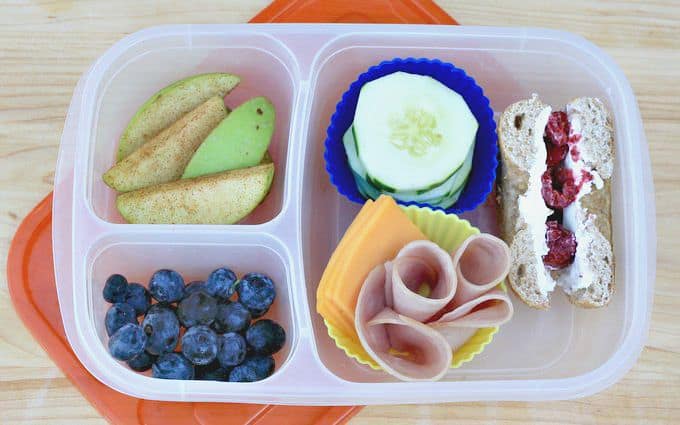 Whole-Wheat Dinner Rolls as Ham Sandwiches. Rolls and bagels are the perfect serving size for small kids; pack two for bigger students. We threw on a few leaves of baby spinach for color and crunch. Our flower-shaped cheese comes back, along with baby carrots, kiwi and bell peppers. Dessert in this lunch is dried banana chips.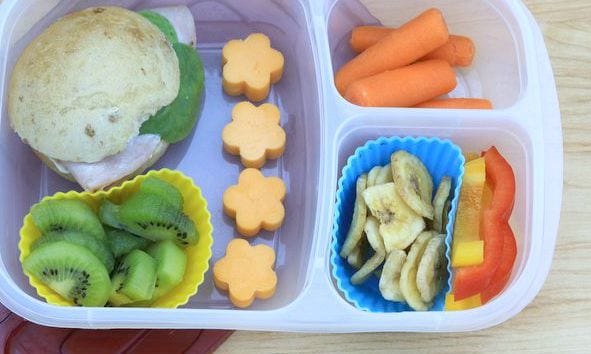 Pickle Rollups. Another idea that looks special but takes only moments, pickle rollups. Fill them with cream cheese or a bit of mustard. Pair them with crackers, a roll or pretzels. Fresh cucumber slices and blackberries add crunch, plus banana chips and two whole-wheat Fig Newtons.
If you liked these ideas, be sure to like Foodlets on Facebook! You'll never miss a new recipe or idea. Plus, stay tuned because we'll have a second week's worth of fun and healthy school lunch ideas coming up soon.