It's just a fact. Life with a family gets busy and I don't have to tell you that making time for dinner together is hard. Find the other missing sock hard.
But making dinner at home is worth it–and it's possible.
How can you make dinner at home when you're busy with after-school activities or late work schedules during the week? For a smart answer to this, I asked the smartest busy blogging mom I know, Sally Kuzemchak, a registered dietitian and mother of two boys who heads up Real Mom Nutrition.
8 Tricks I Learned from "Real Mom Nutrition" About How to Make Dinner on Very Busy Nights
Make Meals a Priority. Sally has two boys who are active in flag football and soccer but her brood eats dinner together 5 or 6 times a week. If that sounds like a lot, that's because it is! And it's by design. "

My kids are 7 and 11 and we make a conscious effort not to schedule too many activities at one time," she says. "Honestly, being home together is a top priority for us–and luckily our kids are on board with that 

(and our work schedules allow for it too)."
Eat in Shifts. On nights when it's just not possible for every person to sit down at the same time, Sally suggests prepping food that will taste as good at 5:30 as it will at 8pm. "Meals that can be eaten in shifts are best when family members are coming and going, such as crock-pot recipes (slow cookers can stay on the "warm" function for hours) or soups simmering on the stove."
There's no shame in Sandwich Night! Ain't it the truth. Want to elevate the humble sandwich? Whipping out a panini press, or using a waffle iron right at the table is one of Sally's best tricks. I love this one too. In fact, I let the littles help. That means digging around the fridge until I have tons of sandwich makings so everyone can smush together their own sandwich, a novel activity for my small kids.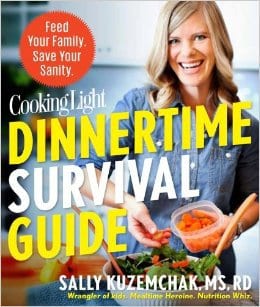 And there's more. Sally is also the author of the Dinnertime Survival Guide, where she suggests these game-changing techniques for getting meals on the table on the busiest of nights.
Double Favorite Recipes to Freeze. If you're already making anything from Slow Cooker Chicken Tikka Masala to Italian Sausage, Rice & Zucchini Casserole, Sally recommends doubling up the prep work now to save major time later. And she's so right. I love being able to pull a gallon-size freezer bag out of the depths of the freezer to throw right into the slow cooker (or the oven) on a hectic day.
Batch Cook as a Team. Does your spouse like cooking too? Try setting the kids up with a great movie (or two) on a weekend and prepping a few favorite freezer meals for later in the week.
Invite a Friend Over to Cook. The same idea applies with friends — only you'll want to double all the recipes so you'll each have a bunch of freezer meals to take home. And, it sounds really fun. "We plan out our recipes ahead of time, split up the grocery list and spend an evening in the kitchen cooking and catching up," Sally explains. "Truth be told, we often get so carried away catching up that we forget to add the salt or double the breadcrumbs. But by the end of the evening, we both have a least a week's worth of freezer-ready meals–and feel rejuvenated by our time together."
Get Over the Idea that Meal Planning is Hard. It's really only a list, Sally says. Spend 10 minutes jotting down a few recipes you want to try this week, combined with a couple of family favorites. Make your grocery list and you're set. It's a few minutes well spent. "When I map out meals, my week goes smoothly and dinner falls into place every night (okay, most nights)," according to Sally. "When I wing it, I end up scouring the cupboards at 4:30 in the afternoon and when I'm really frazzled, I throw in the towel and order pizza." Sound familiar?
Put Your Slow Cooker to Work. Any recipe you can throw in a slow cooker to have politely cooking all day is a busy parent's best friend. I can totally get behind this idea, especially because there are so many great options these days! Here are our favorite slow cooker recipes from Foodlets, none of them require a separate pan or cooking and you'll find not a gravy or soup mix in the bunch.
Then I asked Sally one of the most important questions of all: Can you recommend a couple of great recipes that other busy families will love? Here's what she said:
There are a ton of great recipes in Dinnertime Survival Guide, but here are two on Real Mom Nutrition that are good for busy families:
Pizza Bread is a crowd-pleaser, can be eaten hot or cold or in between:  Pair it with a bagged salad and you're done! And it's great the next day in the lunch box. 
Turkish Red Lentil Soup is a great starter soup for kids who aren't quite sure about lentils. It's made with red lentils, which sort of dissolve in the soup. I like to make it on Meatless Mondays and freeze leftovers for another night.
Did you enjoy this post? Be sure to like Foodlets on Facebook (and sign up for the newsletter at the top of this page) and you'll never miss a new recipe or smart idea for feeding a family well.