"It's the lemon glaze that really makes them," my mother-in-law told me. And she was right. These whole-wheat apple cookies with lemon glaze are amazing. She should know, she made them!
They aren't quite good for you (because of said icing) but man, are these cookies a great way to round out a tea party, any snack or a nice little lunch.
My mother-in-law is a little bit famous for hosting tea parties. She's hosted tea parties for little girls, grown up ladies and every age in between. Church functions, charity events, birthday parties, mother's day and more. In fact, when our second daughter Estelle was born, Paul's mom flew all the way to Rome where she hosted a tiny tea party for 20-month old Phoebe every single day of her visit.
But it wasn't until a few weeks ago, on the sun porch of her new home in the North Carolina town where we both live now, that I tasted the most delicious cookies I've had in ages.
At a tea party.
The great thing about tea parties is how they teach little kids to work on their manners. There are lots of little things to pass, and to stir, and to not spill. Each person takes a little bit of this, and a touch of that, before passing everything around to the next person/not scarfing it all up before anyone else can get a handful.
That goes double for cookies.
The other thing tea parties have going for them is how you can work in so many great little healthy options. Fresh fruit cut into bite-size bits, nuts, and great little cookies like these, packed with real fruit and whole-wheat flour.
And tea parties? They even work beautifully for birthdays. Especially when there are costumes involved, like this one. And this one too! No costumes? No problem. A tea party still makes a beautiful little birthday.
You'll see. Try them for yourself! You won't regret it.
Tea party optional.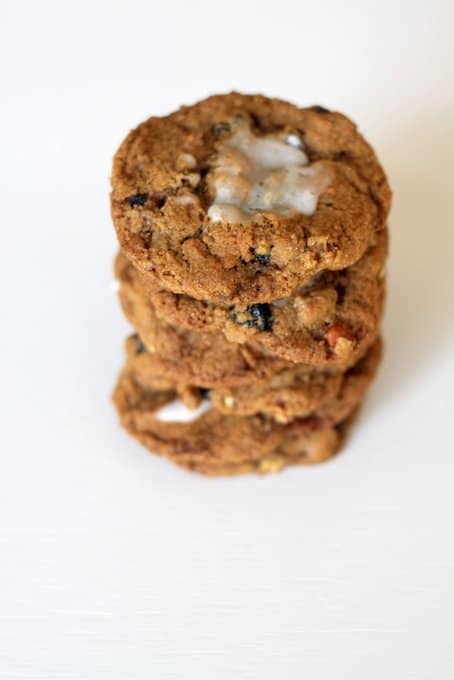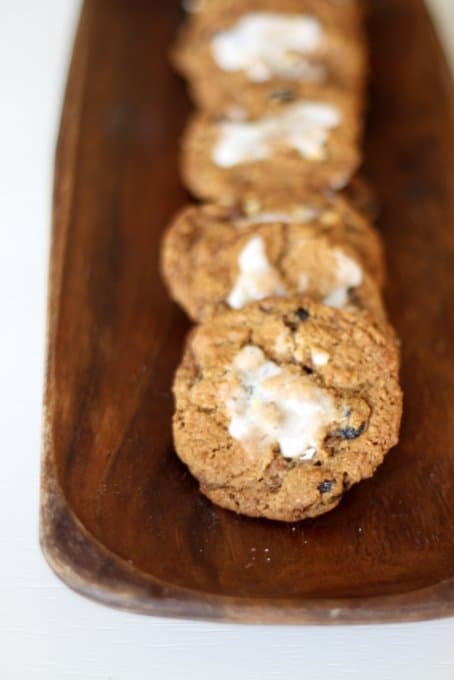 Print
Whole-Wheat Apple Cookies
This makes a huge batch of cookies, up to 60! If you don't want that many, freeze half the batter in a log shape, wrap it in parchment and store in a freezer bag to bake off another time.
Ingredients
1/4 cup butter, softened
1/4 cup canola oil
1 cup brown sugar
1 large egg
1 cup unbleached flour
1 cup whole-wheat flour
1 teaspoon baking soda
1/4 teaspoon salt
1 teaspoon cinnamon
1/2 tsp. cloves
1 generous cup chopped tart apple (MacIntosh, Gala)
1/2 cup raisins
1/2 cup dried cranberries
1 cup chopped pecans
Instructions
Stir ingredients together in order given.
Drop on parchment paper for easy clean up.
Bake at 375 degrees F for approximately 11-13 minutes, depending on cookie size.
While warm spread with lemon glaze: 1 cup confectioner's sugar + juice of 1 small lemon +
tablespoon softened or melted butter. Stir all together until smooth then use a small spoon and drop a tiny bit on each cookie. If the cookies are warm the glaze spreads.