WHEN EMILEE ASKED FOR A PINK TEA PARTY, her mom, Amanda, put together an event straight out of Steel Magnolias (minus any of the sad parts). Pink and pink!
From handmade paper flowers to homemade strawberry preserves and scones to his and hers dress up stations, this was a tea party every pirate and princess enjoyed to the fullest. Here's how she made it all happen.Name of birthday girl: Emilee
Parents: Lee & Amanda
Age of birthday girl: 4
Where the party took place:  Woodlawn Community Center, Mebane, NC.  We knew that we wanted to invite everyone in Emilee's preschool class plus a few more, so a large open space was a must.  This is a charming old school house which is maintained by the community.
Number of guests: 18 children plus parents
Theme of the party: A Perfectly Pink Tea Party
How did you decide on the theme?
Emilee loves to have tea parties and wanted one for all of her friends.  Since she loves the color pink, we added that element to pull the overall look together. We also invited guests to dress up for the party in their favorite costumes.  Since our birthday girl was turning 4 it seemed like a fun idea to dress up as pirates and princesses instead of asking for guests to arrive in their best dress and tie.
***
Where to find supplies for a pink tea party birthday:
Amazon offers tons of adorable ideas for pink tea parties like this one. Here are some of our favorites, all with 4-star reviews or higher…
Now back to the party…
***
Where did you get your inspiration for this party?
Pinterest, party planning websites, and the ideas that Emilee had envisioned.  Also, since her birthday follows shortly after Halloween, we thought everyone would appreciate another opportunity to wear their costumes!
What was on the menu?
Since it was a tea party, we tried to offer kid friendly tea party fare without offering too many sweets all while keeping in mind the food allergies of many of the children attending.  We had cheese and crackers, cucumber slices, baby carrots, grapes, cherry tomatoes, broccoli, scones with strawberry preserves, and white cheddar puffs.  On the tables, we had containers of pretzels dipped in a pink candy coating with pink sprinkles and strawberry sugar wafers.  We offered pink lemonade and water in addition to the peppermint tea Emilee served to her guests.
What food did you make yourself? 
I made the scones, strawberry preserves, dipped pretzels, and the cupcakes and icing.
What did you buy prepared or made elsewhere? 
I purchased the veggies, cheese and crackers, and cheddar puffs.
Did you make anything especially "healthy" for kids or adults?
We offered veggies to balance the cupcakes and avoided adding sugary drinks and lots of candy.
What flavor were the cupcakes? And the icing? 
We served chocolate cupcakes and provided pink buttercream icing and sprinkles on the tables so that the children could decorate their own cupcakes.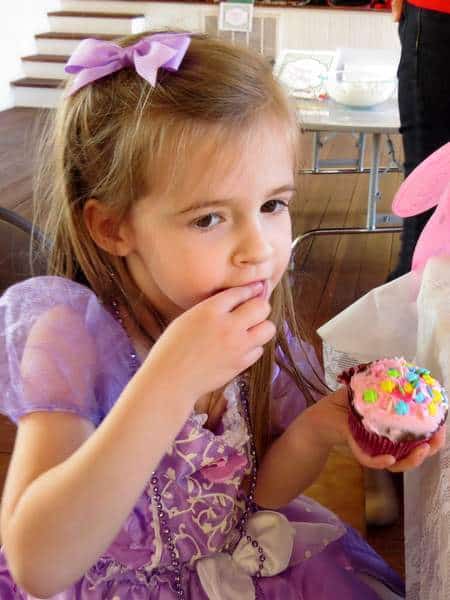 Where did you get the decorations?
We bought a few things, such as the plastic tablecloths, paper doilies, and pink balloons from Wal-Mart.  I also ordered the teapot centerpieces online but ended up changing them a bit to match our colors.  I made the pink paper flowers on the table.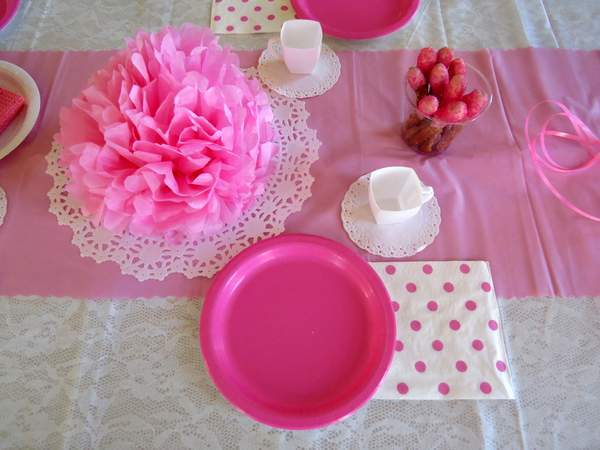 What did Emilee do to help?
Truly anticipating the party was one of the best parts for Emilee.  She loved making lists of things we would need, such as plates, napkins, teacups, etc.  She also enjoyed picking out the dress up costumes (below), assembling the treat bags, and helping me make the paper flowers for table decorations.
What were the activities at the party?
We set up several stations to give the children lots of choices.  In the "Dress Up" area they could try on an assortment of hats, vests, boas, and jewelry, and then they could play on the stage area and have their picture taken in the "photo booth."
On one large round table we dedicated  half to a "Make a Frame" station with stickers and crayons for decoration, and the other half was a "Sugar Cube" station, where we invited the children to build something using sugar cubes.
The final station was a "Make a Cup" station.
Just prior to having "tea," the children listened to two stories: How I Became a Pirate by Melinda Long and Part Time Princess by Deborah Underwood. As with all of the activities, we tried to make sure that both the boys and girls would have fun.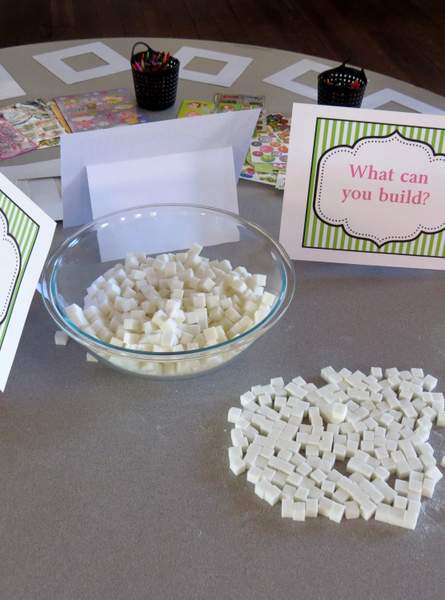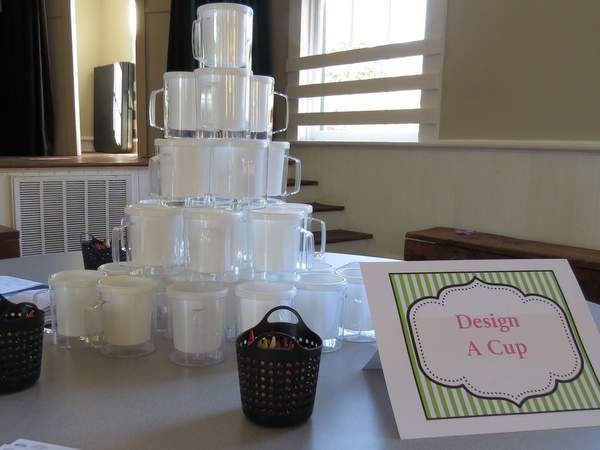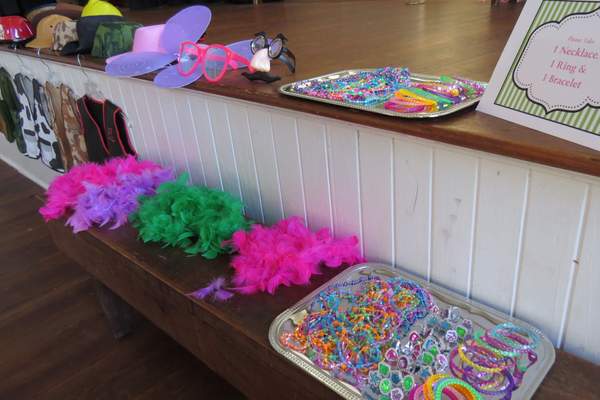 Did you have gift bags?  Yes.
What was the biggest hit of the party?
Dressing up and playing together is always the best part for a group of preschoolers.  It doesn't get any better than that!
Any misses?
Actually, our biggest miss was the scheduled entertainment.  The activities we had were conceived and prepared within 24 hours.  On the evening prior to the party, the person who was supposed to entertain the children called to indicate she would not be coming due to unforeseen circumstances.  Thankfully, I always try to have a Plan B in mind, and after a few panic stricken visits to Michaels, The Dollar Tree, and Barnes & Noble, we had activities for the party!
How long did it take to put everything together?
Honestly, it took awhile to make the paper flowers and prepare the food.  However, at the time I assumed I wasn't worrying about entertainment/activities because we had made arrangements for that portion of the party.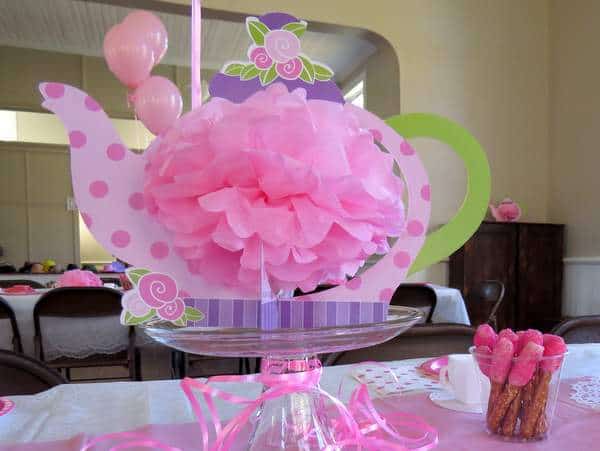 What was the hardest part? 
Clearly, pulling the activities together at the very last minute was the most stressful part.  I worried that the children would not have a good time.
What was easy?
Although a bit time consuming, the paper flowers were easy to make.
The most expensive? 
The items that I purchased for the activities cost more than anything else, but the amount spent was comparable to what we would have paid for the entertainment.
What would you do differently next time? 
In the future I will allow more time for party set-up.  An hour was barely enough time for me to set everything up and take a deep breath before everyone arrived.
What did Emilee enjoy the most? 
Emilee loved walking around to everyone and pouring tea into their tea cups.  Dressed in her princess attire, she truly felt like royalty!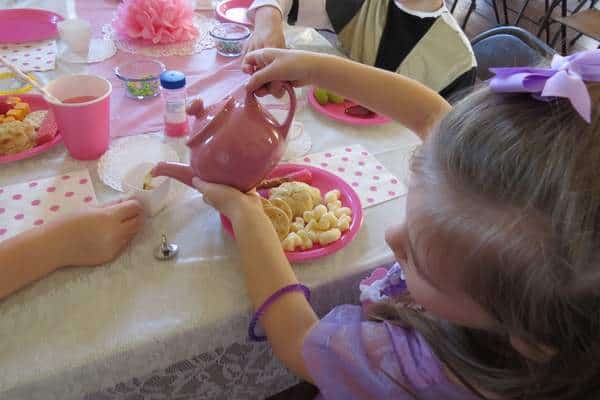 Looking for birthday party ideas, with kid-friendly food, decorations and activities? Here are a few of our favorites: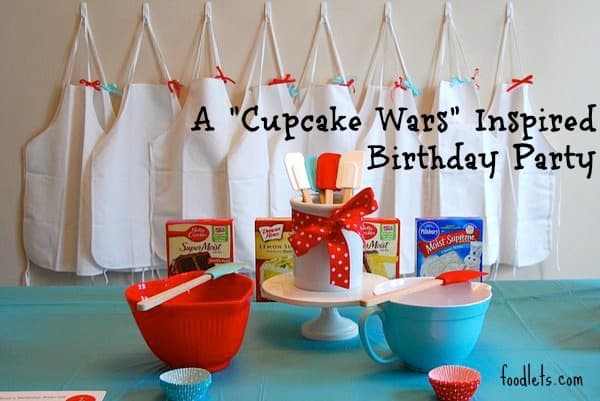 This pink tea party post contains affiliate links to Amazon. When you purchase anything through them, Foodlets earns a small commission to offset the cost of operating the blog, at no extra cost to you.