SHE DID IT AGAIN! Remember the rainbow spa birthday party? Or the sweet shop birthday party? Now Amber, who blogs at Cake Pops and Squats, has created a birthday bake off competition for her 10-year-old's big day. It was "Cupcake Wars" for 14 ten-year-olds in one kitchen, and if you're wondering how she pulled it off, we've got all the details right here!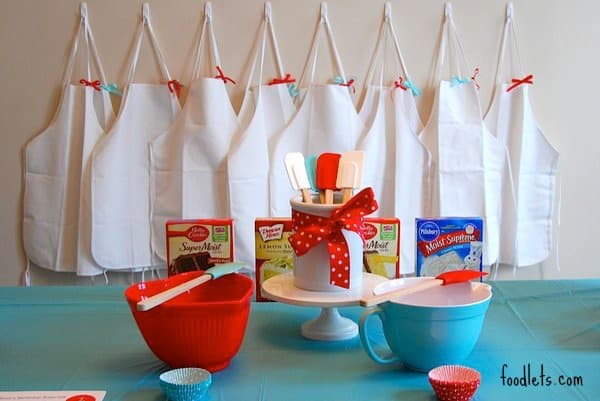 Name of birthday girl: Rian
Parents: Dutch and Amber
Age of birthday girl: 10
Where the party took place: Our house in San Diego, CA
Number of guests:  14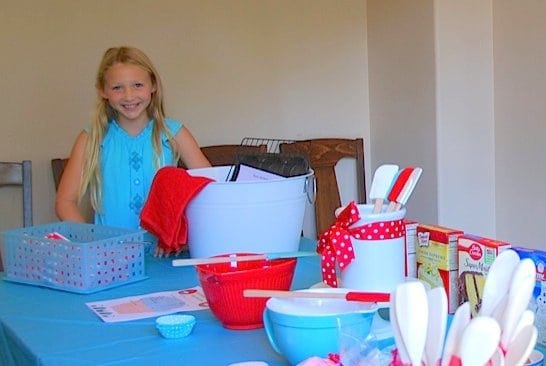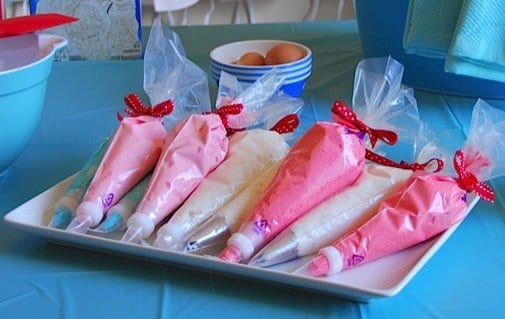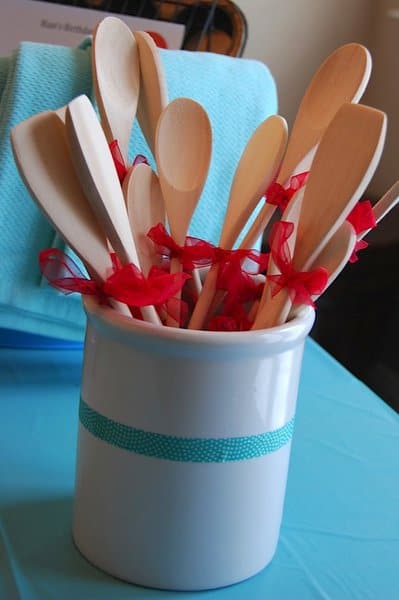 Theme and colors of the party: Rian's Birthday Bake Off! Colors were turquoise and red
How did you decide on the theme? Rian loves the cooking channel and the show "Cupcake Wars" so she decided to do that for her birthday.
Where did you get your inspiration for this party?  I scoured Pinterest and found some baking parties. Then I just did what I could in the amount of time I had. We had been trying to figure out what she wanted, she would have a hundred themes If I would let her.  When she finally decided on a bake-off I had to wrap my head around her having a baking party at the house–and get everything ready within one week. She is not one for just inviting a couple girls.  She wants everyone to come. But we did it.
Where did you get all the supplies? Rian is finally out of the pink stage and she decided she want turquoise so we decide on turquoise and red the Martha Stewart colors. I had a one of the bowls and a spatula, but then I went and got some new stuff to match.The tablecloth came from Walmart. I bought the aprons at Michael's and tied turquoise and red ribbons on them.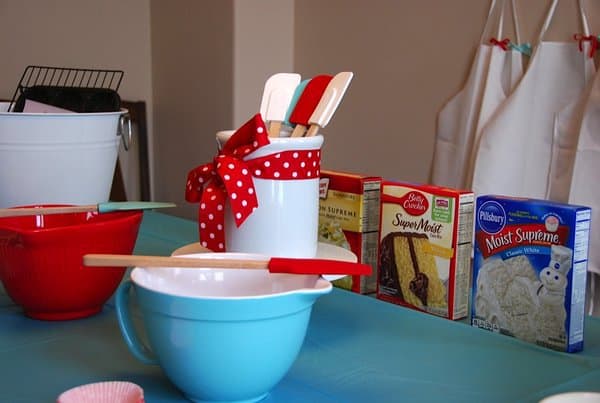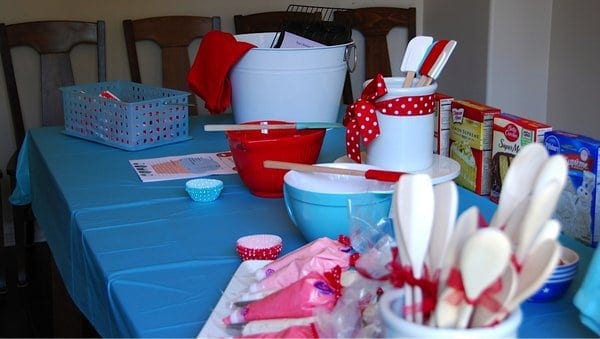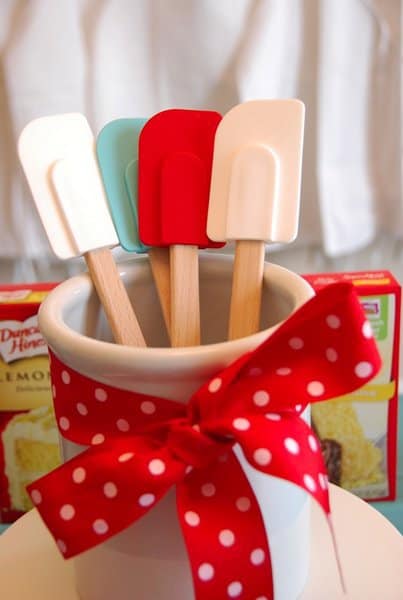 What was on the menu? It was very simple: fruit, Oreos and popcorn. The girls made the cupcakes.
What food did you make yourself? Since the party was very last minute I had to make it easy. I air popped the popcorn, washed the fruit and put out the Oreos.
Did you make anything especially "healthy"? Fruit and the popcorn were the most healthy items!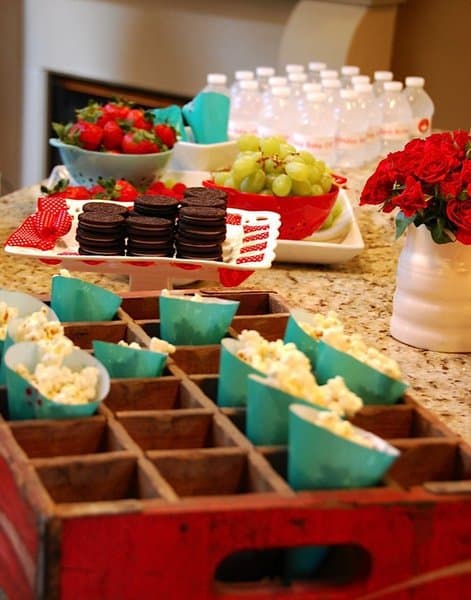 Tell us about those cupcakes! Flavors? Topping options? The girls got to pick from 4 different cake mixes: chocolate, vanilla, white and lemon. One team picked the vanilla and the other pick white. They also had to include two secret ingredients somehow. The two secret ingredients were mini marshmallows and gummy bears.  They had tons of sprinkles for topping to choose from.  I had to be careful of toppings because I had one little girl that was allergic to nuts so we kept it simple.  I chose the flavors because they were the least messy.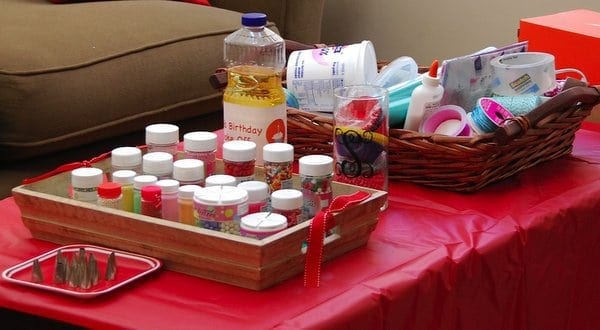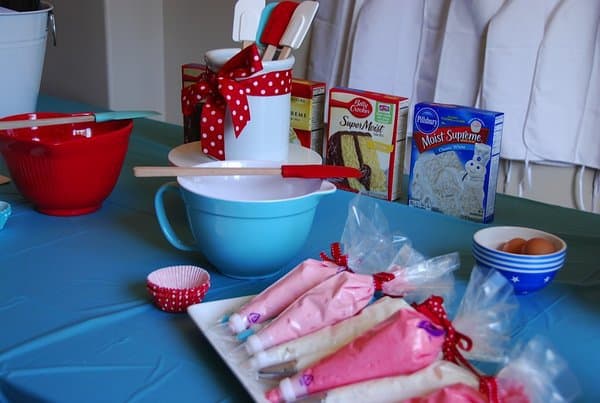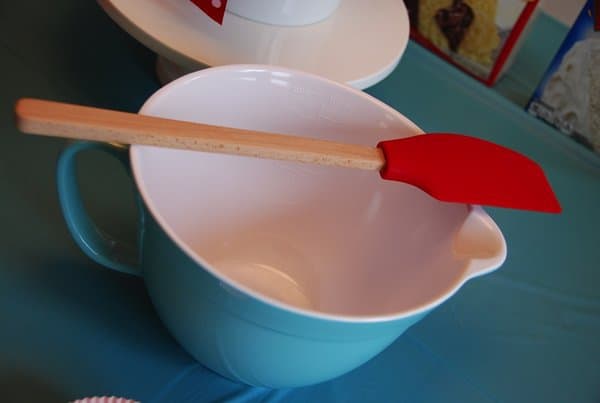 What were the rules?  They had  1hour and 30 mins to bake and decorate cupcakes, design the cupcake stand and present to the judges.  They were graded on appearance, taste, creativity, clean station, and presentation to judges.  They were allowed to ask only 2 questions during the competition.  I put in and took the cupcakes out of the oven, other than that they had to work together figure it out on their own.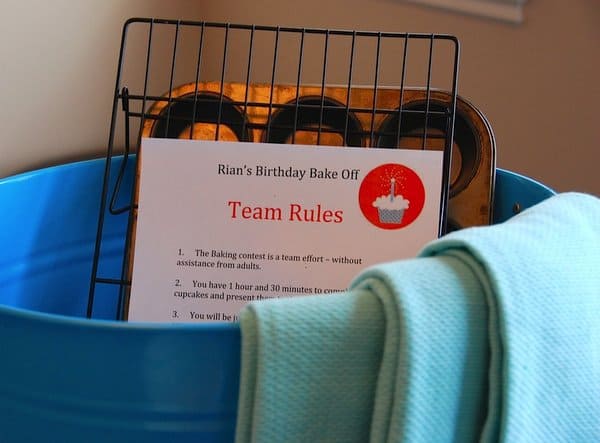 Who won the bake-off? It actually turned out to be a tie.
Did you have gift bags? Yes, Each girl got a apron to take home, a wooden spoon and a cupcake lipgloss.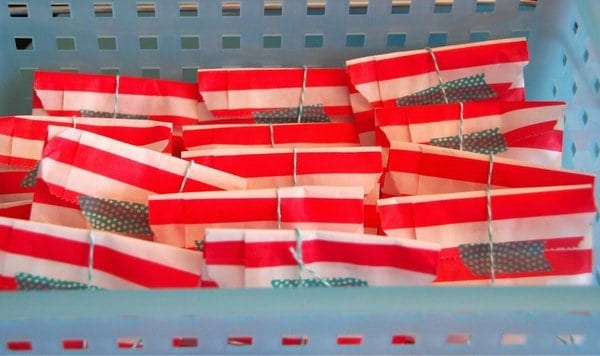 What was the biggest hit of the party? The competition part of it.  Once they found out the teams they were all racing around trying to figure out who was going to do what job.
Any misses?  I would have fewer girls, I think we needed 3 teams with that many girls.  We did not have enough space for the a 3rd team though.
How long did it take to put everything together?  One week.
What was the hardest part? Finding enough aprons.  I think I went to Michael's every day!
What was easy? The food
The most expensive? The aprons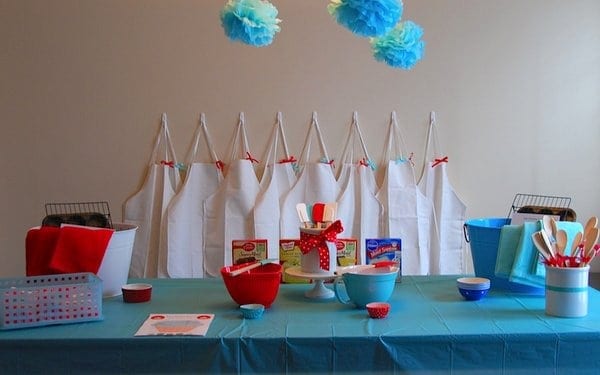 What would you do differently next time? I would definitely have fewer children and I would have monitored the sprinkles more.  I am still sweeping up sprinkles.
Did her little sister Elle participate? Yes, she was going to bake, but she was a little intimidated by all the big girls so she decided to be a judge.
What did Rian enjoy the most? She loved the whole thing. I think she felt really grown up being able to bake with all her friends.
Fill your child's life with more good food & birthday party ideas: