There's a honey-mustard chicken dish that everyone in my family loves. And when I say family, I don't just mean my kids. I'm talking cousins. In-laws. Friends of cousins. That sweet and tangy sauce slathered over juicy chicken thighs is hard to beat.
Except when you cook the whole thing over potatoes and add a side of broccoli to the same pan.
Now that's a sheet pan dinner to love.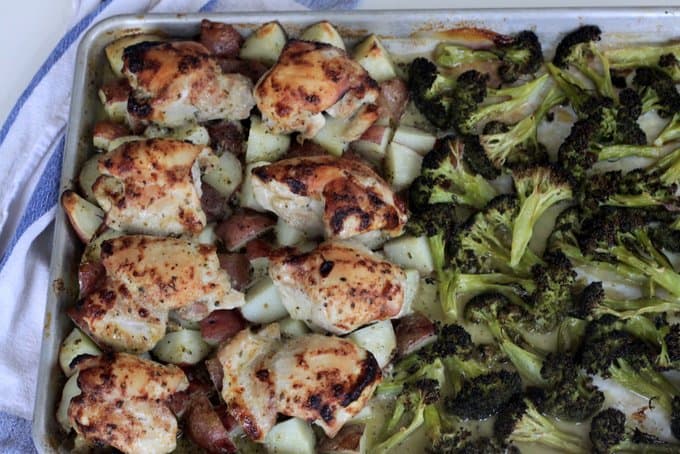 Start with a cookie sheet. I lined mine with parchment but next time I won't. You could use foil but I typically prefer to save my foil and just wash the pan. Up to you.
Then it's a pound or so of red-skinned potatoes. (Or yellow potatoes. Anything with thin skin will work just fine.) Mine were regular potatoes so I cut them into eight pieces each and poured on a couple of tablespoons of the marinade.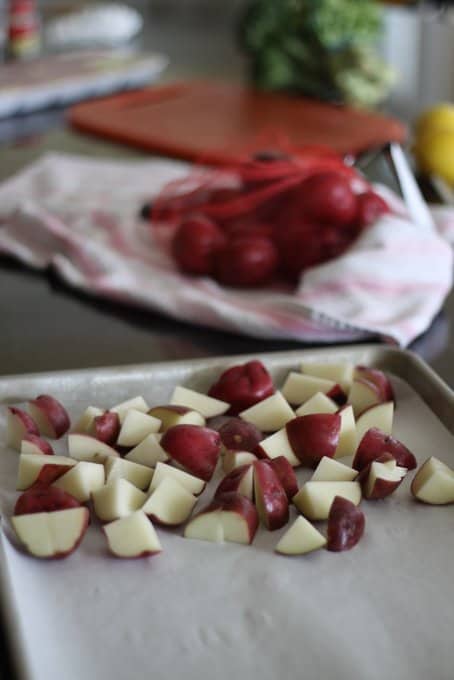 Then moved on to the broccoli. I left these spears bigger than I normally would for roasting because I wanted everything to get done at the same time. These were dressed in plain olive oil and salt.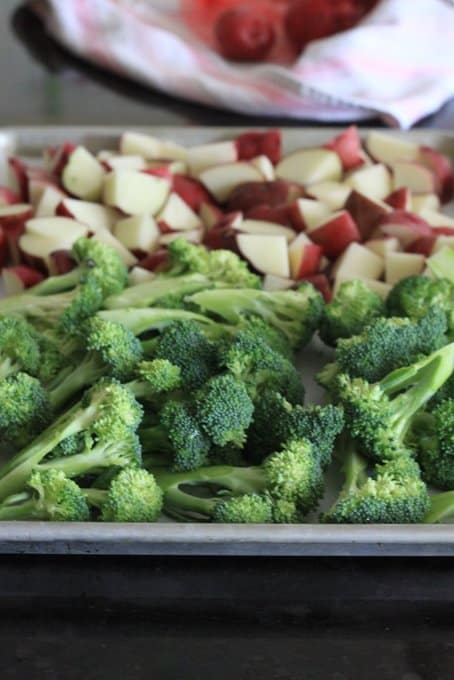 Then came the chicken. I almost always use boneless, skinless thighs these days. Less cost, more flavor! So I sauced it up with the rest of my honey-mustard marinade and tucked each thigh right on top of those potatoes.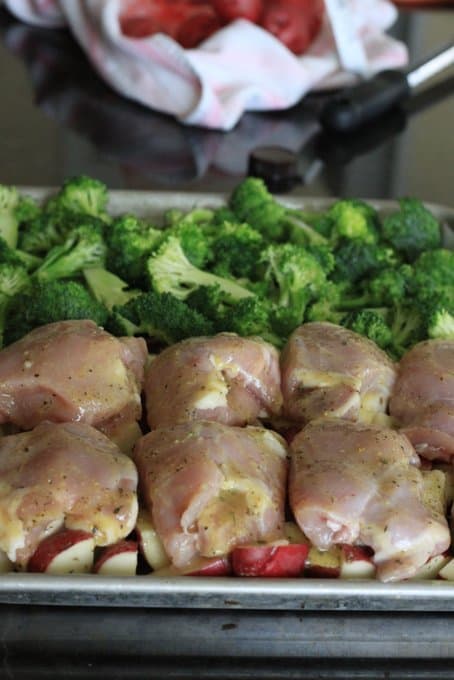 Into a hot oven for about 40 minutes and ta da! And entire meal ready to go at once.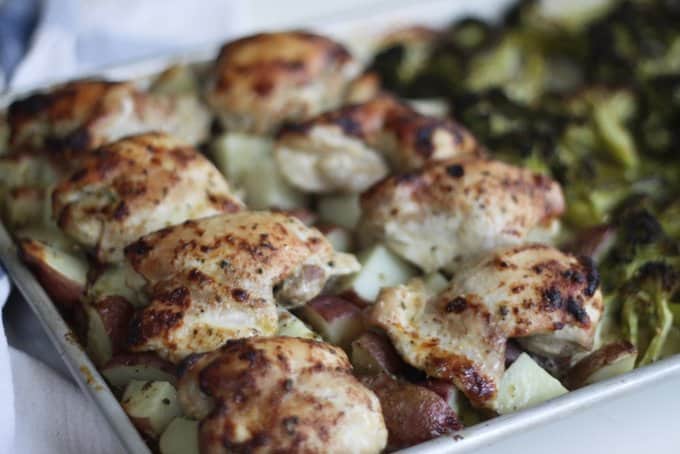 Recipe
Prepare the marinade for the basic honey-mustard chicken recipe here.

Sheet Pan Honey-Mustard Chicken with Potatoes and Broccoli
Ingredients
¼ cup mustard
⅓ cup honey
1 tablespoon olive oil, plus 2-3 tablespoons (for broccoli)
½ teaspoon salt
2-3 sprigs fresh rosemary, no need to chop, just nestle it in with the chicken
Freshly ground black pepper
8 boneless, skinless chicken thighs
1 pound red-skinned potatoes, cut into small bite-size pieces
1 bunch broccoli, cut into large bite-size pieces
olive oil
salt
Instructions
Preheat your oven to 425 degrees F.
Prep marinade by combining mustard, honey, olive oil, and salt.
Set potatoes on one side of a large cookie sheet, coating them in 2-3 tablespoons of the marinade. Then use the rest of the marinade for the chicken. Place each piece of chicken on top of the potatoes.
Use the other half of the baking sheet to arrange the broccoli. Slather on 2-3 tablespoons of olive oil and sprinkle with salt. Place all stems in a single layer.
Cook for about 40 minutes, until the potatoes are tender and the chicken is no longer pink inside.
Want to make it ahead?
There are two ways to prep this meal in advance.
Make the marinade in a bowl (or just use a gallon size zip-top bag), then throw the chicken in. It can sit like this for a full day. You could even freeze it at this point. When you're ready to bake, add the potatoes to the bowl so they're coated too, then assemble on the pan. (You'll have messy hands but a delicious dinner.) Add the broccoli and you're set.
Prep the entire sheet pan, from potatoes to chicken and broccoli, cover with foil and let it wait for you in the fridge all day. Pop the whole pan–minus the foil–in the oven when you get home from work/school/the great outdoors.
Did you like this post? Like us on Facebook! And sign up for our newsletter (at the top of this page) so you never miss a simple new recipe or tip.