There's a weekend breakfast that makes all four of my kids cheer: A Dutch Baby. A cross between a giant pancake and a souffle, a Dutch baby's packed with protein (thank you eggs!) and takes about 3 minutes to prep (you too, blender!).
We serve ours hot out of the oven, slathered in apple butter. Then we serve ourselves again. A Dutch Baby is definitely a seconds-friendly breakfast.
Now a note about size. Since there are four rascals at my house, whose appetites seem to have the Hulk-like powers to double every Saturday morning, this recipe isn't just a Dutch Baby. It's a Big Dutch Baby.
I've been working on this recipe for months now, tweaking, baking, tweaking, baking again.
And here's the winner.
The most delicious Dutch Baby I've made so far, the one that feeds a crowd.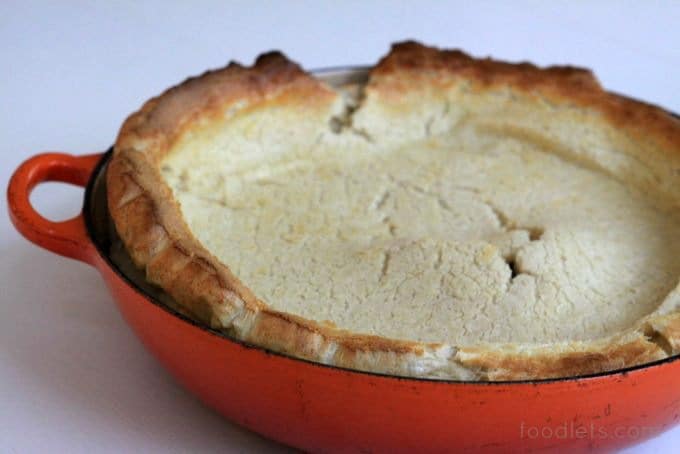 It's actually VERY easy to put together. Start with by putting your pan, along with a stick of butter, in the oven as it preheats. You'll melt the butter, heat your pan and warm the oven all in one step. For this Big Dutch Baby recipe, I use the giant Le Creuset "braising" pan I got in my pre-kid days (with a pre-kid budget), but it's similar to this much more affordable one by Rachel Ray, which also comes in a handy 2-pack.
Otherwise it's all about the blender. Beat your eggs in the blender until they double in volume. Then add everything else. Pulse again.
About this time your butter will be melted–or close to it. Pour the melted butter (even if there are a few chunks left) into the blender and pulse again. Moving quickly, pour the WHOLE shebang BACK into the hot pan. Careful!
Then bake for 22 minutes. I know, it's specific, but this works perfectly with my pan, in my oven. Yours make be 20 or 25. But I'll tell you this: it'll be awesome.
But 22 minutes is VERY long in kid time. My rascals make noises about possibly fainting between the time the Big Dutch Baby goes into the oven and comes out, so I serve up a bunch of fruit. Not too much though. The last thing you want is full tummies when this thing hits the table.
That'll spoil the fun.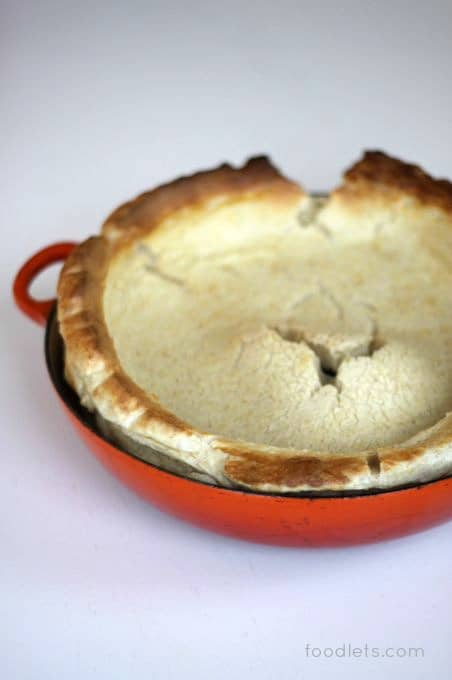 Now this part's important: Serve your Dutch Baby immediately! Like a souffle, it'll fall quickly. And that's fine. But it's also great to have the kids near the oven (but you know, not too near) because there's a bit of theatre going on here. Expect ooohs and aaaahs.
Then empty plates.
And requests to make another Big Dutch Baby again next weekend.

Big Dutch Baby, the Weekend Breakfast Our Kids Love
Ingredients
1 stick butter
6 eggs
1⅓ cup milk
1 teaspoon vanilla
1 teaspoon cinnamon
2 tablespoons brown sugar
1⅓ cup flour
Instructions
Preheat oven to 450 degrees F.
Place butter in a large round pan and put it in the oven as it heats.
Meanwhile, crack 6 eggs into a blender and beat until they double in size, about 2 minutes.
Add the milk, vanilla, cinnamon and brown sugar and pulse a few times.
Add the flour and mix for 1 minute.
Finally, get the pan from the oven and pour in all the melted butter (if it hasn't melted yet, don't worry just throw it in.) Pulse twice.
Then pour the ENTIRE blender batter back into the hot pan, carefully.
Quickly return the pan to the oven and cook for 22 minutes. (This is the perfect amount of time in my oven; yours may require a couple less or more.)