Here comes another fast dinner idea!
In just 20 minutes you'll have a fresh spin on the one dinner nearly every family loves (no, we're not talking about you, pizza, so please calm down): This is taco soup.
Taco soup has all the yummy flavors of tacos served in a refreshing new way AND there are still the toppings your little guys can add "BY MYSELF". Diced tomatoes, cheese, avocados and even tortilla chips.
It's a bridge food too. Since teaching kids to love good food means building their confidence to try new foods, I love meals like this one that encourage my rascals to try something new without straying too far from the familiar. I call those bridge foods.
Now this part is important: If you're even slightly tempted to try our taco soup I say go ahead and crack open those canned tomatoes because this is a tried-and-true reader recipe from Jennifer in Washington state. She's a mother of two girls and told me this is her go-to quick dinner on busy weeknights–the one everyone loves, every time.
She's totally right.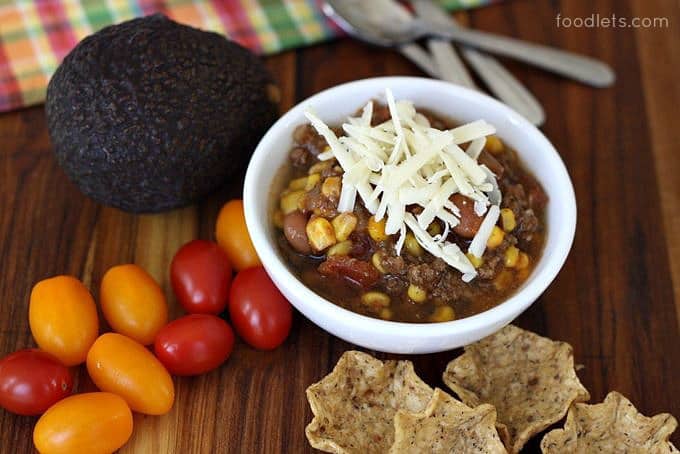 And p.s., this taco soup makes a knock-out school lunch when you throw it in a thermos. Just pack the cheese separately because it'll melt onto the top and if your littles are like mine, that will not be good.
Print
Taco Soup, a Fresh Take on a Family Favorite that's Done in 20 Minutes
Author:
Cook Time:

20 mins

Total Time:

20 mins
Ingredients
1 pound ground beef
1 medium diced onion
1 teaspoon chili powder
1 teaspoon garlic powder
1 teaspoon cumin
1/2 teaspoon salt
1/4 teaspoon pepper
1 (15 1/2-ounce) can pinto or kidney beans
1 (14 1/2-ounce) can Mexican-style stewed tomatoes
1 (15 1/2-ounce) can chicken broth
1 cup frozen sweet corn
black olives, drained and sliced, for toppings
green olives, sliced, for toppings
corn chips, for toppings
sour cream (or plain yogurt), for toppings
diced tomoatoes, for toppings
grated cheese, for toppings
chopped green onions, likely for adult toppings
Pickled jalapenos, likely for adult toppings
Instructions
In a large pan, brown the beef and onions until it's browned.
Add the spices and stir.
Next combine the beans, tomatoes and chicken broth then bring to a boil. Reduce the heat and allow to simmer for about 5 minutes.
Add the corn during the last minute and bring back to a boil (the cold corn will likely cool the whole thing off) before removing from the burner.
Serve with any combination of toppings your crew will enjoy.
Want more fast dinner ideas? Click through our growing collection!
It's true, the rascals want dinner every single night, but it making a fresh meal doesn't have to be so hard. And this is just one idea, where there's plenty more.
For more simple recipes plus tried-and-true tips for pulling it off (you know, most of the time), join our Foodlets mailing list at the top of this page and follow us on Facebook.
Or get started with some of our most popular posts right here!