It's time to pack school lunches again!
This year I have two elementary aged girls plus two preschoolers and I'm packing healthy lunches for ALL of them.
Which means things need to be quick.
Packing for four also means the potential for a LOT of waste, so I'm sharing our kids' favorites from the week.
These are their real lunches, photos taken on the fly/on the way out the door, docu-style with the hopes of showing how quickly you can put together a lunch box full of real food (and at least 2 of the recommended 5 daily servings of fruit and vegetables).
One tip: I'm totally sold on bento-style lunch boxes. This one is a Planetbox Rover that my oldest has been using every day for 2 years now, going on 3. Not cheap but boy does it make packing a beautiful and balanced lunch easy!
We also have a set of 4 EasyLunchBoxes that are much, much cheaper. They also work well and I love that even preschoolers can pop the lids off easily. They have 3 compartments and don't insulate the food quite as well but still, a really good investment–particularly for the price. I use them for my preschool crew.
Back to the food. These are kid-tested ideas by my own rascals but four makes a small focus group and I want to know how it goes with you! Were any of these a hit? Did you make any updates?
Let's hear it because we all know that empty lunch boxes mean full bellies, and happy kids. Here goes.
#1: Peanut butter & fresh blackberry wraps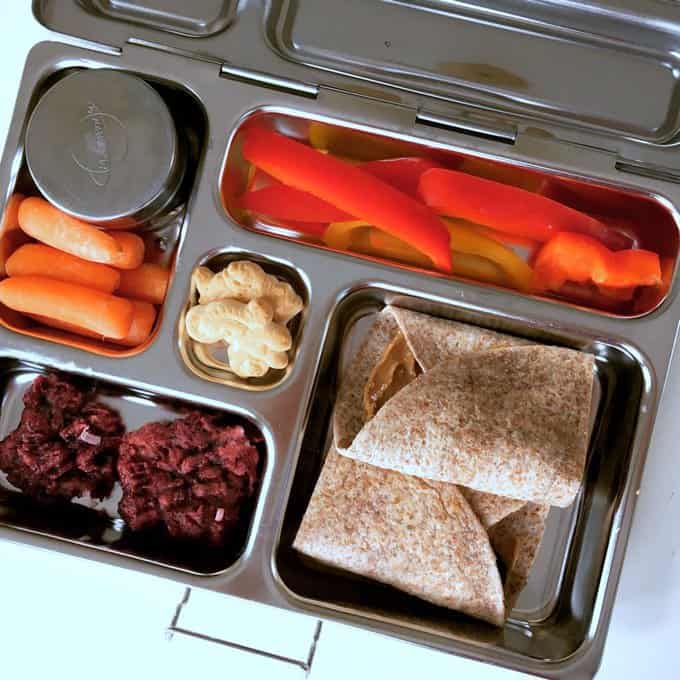 These peanut butter wraps on whole-wheat tortillas are a fun spin on PB&J. We also added our brand new chocolate-beet cookies (the best way I've gotten my kids to eat beets so far!), carrots with Goddess dressing, red bell peppers and a couple of animal crackers.
#2 Cottage cheese with peach slices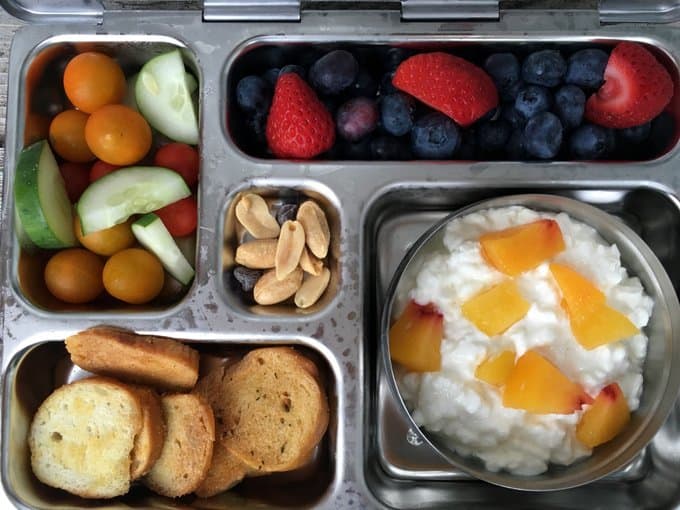 Cottage cheese with frozen peach slices (grabbed from my smoothie stash in the freezer) is a filling main dish, especially when you add homemade bagel chips (sliced bagels + olive oil, salt, garlic powder and rosemary in a 350 degree oven for 17 minutes), cucumbers and tomatoes from the garden, tons of fresh fruit and a handful of peanuts with a couple of chocolate chips to boot.
#3 Leftover spaghetti

Never underestimate the power of leftovers from last night's dinner for today's lunch! I warmed up our pasta (with the easiest-ever, most delicious, practically no-sugar tomato sauce that's become a family favorite), a kiwi split in two (pack a spoon!), fresh fruit & veggies and…a sticker. Because, puppies.
#4 Whole-wheat dinner roll sandwich
I love using whole-wheat dinner rolls for sandwiches. This one is just straight up cheddar with mayo but obviously you could use any fillings you like! More cucumbers (gardeners, you understand), strawberries and some slightly sweetened popcorn from Costco.
#5 Chia seed pudding with fresh strawberries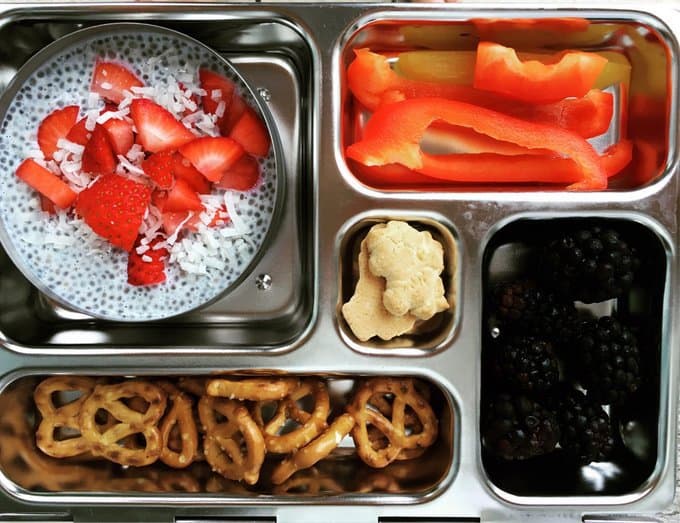 Overnight chia seed pudding with berries is also an easy and nutritious way to pack a lunch quick. Crunchy red bell peppers, blackberries (hiding in our lunch box here), pretzels and more animal crackers.
If you liked this idea, follow us on Instagram, where I post our lunch ideas every day. Plus, sign up for our free newsletter so you'll never miss a new kid-tested idea for healthy food fast. (At the top of this, and every page!)
Want to check out a PlanetBox for yourself? Get all the details on what's included in each kit plus the dozens of magnet sets and interchangeable carrying cases.