What to do when "Mommy, I'm hungry" really means your kid is tired.
Once I started paying attention to how much sleep our kids were getting — and what happened when they didn't get enough — it really clicked. The connection between being hungry and being tired.
And it's one that I want to course correct for my kids before they become adults who slog through their days, powered on sugar, caffeine and carbs.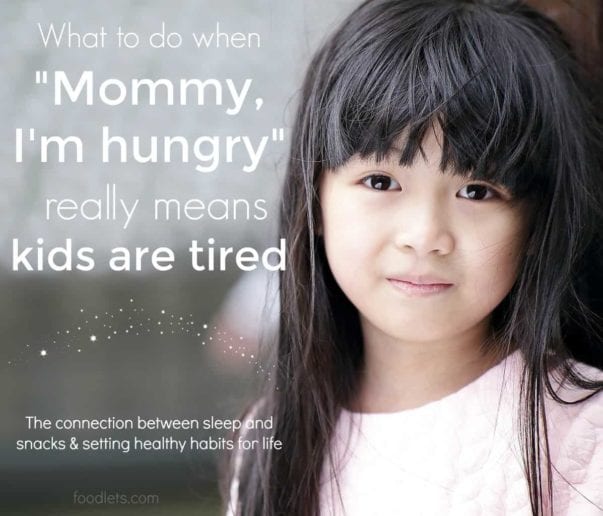 I've seen it firsthand with my own kids. (Not to mention myself. #4newbornsin5years)
Tired kids become hungry kids. When they don't get enough sleep, their bodies crave energy. Researchers at the University of California Berkley found proof, as reported in Psychology Today:
Insufficient sleep has a two-fold effect on eating—not sleeping enough makes us more inclined to eat poorly, and at the same time less able to exert control over our impulses to eat those not-good-for-us foods."
Cue the kids asking for extra snacks.
I'm not talking about the five basic meals most experts suggest per day. This is additional eating. When kids think they're hungry but they're really tired. Whether it's in the form of Pirate's Booty or kale chips doesn't really matter. Grazing all day long isn't a good habit.
Speaking of habits, running on empty as a kid can lead to a lifetime of not putting your body's needs first. It takes discipline and like so many other parts of life, this is one area where we can try to steer our kids in the right direction while they're young.
The stakes are higher than you might think.
How does sleep affect weight?
In her book, The Sleep Revolution, Arianna Huffington explains the connection between sleep and maintaining a healthy weight.
A lack of sleep also has a major impact on our ability to regulate our weight. In a study by the Mayo Clinic, sleep-restricted subjects gained more weight than their well-rested counterparts over the course of a week, consuming an aver­age of 559 extra calories a day. People who get six hours of sleep per night are 23 percent more likely to be overweight. Get less than four hours of sleep per night and the increased likelihood of being overweight climbs to a staggering 73 per­cent. That is due in part to the fact that people who get more sleep produce less of a hormone called ghrelin—the "hunger hormone," which increases our appetite. The sleep-deprived group also had lower levels of the hormone leptin, the "sa­tiety hormone," which lowers our appetite. In other words, cutting back on sleep is a fantastic way to gain weight. Other research points to the role of sleep in the production of orexin, a neurotransmitter that normally stimulates physical activity and energy expenditure but is reduced when you are sleep-deprived."
Add moodiness, being accident prone and weakened immune responses (among many other issues that don't seem great ), and lack of sleep starts to seem like the culprit of many problems.
The real reason family meals are hard
In fact, it takes a well-rested kid to be able to cooperate at the dinner table. It's already late in the day. You're likely to spring a new recipe or at least one thing they may not love on them here. You might have our rules for peaceful dinners already printed out, but if your kids are exhausted, there's no colorful font that will convince them to stick it out.
How much sleep do kids need?
We've all seen that infographic about what time kids should go to bed and whether you thought it was right on, or totally unrealistic, here's what the National Sleep Foundation says.
For my family, with kids ages two through seven, they all need somewhere between nine and 14 hours of sleep!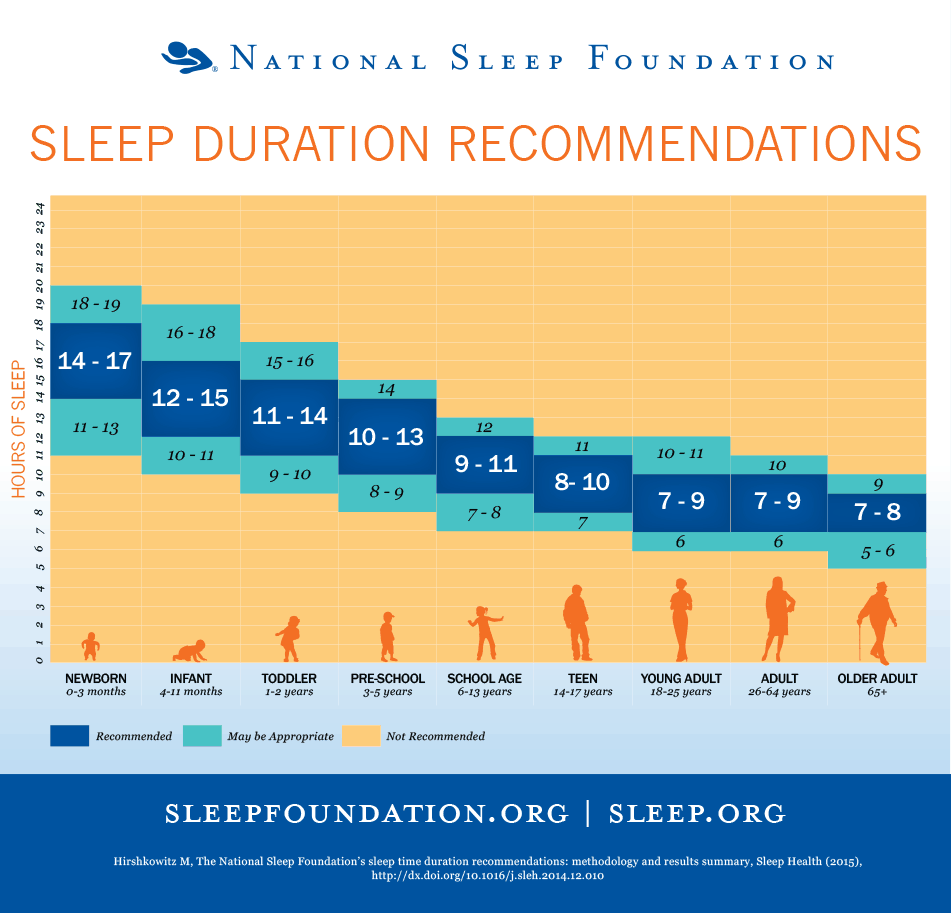 It's a Tetris game, figuring out how to juggle all the hours of the day so kids will get enough rest.
But if you notice that your kids are constantly hungry, reluctant to try new foods and difficult to enjoy a meal with together, the culprit might not have anything to do with your cooking.
They might just need more sleep.
How realistic is this?
I know all of this information. I've studied the charts, read the books and still. Sometimes our kids don't get enough sleep. When an obviously tired kid asks for an extra snack here's what I've started doing.
Sit down with them, and help them just relax. It's unrealistic to suggest that kids take a cat nap every time they're low on energy (though apparently some of the world's best leaders have been life-long nappers). But I also don't want to fuel their cravings for junk when they're really just beat.
A few things that work for us:
Read a book together (Together is kind of key for little kids. They really need extra TLC in these moments.)
Play something low-stakes, like Legos or dolls.
Step outside and either stroll through the neighborhood, or in our case, fields. Or just sit on the porch together, enjoying a little fresh air.
If all else fails, this is the perfect time for a video. But I'd still suggest sitting down with the kids for even a few minutes. Right there on the couch. A little cuddle goes a long way with wiped out rascals.
As part of the Feeding Kids Character series, we're focusing on 5 ways even small kids can learn to take care of their bodies this month.