Decorating this little lamb cake was one of the easiest kids' birthday cakes I've ever made.
With just about the most adorable results.
When I saw this lamb marshmallow cake I online, I had to wonder: Is it really as simple as it looks or am I going to end up with a whopper of a Pinterest Fail?
But don't worry tired moms and would-be party hosts because it's the first one!
In fact, I whipped this one up for George's 4th birthday and you can make one of your own in minutes. All you need are:
White frosting (tip: Make sure it's true white or it'll look beige next to those marshmallows.)
Regular marshmallows
Pink sprinkles
Small tube of black writing icing
One pink candy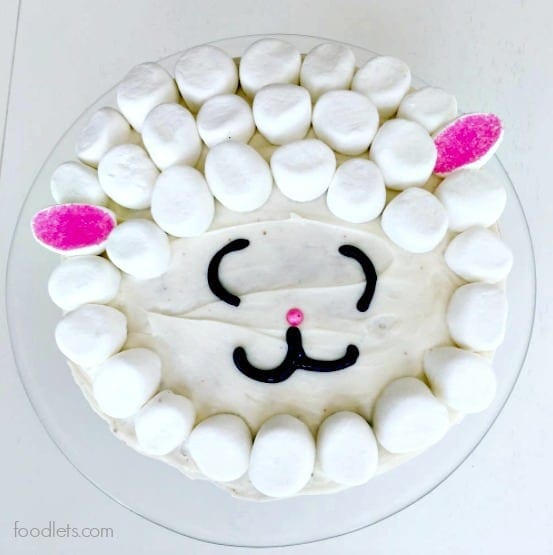 DIRECTIONS
Cover the entire cake in white frosting.
Make the ears: Cut one marshmallow diagonally. Dip the cut ends into your pink sprinkles. Place in the top corners of the cake.
Cut each marshmallow through the middle and place a ring around the entire top of the cake, going around the "ears". Add two more mini rows for the lamb's forehead.
Use your tube of black icing to draw a simple face.
Place the pink candy right in the center.