We flew to Denver to visit my mom's family when I was 10. My aunt made lemon chicken and I thought I'd never tasted anything so delicious. Juicy. Tangy. Since when do we put fruit on chicken? What is even happening? And why can't I stop eating it?
Today's recipe is a riff on that amazing dinner.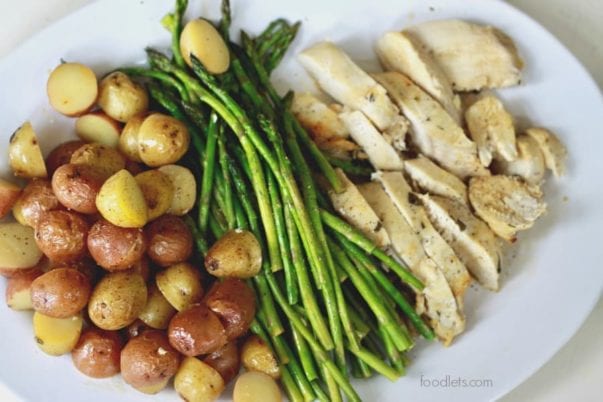 This one only requires one sheet pan for the whole meal but two if you're counting the marinating step.
Don't let that stop you! It's totally worth it.
Sheet pan lemon chicken is perfect for feeding a crowd, or you can do what I did in the how-to video I made for this recipe: Roast the second half of your chicken for a second tasty dinner later in the week–already half made.
Use your pre-cooked chicken for our creamy lemon chicken pasta or whip up Ina Garten's peanut dipping sauce for the most flavorful dinner combination your kids' tiny taste buds will ever have.
Here's how you do it:

Sheet Pan Lemon Chicken with Potatoes & Asparagus
Use half of the chicken in this dinner, then save the second half for another dinner. It's perfect with pasta or over salad greens.
Ingredients
3-4 pounds chicken breast
2-3 lemons zested and juiced
½ cup olive oil
½ teaspoon pepper
1 teaspoon salt
2 tablespoons fresh herbs (basil, thyme, parsley)
2 pounds new potatoes, cut in half
1 pound asparagus, trimmed
Instructions
Prepare the marinade in the same pan you'll store in the fridge. Combine lemon zest and juice, olive oil, pepper, salt and herbs.
Assemble chicken breasts in the marinade, moving around to coat entirely. Cover and marinade in the fridge at least 3 hours or overnight.
Preheat oven to 400 degrees F. Arrange chicken and potatoes on a sheet pan. Pour a little of the pan's marinade onto the potatoes and rub them until coated. (Tip: The potatoes will cook more evenly if you put the cut side down.) Cover with foil and roast for 30 minutes.
Remove the foil and roast for another 15 minutes. This gives the chicken and potatoes a little color.
Add asparagus, cover and roast one more time for about 10 minutes.
Arrange on a platter and squeeze with fresh lemon juice, plus a sprinkle of salt and pepper.