(Excerpted from "The Farmhouse Chef" by Jamie DeMent.)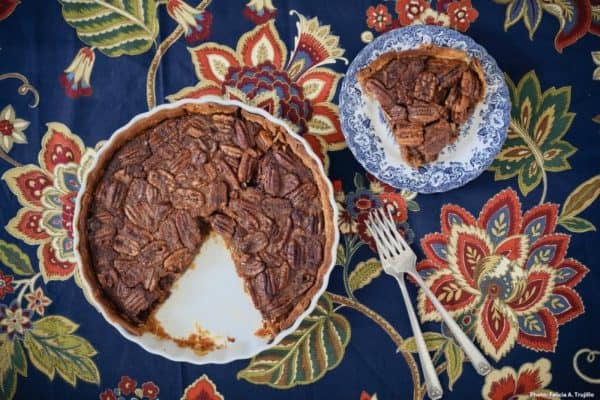 Some people say that I live in the superlative. Everything is the very best or very worst. Well, this is the best pecan pie you will ever cook. I promise. No corn syrup needed. People from around the world will sit at your dinner table and tell you how brilliant you are. You will win Thanksgiving every year. Peace on earth will descend around you. All because of some pecans and some old-time cane syrup.

Cane Syrup Pecan Pie from "The Farmhouse Chef"
Makes 6–8 servings
Ingredients
1 unbaked piecrust
4 tablespoons unsalted butter
1 tablespoon all-purpose flour
1 tablespoon cornstarch
1½ cups pure cane syrup
½ cup sugar
2 large eggs
¼ teaspoon salt
1 cup pecan halves
1 teaspoon pure vanilla extract
1 tablespoon bourbon
Instructions
Preheat the oven to 450°. Line a 9-inch pie pan with the piecrust.
In a medium-sized saucepan, melt the butter and stir in the flour and cornstarch until smooth. Add the cane syrup and sugar, and boil for 3 minutes. Remove from the heat and cool.
In a separate small bowl, beat 2 eggs. Add the eggs and the rest of the ingredients to the pot, and stir them to mix well. Pour everything into your piecrust and lightly tap it on counter to even out the nuts and release any air bubbles.
Place the pie in the oven and bake at 450° for 10 minutes. Turn the heat down to 350° and bake for an additional 30–35 minutes—until the pie is done and not jiggly in the center.
Remove the pie from the oven and allow it to cool a little before serving.
From The Farmhouse Chef: Recipes and Stories from My Carolina Farm by Jamie DeMent. Copyright © 2017 by Jamie DeMent. Used by permission of the University of North Carolina Press. www.uncpress.org