(Excerpted from "The Farmhouse Chef" by Jamie DeMent.)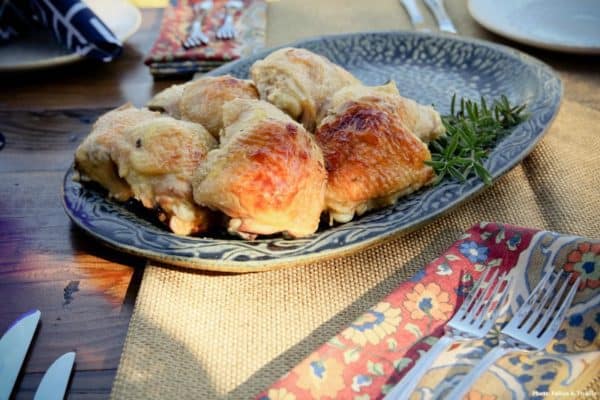 This recipe is the happy result of a late afternoon meltdown. I had planned to cook fried chicken for a crowd at the farm and, as often happens, the day ran away with me. Pigs got loose and tore up a freshly planted bed. I spent the afternoon replanting instead of getting ready to feed people. The prospect of dredging and dealing with scalding hot lard brought me nearly to tears, so I grabbed the marinated chicken, stuck it in the oven, and hoped for the best. The results were so juicy and delicious that I started playing with ingredients and added this final recipe to our regular rotation. Chicken breasts (bone-in, skin-on) can be substituted for this recipe, but be sure to cut the cooking time by 5 minutes for each segment.
Print
Buttermilk Roasted Chicken from "The Farmhouse Chef"
Ingredients
2 pounds skin-on chicken thighs and/or legs
2 cups cultured buttermilk
1/4 cup plus 2 tablespoons olive oil
2 garlic cloves, roughly minced
2 tablespoons roughly chopped fresh rosemary leaves
2 tablespoons roughly chopped fresh oregano
1 tablespoon sorghum
Salt and freshly ground black pepper, to taste
Juice of 1 lime
1/2 cup roughly chopped fresh parsley
Instructions
Place the chicken in a large sealable freezer bag. Add the buttermilk, 1/4 cup of the oil, and the garlic, herbs, sorghum, salt, and pepper. Seal the bag and refrigerate overnight.
When you're ready to cook the chicken, preheat the oven to 400°.
Remove the chicken from the marinade and shake off any excess. Drizzle the bottom of an oven-safe roasting pan or cast-iron skillet with the remaining 2 tablespoons oil and arrange the chicken around the pan.
Roast the chicken, uncovered, for 30 minutes at 400°. Turn the heat down to 325° and continue roasting until the chicken is well browned and juices run clear when the chicken is pierced through the thickest part of the meat (about 20 more minutes).
When the chicken is done, take it out of the oven and let it rest out of the pan for 10 minutes before serving. For serving, drizzle the pan juices and juice from the lime over the chicken and scatter chopped parsley on top.
From The Farmhouse Chef: Recipes and Stories from My Carolina Farm by Jamie DeMent. Copyright © 2017 by Jamie DeMent. Used by permission of the University of North Carolina Press. www.uncpress.org