Inspired by the biggest package of yeast I've ever seen (Costco, you complete me.) we're baking and baking some more! Today it was homemade soft pretzels and…BOY WERE THEY GOOD!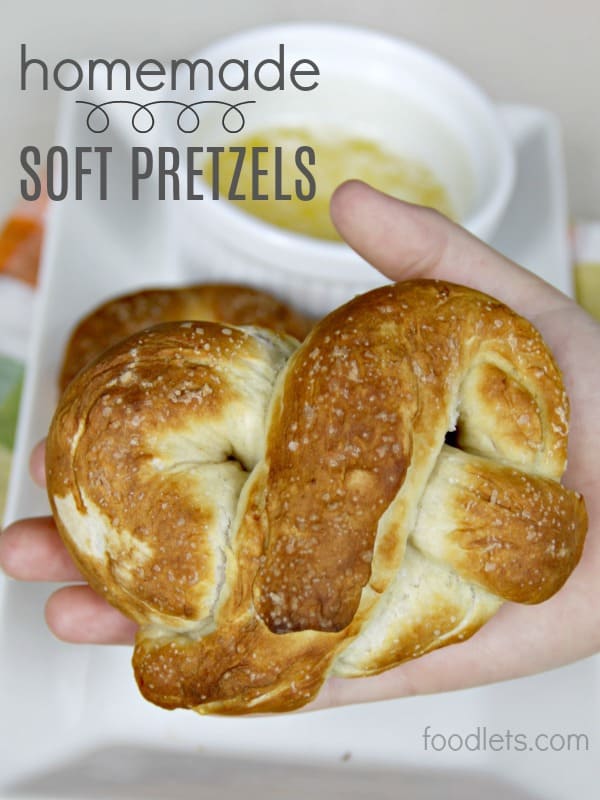 Here's what I love about these homemade soft pretzels:
My nine-year-old made the dough by herself with a couple of minor assists.
The six and seven-year-olds helped her form 10 pretzels in every shape they could imagine–and it took about 15 minutes. (I made two. Because I couldn't resist! #lookoutkids)
And if you think I'm going to say "homemade pretzels are absolutely delicious" you are right as rain.
How to make homemade soft pretzels:
Mix the dough together and knead for 7-8 minutes. (Prepare for flour everywhere.)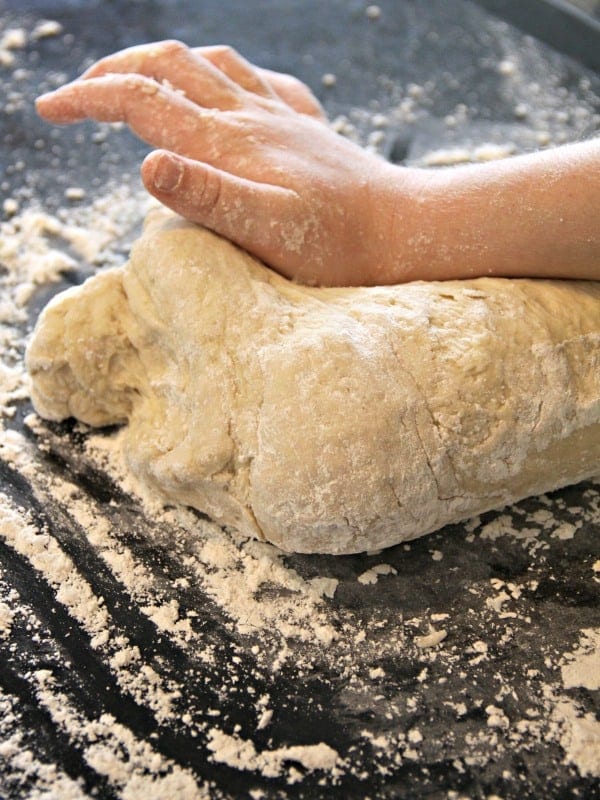 2. Proof for about an hour then divide the dough into 12 slices.
3. Roll each slice into a long snake.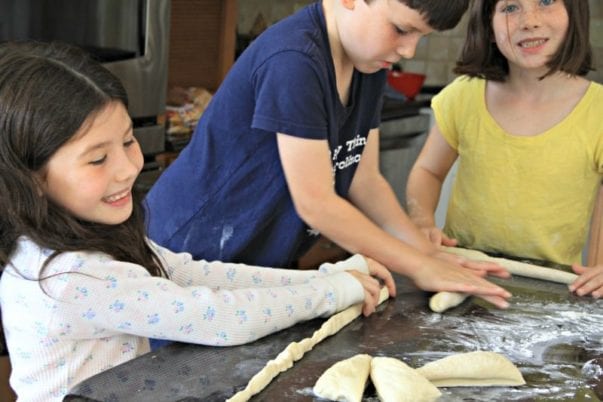 4. Shape into a pretzel. Or a man. Or a coiled snake. Or… (Just try to do a design that's flat so all the pretzels cook evenly in the same amount of time.) Dip into a baking soda/water solution. Sprinkle with salt and bake.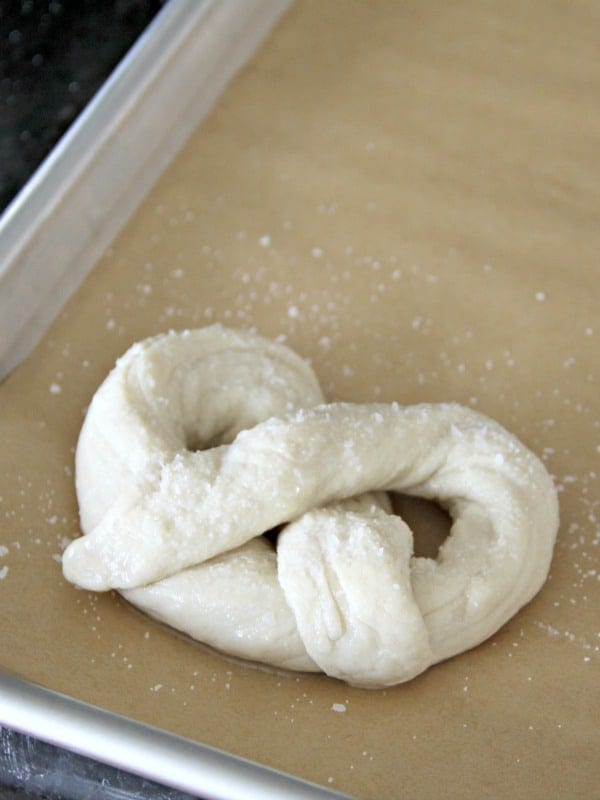 5. After about 8 minutes, you'll have freshly baked pretzels that you can:
devour immediately
brush with butter and sprinkle cinnamon sugar on top
dip in mustard
any combination of the above — you'll have 12 to work with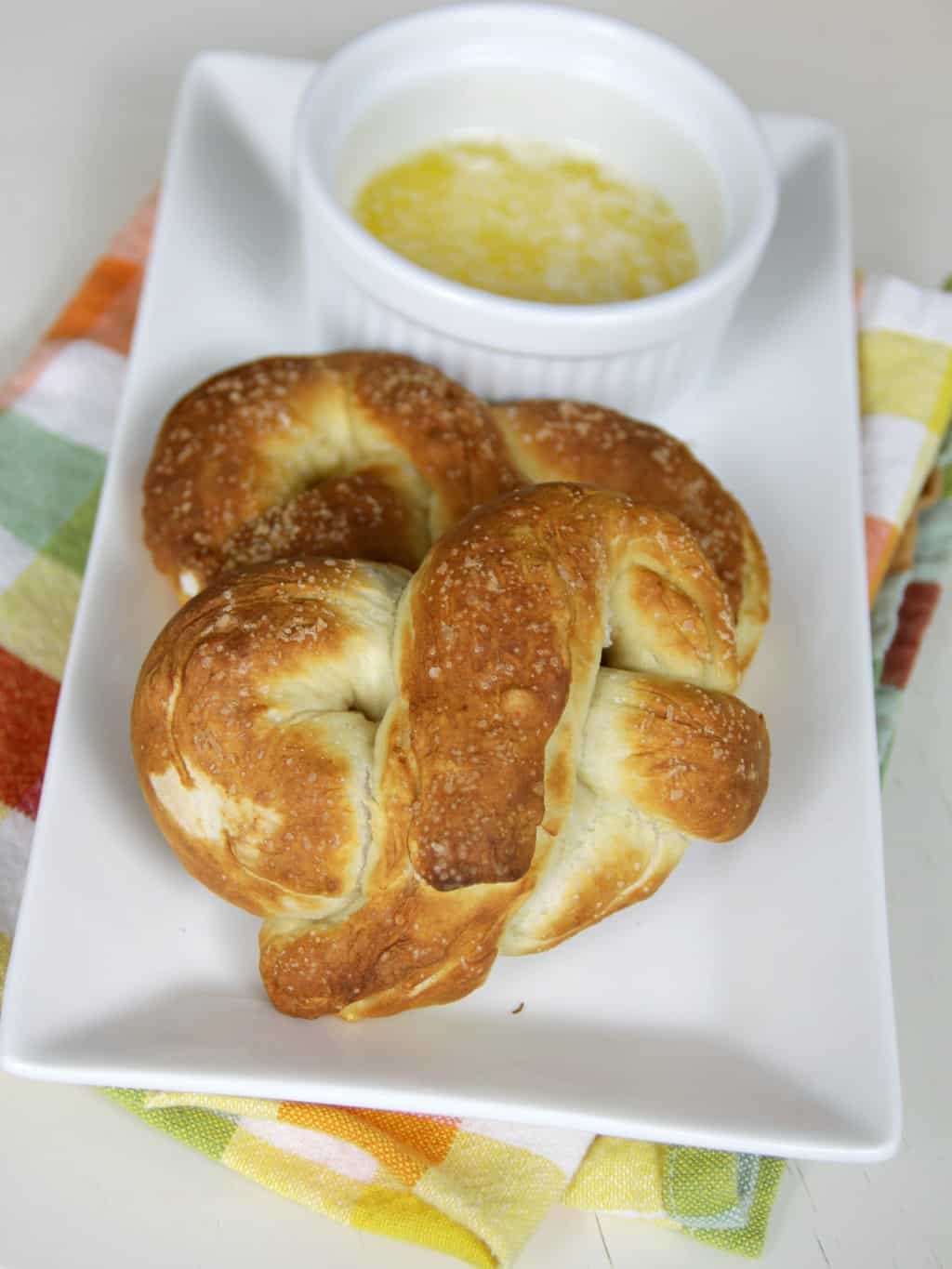 Recipe for Simple Homemade Soft Pretzels
Simple Homemade Soft Pretzels
For the warm water, think of a nice bath temperature. You need something to activate the yeast but don't overdo it.
Ingredients
4 teaspoons active dry yeast
1 teaspoon white sugar
1¼ cups warm water
5 cups all-purpose flour
½ cup white sugar
1½ teaspoons salt
1 tablespoon canola oil
½ cup baking soda
4 cups hot water
3 tablespoons coarse salt
Instructions
In a large liquid measuring cup, combine yeast and 1 teaspoon sugar. Add 1¼ cup warm water. Let stand until creamy, about 10 minutes.
In a large bowl, mix flour, ½ cup sugar and salt. Make a well in the center; add the oil and yeast mixture. Mix and form into a dough. If the mixture is dry, add one or two more tablespoons of water.
Knead the dough until smooth, about 7 to 8 minutes.
Lightly oil a large bowl, place the dough in the bowl, and turn to coat with oil. Cover with plastic wrap and let rise in a warm place until doubled in size, about 1 hour.
Preheat oven to 450 degrees F (230 degrees C). Line 2 baking sheets with parchment paper.
Meanwhile, pour 4 cups of hot water into a large bowl and stir in the baking soda.
When the dough is risen, flip it onto a lightly floured surface and divide into 12 equal slices.
Roll each piece into a rope and twist into a pretzel (or whatever) shape.
Once the dough is shaped, dip each pretzel into the baking soda-hot water solution and place on baking sheets. Sprinkle with kosher salt.
Bake in preheated oven until browned, about 8 minutes.