THIS IS BEGINNER CHICKEN TIKKA MASALA.
That's because my kids don't do spicy.
Actually, I don't even like a lot of spice myself. I remember growing up and thinking most toothpaste was "too hot". But man, do I love a nice bowl of Tikka Masala. The mild kind.
Now because this was a new dish and we all know that flexibility isn't always a preschooler's strong point (because dumping all the train pieces on the rug is) I started hyping this thing early in the day. On the way home from school I'm up in the front seat telling them all about the cool new dish we're having for dinner tonight. "It even has a fun name! Chicken Tikka Masala, Chicken Tikka Masala…"
Then I described all the ingredients. Sometimes we play "cooking show" where the kids sit at the breakfast bar and I explain how to make things as they watch me cook. These days they're  surprisingly interested in what goes into each dish. I told 'em. Chicken, tomato, lots of "flavors" (if I say "spices" that means spicy and you know where they stand on that), even yogurt.
My favorite part came later. As I was getting the bowls out and grabbing baby Violet's puree the kids were trying to say the name. There was my five-year-old, calling a huddle. "You guys, it's chicken TEA CUP masala," she explained. "You know, like at tea parties?" Estelle, who is three, looked at her suspiciously but in the end she went along. She's awesome like that.
This meal was not fast, and it required a million ingredients so I found it ideal to do during the baby's morning nap. BUT the slow cooker did all the work. I made some rice to go along with it, which you can certainly do ahead of time and a bunch of garlicky spinach, just cooked in a skillet. (Believe it or not, 2 of our 3 bigger kids actually love it.) Or combine the two with a pot of regular rice you just add a bit of frozen spinach to in the last few minutes. Then add a BIG heap of plain yogurt on top and swirl it in. Bonus: the yogurt will cool the whole thing off.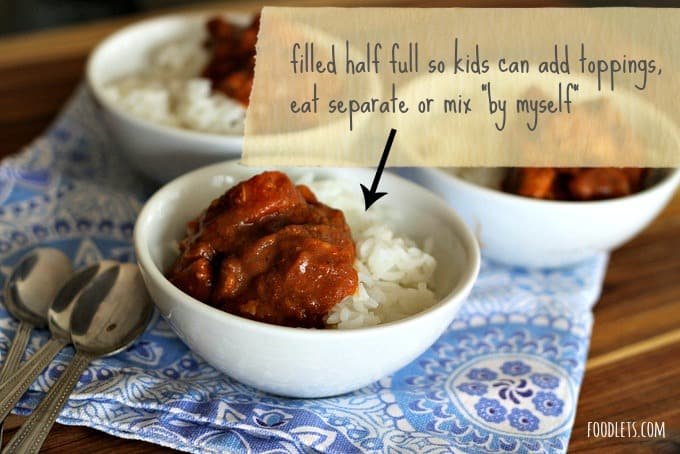 One more thing. I used 4 chicken thighs, 1 sweet potato and 4 carrots. I'm trying to reduce the amount of meat we eat in general and splitting a big pack of chicken thighs makes it go further, which is cheaper without feeling like it's less food. Chickpeas would also be awesome here. Plus, adding veggies makes it a one-pot meal which is really the least your slow cooker can do.
You'll need garam masala for this recipe, which you can find at most specialty food stores, like a local co-op, Whole Foods, or even online. It's a bit of an investment (my jar cost $4+) but I've used it three times now and there's still half of it left. AND you can't make this without it. What is this super special stuff that's cutting into your kid's college fund? According to the spice wizards at Penzey's, here's the official lowdown:
Garam Masala, a blend of savory Indian spices, is one of the few spice mixes actually used in India. It has no turmeric, so it isn't yellow, and is often added to hot or mild curry powder. The formula for Garam Masala was brought into the store by a Punjabi man who had moved to the U.S. It was his mother's recipe; in exchange for blending the spices for him, he gave it to us. His mother was proud to hear that her blend was a hit in America.

Mixed from: coriander, black pepper, cardamom, cinnamon, kalonji, caraway, cloves, ginger and nutmeg.
THE FOODLETS' RATING
3 Thumbs Up
No one wanted to try it initially. Everyone wanted their chicken "on the side" so I compromised. Then..
Phoebe (5) ate 2 1/2 bowls.
Estelle (3) ate her entire bowl immediately, saying "Well. I didn't know it was going to be delicious."
George (2) only liked the chicken, and the yogurt.
Paul (45) thought the veggies were a little squishy. I'd add them in the last 2 hours next time.
Print
One-Pot Slow Cooker Chicken Tikka Masala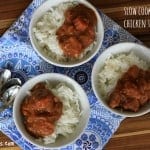 Make ahead idea: Prep everything the night before (don't forget the rice) and put the whole insert in your fridge. When you leave for work in the morning, put it on low. Everything will be perfectly done when you get home.
Author:
Prep Time:

15 mins

Cook Time:

8 hours

Total Time:

8 hours 15 mins
Ingredients
1 pound boneless, skinless chicken thighs, cut into bite-size pieces
1 large onion, finely diced
4 cloves garlic, minced
1-inch piece whole ginger, peeled and grated
2 tablespoons garam masala
2 teaspoons paprika
1/2 teaspoon cumin
1/2 teaspoon cinnamon
1/2 teaspoon pepper
2 bay leaves
2 teaspoons kosher salt
1 (28 ounce) can crushed tomatoes
1 (13.5 ounce) can unsweetened coconut milk
1 large sweet potato, peeled and cut into bite-size pieces
4-5 carrots, peeled and cut into bite-size pieces
lots of plain yogurt, to serve on top
Instructions
Put all ingredients into the slow cooker insert, stir and cook on low for 8 hours or high for 4 hours.
Optional: Reserve the carrots and sweet potatoes, adding in the last 2 hours. (If they cook the whole time, the sweet potatoes will be soft but I liked them that way.)
Serve over basmati rice with a BIG dollop of plain yogurt on top. Swirl the yogurt in to make it more creamy, and also cool the masala quickly.
Don't forget to like Foodlets on Facebook and sign up for our newsletter (at the top of this page) so you'll never miss a simple recipe or tip.
And if you've tested out this recipe, what do you think? Let us know! I'd love all the details too:
How many kids do you have? 
How easy was this dish to prepare? 
What did the kids say? Thumbs Up, Middle, or Down?
Would you make it again?