Just kidding. This breakfast peach crisp IS delicious. And just happens to be filled with good-for-you ingredients.
But I have four small kids and it's rare that they sit down for breakfast without mayhem swirling in behind them. Someone spills their drink. Someone touches someone else's chair. You know. You've fed kids in the morning.
BUT this delicious breakfast peach crisp is so good, all the rascals love it. Some prefer the crunchy bits on top, others go for the sweet, warm fruit. Fine with me! Everyone's fed, everyone's ready to tackle the day ahead.
Better than each other!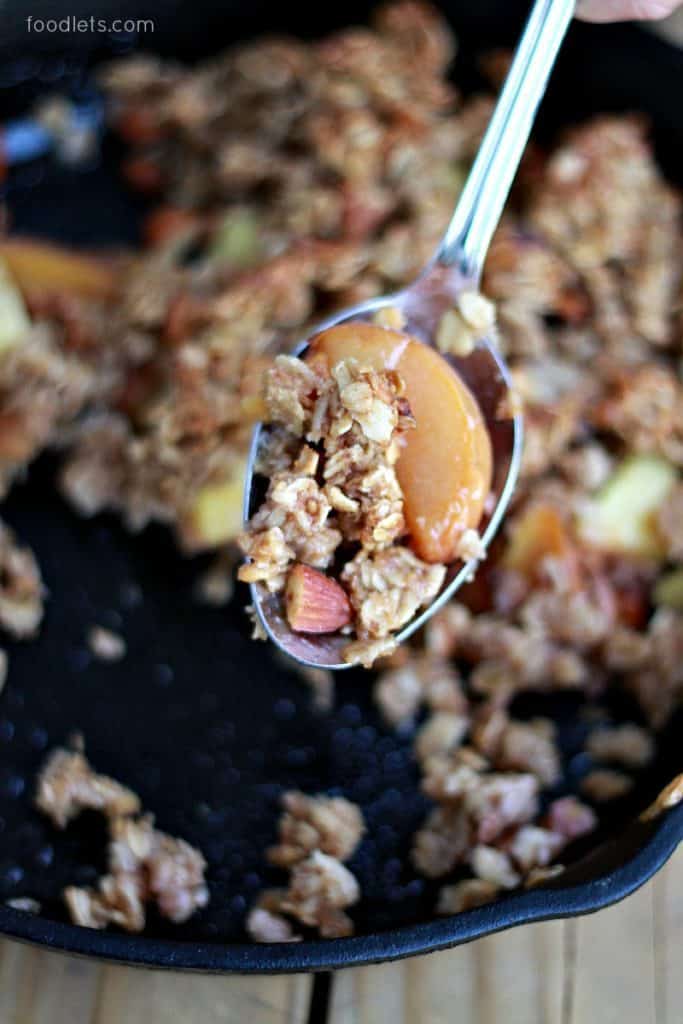 Shortcuts: 4 Ways to Make Breakfast Peach Crisp Easier
Make it the night before. This is a no brainer. Who among us has the gumption to take on anything beyond a couple of scrambled eggs before school? There's no sogginess the next day, just goodness.
Store it on the counter. There's no need to refrigerate this easy breakfast peach crisp. Just allow to cool. Wrap with foil and let it sit politely on the counter for your crew to come barreling into the kitchen in the morning.
Use any fruit. Even frozen. Or a combination of fruits.
Reheat in the morning. This breakfast crisp is delicious at room temperature but if your crew would prefer it warm, pop your breakfast crisp in the oven at 300 degrees somewhere between the first time you ask everyone to start getting dressed and the part where you start to wonder if you've accidentally been asking in Spanish. (About 20 minutes.)
For a special touch, drizzle a little whole milk or cream over the top. Irresistible.
Here's the recipe:
Print
The Easy Breakfast Peach Crisp Your Kids Will Sit Quietly and Eat Without Fighting Ever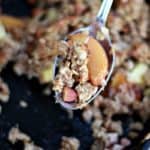 No chia seeds? Substitute wheat germ. Or flax seeds. Or just leave it out! Also, if you're in a hurry, use either brown sugar or maple syrup for both the topping and fruit.
Ingredients
1/4 cup coconut oil
2 tablespoons cinnamon
1/2 cup applesauce (I use 1 of the little snack containers)
2 tablespoons brown sugar (2 for the topping)
2 teaspoons chia seeds
2 teaspoons ground flaxseed
1/2 cup almonds, cut coarsely
2 cups oats
4-6 peaches, sliced but not necessary to peel
2 tablespoons maple syrup
Instructions
Preheat oven to 350 degrees F.
In a mixing bowl, combine peaches and 1 tablespoon of either sugar or maple syrup.
Prepare a pie dish or skillet with a quick smear of coconut oil.
Pour the peaches from the mixing bowl to the skillet.
Use the now empty mixing bowl, to combine everything else. Use your hands to sprinkle clumps of the oatmeal mixture on top of the fruit.
Bake for 50 minutes.
For more color as needed, broil for the final 2 minutes of cooking time.
Store overnight on a counter, covered in foil. Reheat at 300 degrees (covered) for about 20 minutes.
Want more simple breakfast ideas full of fresh ingredients kids love? If you like our breakfast peach crisp, try these other make-ahead favorite recipes for kids: