You know my rule about posting recipes here. At least three out of my four children have to give it a thumbs up.
But…
Sometimes I have to make an exception. Because sometimes those crazy kids just don't know.
I've made this carbonara for a dozen adults now and every single one of them LOVED IT. Second helpings, "Can I take some home?" loved it.
That's why I just have to post the recipe here.
If you've got friends coming over for dinner, make this pasta. It's creamy, dreamy, delicious and every single person who doesn't need a booster seat will be in heaven with bite number one.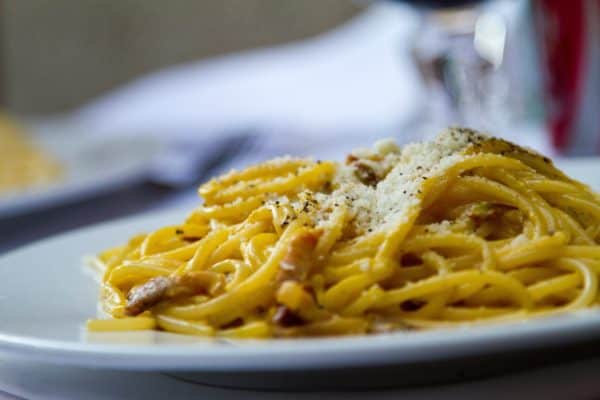 What you need to make country carbonara
3 Tips for making country carbonara
This classic Italian dish usually calls for ham but since this is a Carolina version, we're using bacon. Here are the tips you need to know:
Have two large pans working side by side: one to boil the water and the other to sauté your onions, garlic and bacon.
In a large bowl, combine the eggs, half & half and parmesan while everything is cooking. Doing this will make the cheese melt better in the hot pasta, plus reduce the chances of your eggs getting scrambled.
Keep a cup or so of your cooking water from the pasta. If your final results are too thick, you can always add a bit of that salty, starchy water to thin it out deliciously.
Print
Country Carbonara with Bacon
Author:
Cook Time:

15 mins

Total Time:

15 mins
Ingredients
Salt
1 pound spaghetti
2 tablespoons olive oil
1 small sweet onion, chopped
6 slices bacon, chopped
2 cloves garlic, grated
2 cups freshly grated Parmesan
1 cup half & half
4 large eggs
Freshly ground black pepper
Optional: Fresh basil, chopped
Instructions
Bring a large pot of water to a boil, add a handful of salt. Cook the pasta for 2 minutes less than the instructions on the box.
In a large sauté pan, cook the chopped onion over low heat until it starts to sweat. Add the garlic and bacon pieces, cooking until the bacon is crispy on the edges. Set aside and DON'T DRAIN THE GREASE.
In a large bowl, combine Parmesan, half & half and eggs.
Drain the pasta when it's ready, reserving a cup or so of cooking liquid (dunk a coffee cup into the pot and set aside.)
Pour the pasta into the pan with all the bacon, onions and garlic and use tongs to move the pasta until it's coated. (Or vice versa, adding the bacon to the large pasta pot if needed.)
Add the Parmesan mixture to the pasta and stir to combine.
Crack fresh black pepper (and basil if using) over the top and serve immediately.
p.s. Because it's so creamy, dreamy, this pasta carbonara pairs perfectly with our kale salad smothered in homemade balsamic-maple dressing.