There's only one thing better than a one-pot meal full of fresh ingredients: A one-pot meal that everyone LOVES.
That's this easy taco bake. A four-thumbs-up hit.
Our fresh taco bake takes a classic dish and gives it the Foodlets treatment: making it healthier, simpler and as kid-friendly as ever.
What's special about our best-ever taco bake
It's a one-pan wonder without a single extra dish to clean. I throw it all in my giant Le Crueset pan and it works like a dream.
Our taco bake is full of sweet potatoes and baby spinach and TRUST ME, they work beautifully in there.
This taco bake recipe makes a big batch, perfect for entertaining or feeding a crowd.
Everyone gets a lime wedge for personal squeezing. Now, I don't know the science behind it but  there's something very powerful about a lime wedge that makes kids excited to try their food.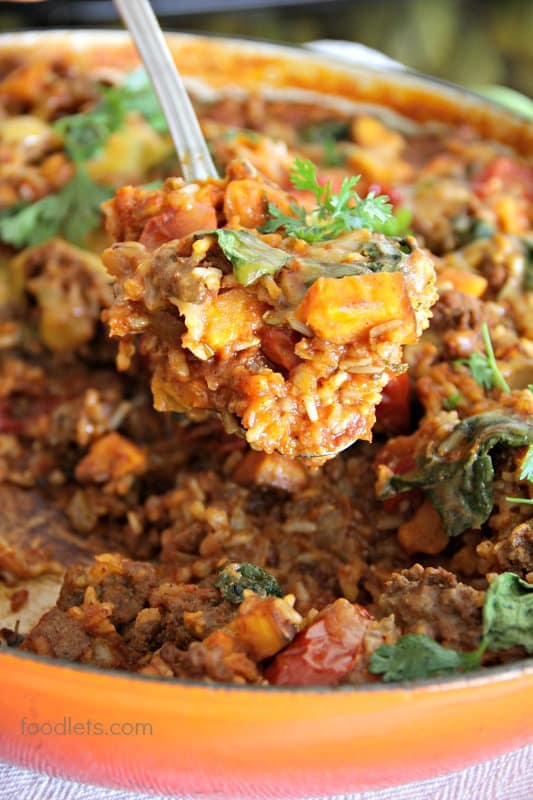 Equipment I use for our best-ever taco bake
Print
Best-Ever Taco Bake: The Taco Casserole Makeover (with Fresh Veggies) Kids Love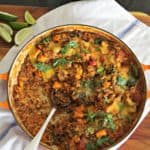 Author:
Cook Time:

50 mins

Total Time:

50 mins
Ingredients
1 onion, diced
2 sweet potatoes, diced (no need to peel)
1 tablespoon butter
1 pound ground beef
1 teaspoon salt
1/2 teaspoon pepper
2 teaspoons chili powder (or substitute with a taco mix)
2 teaspoons cumin
2 teaspoons garlic powder
1 28-ounce can tomato sauce
1 cup cherry tomatoes cut in half
2 cups brown rice, uncooked (or 3 cups cooked rice)
2 cups fresh baby spinach
1 cup sharp cheddar cheese, shredded
1/2 cup fresh cilantro
Serve with: lime wedges, Greek yogurt, extra cheddar cheese
Instructions
Preheat oven to 350 degrees F.
In a large saute pan, cook onions and sweet potatoes in butter until onions are soft, about 5 minutes.
Add ground beef and cook until browned. Drain off excess fat (or use a paper towel to blot the pan).
Add spices: salt, pepper, chili powder, cumin and garlic powder (or taco mix) and stir.
Add tomato sauce and cherry tomatoes plus 2 cups of water. Stir in uncooked rice. (If using cooked rice, skip the water.)
Cover and bake for about 40 minutes.
Sprinkle baby spinach and cheddar cheese on top, replace the lid and cook for another 10 minutes.
The dish is ready when the rice is fully cooked, about 50 minutes. Sprinkle with fresh cilantro and serve with Greek yogurt (or sour cream), lime wedges and extra cheddar cheese plus tortilla chips.
This post contains affiliate links. When you purchase something through them, Foodlets receives a small commission at no extra cost to you. Thank you for your support!