Lentils are so good for you! Full of protein and fiber (which kids often don't get enough of), the health benefits of eating lentils are huge. But today I want to talk about something else…
The best lentil recipe I've ever made.
We've done lentil soups here and there, but feels heartier. A main dish with just a bit of gorgeous sauce for dunking crusty bread.
These lentils are DELICIOUS.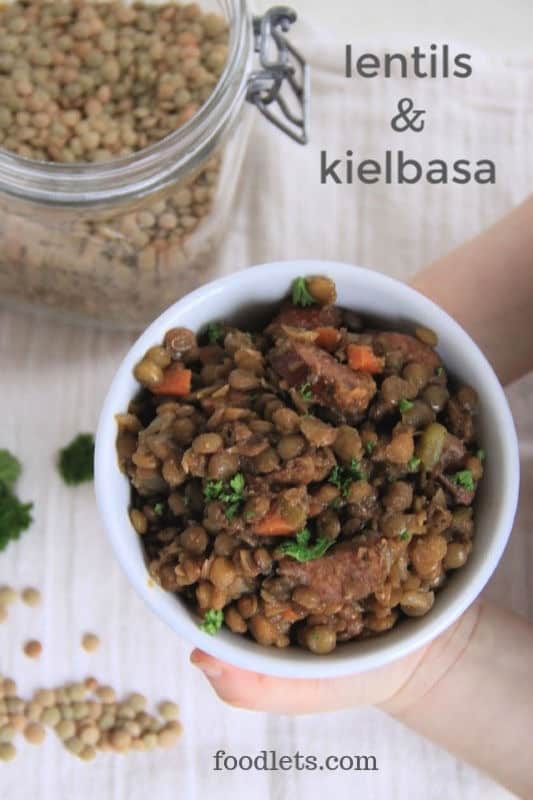 Lentils are also lucky.
Three of our four kids were born in Rome and Italians believe that eating lentils on New Year's Day brings wealth and prosperity. Why? Because lentils look like tiny coins. Money!
How to make the best lentil recipe: lentils with kielbasa
If you're going to make lentils, this is the best recipe. It's simple, cheap and feeds a crowd well. We started with our favorite kale salad drizzled with balsamic dressing and paired our lentils with homemade bread to dip in all that tasty juice.
Everyone loved it!
Here's the recipe…
Print
The Best Lentil Recipe: Lentils with Kielbasa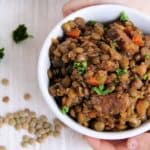 Author:
Prep Time:

10 minutes

Cook Time:

45 minutes

Total Time:

55 minutes
Ingredients
2 tablespoons olive oil
1 large sweet onion, diced
2 carrots, diced
2 stems of celery, diced
2 cups lentils, rinsed and drained
1/4 cup ketchup
4 cups chicken stock
1 pound kielbasa (we use turkey but any variety will do), sliced into coins then quartered
1 teaspoon thyme
1 teaspoon oregano
1 teaspoon salt
1/2 teaspoon pepper
2 teaspoons garlic powder
2 teaspoons red wine vinegar
fresh parsley, for serving
freshly grated parmesan cheese, for serving
Instructions
In a large stock pot, heat olive oil. Saute onions, carrots and celery over medium heat until soft. About 5-8 minutes.
Add ketchup and stir.
Pour in chicken stock, kielbasa and seasoning (thyme, oregano, salt, pepper, garlic powder). Bring to a boil.
Reduce heat and simmer for about 45 minutes. Stir every 5 minutes or so. If the liquid dries up, add up to 1 cup of water.
When the lentils are starting to get soft enough to eat, add the red wine vinegar and stir. Let cook off for about 5 minutes.
Serve with freshly cut parsley and grated parmesan cheese.
Want more ideas for feeding a family well?