I've made this healthier version of meatloaf for a total of 10 kids and 9 adults now and I'm pleased to say that everyone, except one holdout, loved it. #alwaysone
Even the kids.
Even the dads.
If you're looking for a way to boost nutrition (better for your bodies!) while lowering your family's beef consumption (better for the environment!), without sacrificing flavor at all, this is the healthy meatloaf recipe for you!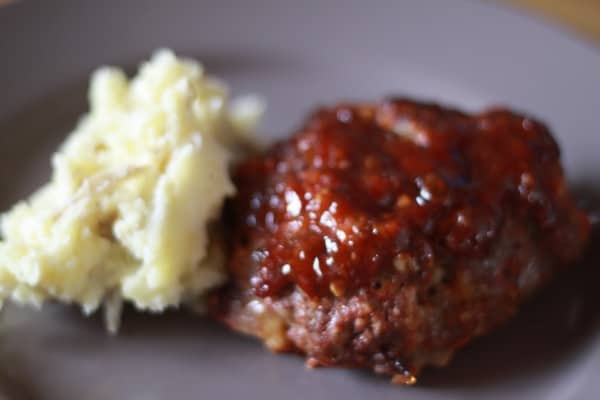 What I love about this healthy meatloaf:
It's full of vegetables and…mushrooms.
Instead of 2 pounds of beef, we replaced a full pound with fresh vegetables and mushrooms, much more than a traditional meatloaf recipe, adding another daily serving of veggies without even trying.
Mushrooms are so good for you!
I recently learned that mushrooms are nutritional powerhouses and I've been looking for ways to add them ever since.
You'll spend less money on ingredients.
Mushrooms cost a fraction of what beef costs. In fact, I used some of that savings to splurge on a pound of nice grass-fed beef.
We use whole oats instead of breadcrumbs.
Substituting whole oats means not having to buy a separate ingredient (we always have oats for this and this and this) plus there's a great fiber boost that keeps everyone feeling full longer.
Mini meatloaves cook much faster than one big meatloaf.
Instead of rushing to get a giant platter of meat into the oven to slowly roast for an hour, making 12 tiny meatloaves takes only about 25 minutes.
The Recipe: Healthy Mini Meatloaves
Print
The Healthier Mini Meatloaf Recipe with Half Beef and Half Mushrooms
This tiny version of meatloaf uses half the beef of a traditional recipe and cooks so much faster!
Author:
Prep Time:

15 minutes

Cook Time:

25 minutes

Total Time:

40 minutes
Ingredients
1 sweet onion, cut into big chunks
2 cloves garlic
2 carrots , peeled cut into big chunks (or about 1 cup of baby carrots)
2 stalks celery, cut into big chunks
8 ounces mushrooms, cleaned and sliced
1 teaspoon salt
1/2 teaspoon pepper
1 cup whole oats (not quick cooking)
1 pound ground beef
2 large eggs
1 tablespoon ketchup
1 teaspoon mustard
2 tablespoons Worcestershire sauce
1/4 cup chopped fresh flat-leaf parsley (optional)
Plus: 1/2 cup ketchup, 2 tablespoons mustard, 2 tablespoons honey and 1 teaspoon steak sauce for glaze
Instructions
Preheat oven to 375 degrees F. Use a convection setting if possible.
In a food processor, grind each of the vegetable separately. This will help them come together without becoming mush — or worse mush with lots of huge chunks of veggies that won't grind down. Start with the onion and garlic, pulsing to a very small dice. Pour the onion mixture into a large mixing bowl. Repeat with carrots then celery, emptying the food processor each time. Finally add the mushrooms and grind them before putting all chopped vegetables in the mixing bowl.
Add beef, eggs, oats and remaining ingredients (except for the glaze) to the mixing bowl with the finely chopped veggies. Use a spatula or your hands to gently work all the ingredients together.
Coat a baking sheet with non-stick baking spray. Use a large scoop or measuring cup to make 12 round meatloaves, placing them on the tray.
Combine the glaze ingredients in a small bowl. Use a pastry brush to top each meatloaf with glaze.
Transfer the meatloaves to the oven, baking at 375 degrees F.
After 15 minutes, baste the meatloaves again.
Bake until meatloaves reach an internal temperature of 180 degrees F, about 25 minutes with convection.
Keywords: meatloaf, mini meatloaf, healthy meatloaf, healthier meatloaf