This healthy oatmeal tastes like apple pie but don't let either of those phrases fool you: it's easy to make and politely cooks in the microwave for 6 minutes while you carry on about your morning.
Also, this healthy oatmeal is my kids' new favorite breakfast.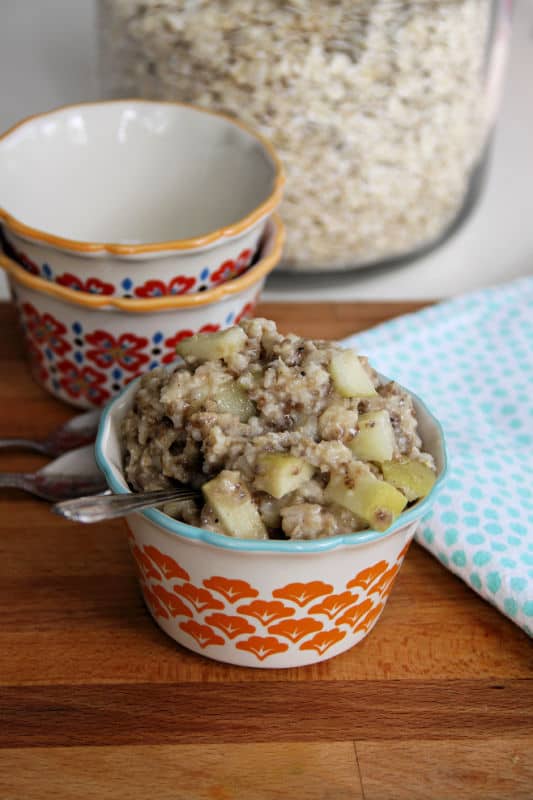 Packed with fiber and good-for-you extras like cinnamon and chia seeds, I feel great about serving it because I know the kids will be happy and full all morning long. 
Print
Healthy Microwave Oatmeal: Old-Fashioned Apple Pie
Rich in fiber and full of flavor, this oatmeal keeps kids full all morning long!
Ingredients
1 1/2 cups old-fashioned oats
1-2 Granny Smith apples, chopped (skin on)
1/2 cup unsweetened applesauce (one of those individual snack cups is perfect)
1/3 cup brown sugar
2 tablespoons chia seeds (or flax seeds)
1 teaspoon cinnamon
2 cups water
Instructions
Combine everything into a microwave-safe bowl and stir. (Don't worry if the cinnamon stays on top.)
Cook on high for 6 minutes.
Stir and serve.
p.s. Want more ideas? We just discovered The Healthiest Foods for Kids in nutritionist Sally Kuzemchak, M.S., R.D.'s new book. Plus 10 Ways to Get Kids to Eat Healthier Foods, the updates we made that changed our family's life.