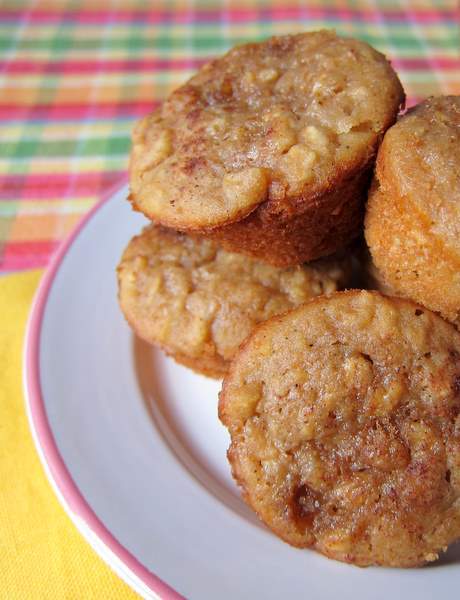 THIS IS A NEW ONE. Phoebe and Estelle like something that I'm just not that into. Because we still had a few cups of delicious apple butter at our disposal, Phoebe and I whipped up some muffins yesterday and I'll tell you this, the munchkins love them. For me it's a texture thing; I was hoping for something closer to a scone. These are very moist and full of fruit, almost like eating a baked apple with a little muffin around it. But since this site is called Foodlets and not Things I Like, By Charity.com, I'll just go with it. And I'm not kidding when I say they're kid-friendly. In the last 24 hours Phoebe has eaten six, Estelle four.
The recipe was simple enough, found on Cooks.com after doing a search for apple butter muffins. Their recipe called for applesauce and as usual I made a few substitutions but the whole thing was very easy and apparently very tasty for the under-three set!
OATMEAL APPLESAUCE MUFFINS
I added finely diced fresh apples but you could just use a whole cup of applesauce or apple butter instead
My favorite way to butter the pan is to smear softened butter on a paper towel and start swabbing one cup; then use the excess for the rest of the cups
Makes 3 dozen mini muffins
ingredients
1 cup old fashioned oats
1/2 cup buttermilk
3/4 cup apple butter or applesauce
1/4 cup finely diced apples (Gala, or Golden Delicious)
1 large egg, beaten
1 teaspoon vanilla
4 tablespoons vegetable oil
1/3 cup brown sugar plus more on top
3/4 cup whole wheat flour
1 teaspoon baking powder
1/2 teaspoon baking soda
pinch of salt
1 teaspoon cinnamon plus more on top
instructions
Preheat oven to 375.
Prepare muffin pans with butter or use liners. Combine the wet ingredients plus oats: buttermilk, apple butter or applesauce, apples, egg, vanilla and oil. Mix well and add brown sugar. Then using a sifter over the bowl, combine the flour, baking powder, baking soda, salt and cinnamon. Mix to incorporate but don't overdo it.
Spoon batter into prepared cups and top with sprinkled browns sugar and cinnamon.
Bake mini-muffins for 10-12 minutes if using diced apples. Check after 8 minutes if using only applesauce or apple butter.