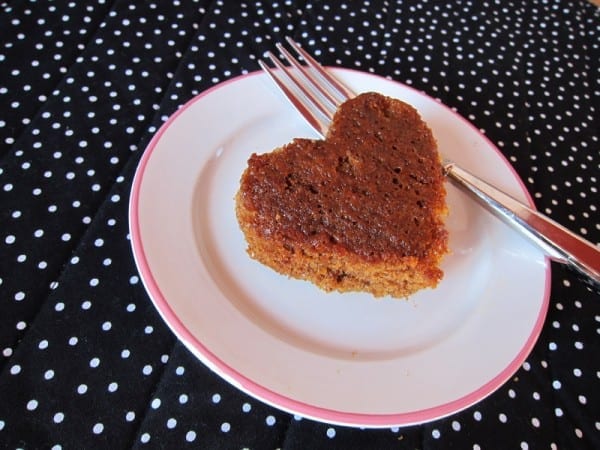 I MAY HAVE ACCIDENTALLY EATEN a whole cake this weekend. Yes, Phoebe helped and so did Estelle but really, it was my determination that got it done.
Our newest makeover is based on a recipe from David Lebovitz's book, "Ready for Dessert", one that may be his most beloved. "This is the most often requested recipe in my repertoire, and I've passed it on to many, many people," he writes. And after tasting it, even my wheat germy version, I can see why. Fresh ginger is the star of this show, followed by molasses which both lend tons of flavor, even when you take out half the sugar like I did. Other substitutions were simple: applesauce for half the oil, whole wheat flour and wheat germ for white flour, less black pepper for sensitive little taste buds, and honey for half the molasses (but only because our imported-from-the-States supply was low).
The original recipe, however, was a bit involved. We grated ginger, a task that proved more difficult than I expected. (It kept getting so stringy on the grater, so I resorted to dicing eventually.) We also boiled water before adding baking soda then stirred the whole bubbling concoction back into the batter. And finally we buttered a quarter sheet pan then added wax paper, another method I've never used. And for good reason. This wasn't the instruction at all. "Line a pan with parchment paper…" (Obviously tricky steps like this should be reserved for those who get a full night's sleep from time to time.) Anyway, despite my weird pan prep, everything worked out great…and certainly tasted delicious!
We'll make this one again, particularly during cold months where fresh fruit isn't quite in season. I'm starting to be a big fan of cooking in season, with more local ingredients but probably not as responsible about it as I should be (case in point:  upcoming banana cake pops for Estelle's first birthday!) but we'll get there.
In the meantime, I'll be eating cake. And it doesn't look like I'll be alone.
[nggallery id=10]

FRESH GINGER CAKE
Adapted from David Lebovitz's Ginger Cake recipe in "Ready for Dessert"
It's better to grate the fresh ginger than dice it because the little guys will detect even the smallest chunks of ginger in the final product; and it'll be "too spicy".
ingredients
1/2 cup fresh ginger, grated
1/2 cup molasses
1/2 cup honey
1/2 cup sugar
1/2 cup vegetable oil
1/2 cup applesauce
2 cups whole wheat flour
1/2 cup wheatgerm
2 teaspoons cinnamon
1/2 teaspoon ground cloves (optional)
3 cranks of freshly cracked pepper (optional)
1 cup water
2 teaspoons baking soda
2 eggs, room temperature
instructions
Preheat the oven to 350. Line a 9 x 13 rectangle pan or 9 1/2 inch round springform pan with parchment paper.
Peel and grate the ginger (a half cup should measure about 4 ounces). Combine the molasses, honey, sugar, applesauce and oil.
Bring the water to the boil in a saucepan, stir in the baking soda, and then mix the hot water into the molasses mixture. Stir in the ginger.
Set a sifter on top of the molasses bowl and gradually add the flour, wheatgerm, cinnamon, cloves and black pepper (if using), mixing intermittently. Add the eggs, and stir  until everything is thoroughly combined. Pour batter into the prepared pan and bake for about 1 hour, until a toothpick comes out clean or you can press your finger onto the top and the top springs back instantly. Note from the original recipe:  If the top of the cake browns too quickly before the cake is done, drape a piece of foil over it and continue baking.
Let the cake cool for 30 minutes, run a knife around the edges, lift cake from pan and remove the parchment.
MORE DECADENT RECIPES MADE HEALTHIER: