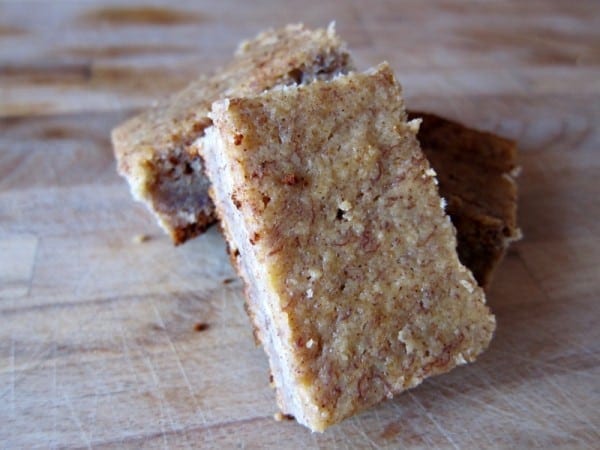 THE ORIGINAL VERSION, Banana Cake with Mocha Frosting and Salted Candy Peanuts, looks so amazing that I was tempted to bake the whole thing twice. And I still might. But for now, behold the oatmealy goodness that is the kiddy version of David Lebovitz's prize-winning banana cake. (And you'd better do it quick because it's almost gone…)
This weekend we were baking for a baby, or should I say a soon-to-be one year old, and in honor of Estelle's current favorite food (other than muffins), we went with a banana cake. But not just any banana cake. We're baking our way through David Lebovitz's incredible cookbook now, "Ready for Dessert", which was actually chosen with little E's birthday celebration in mind. (Come May, we'll focus on a gorgeous book by Dorie Greenspan, just in time to celebrate Phoebe's 3rd birthday!)
Estelle's very mature now that she's hit the twelve month mark and everything, but we're holding off on coffee, nuts and more sugar than she's had in her life collectively. Instead, Phoebe and I made a tasty banana cake with a few updates. Ground whole oats replaced a bit of flour, sugar was omitted and honey added, butter was reduced and replaced by white bean puree. The result: an excellent breakfast, flavorful dessert (especially with a dollop of Nutella on top for pregnant people with serious problems needs) and the makings of…cake pops. More on these soon, but for now, here's our new favorite recipe for bananas.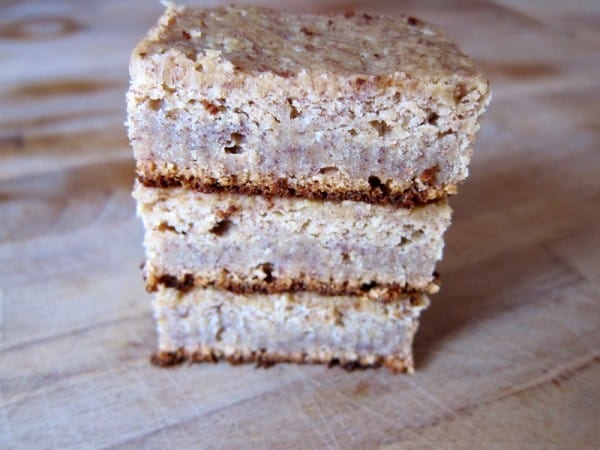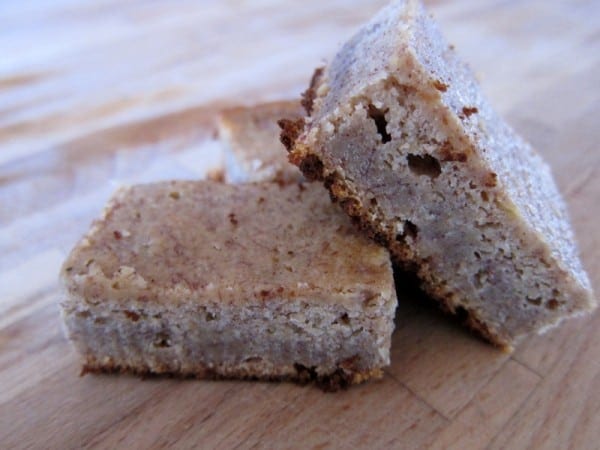 LOW-SUGAR BANANA CAKE (A FIRST BIRTHDAY CAKE IDEA)
Adapted from "Ready for Dessert" by David Lebovitz
Start with VERY ripe bananas, which will make all the difference in flavor. We used four large bananas with nearly brown peels.
ingredients
1/2 cup unsalted butter, at room temperature
1/2 cup sugar
2 large eggs, at room temperature
1/2 cup white bean puree
1/2 cup honey
1 teaspoon vanilla extract
1 1/2 cups whole wheat flour
1 cup whole oats, ground in blender OR oat bran
1 1/2 teaspoons ground cinnamon
1 1/2 teaspoons baking powder
3/4 teaspoon baking soda
1/2 teaspoon salt
6 tablespoons yogurt, at room temperature
2 cups banana puree (4 very ripe bananas)
instructions
Preheat the oven to 350. Butter the bottom and sides of two 9-inch round cake pans and line the bottoms with circles of parchment paper, or prepare a rectangle pan, 13 x 9-inches.
Use a standing mixer to beat together butter and sugar first, on medium speed for about 5 minutes. It should look light and fluffy. Add the eggs, one at a time, beating after each addition. Add white bean puree, honey and vanilla and blend.
With a sifter atop of your bowl of wet ingredients (or use a separate bowl and sift), combine the flour, oats, cinnamon, baking powder, baking soda and salt. Add sifted flour mixture to the wet ingredients in three stages, gently mixing in between. Finish with the yogurt and banana puree, incorporating all ingredients fully but without overmixing.
Pour into prepared pan(s). Bake until golden on top and firm to the touch. Or insert a toothpick; if it comes out clean the cakes are done. This should take about 40 minutes for round cakes and 45-50 minutes for one rectangle. Let cool completely.
MORE RECIPE MAKEOVER IDEAS TO TRY: