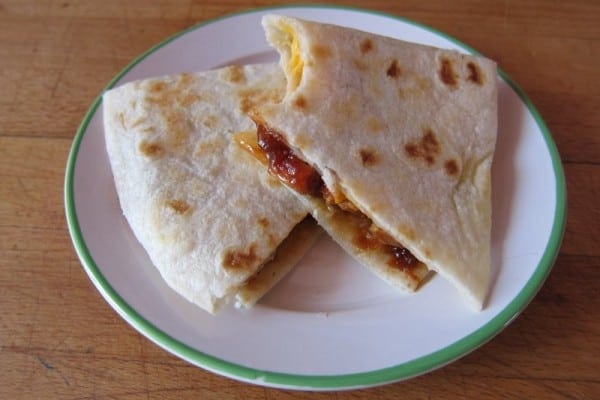 IT DOESN'T GET ANY EASIER. And in my condition (insane 36 weeks pregnant with number 3), there's nothing better. Using leftover pork roast, plus a little cheddar cheese, I diced my way to a simple dinner for four.
Sometimes I sneak in shredded carrots for quesadillas, but this time I served veggies on the side (carrots, zucchini and cherry tomatoes) with onion dip made from Greek yogurt instead of sour cream. Devoured. These girls inherited their dad's appreciation of all things salty and savory. Plus, quesadillas are such an easy sell with the under-three set. "These is kind of like pizza!"
The recipe is really just an idea, and a simple one at that, so use whatever you have on hand. More strategically speaking, use whatever works with your kids.
I heated a skillet, poured a small drizzle of extra virgin olive oil into the pan then added one flour tortilla. Diced pork, diced cheddar (I didn't even bother to shred it) and a couple tablespoons of BBQ sauce followed. Add top tortilla as a lid. Cook for about 4 minutes over medium heat until cheese starts to melt and tortilla becomes a little crisp.
Now, a note about flipping. Before you do, push down on the whole tortilla. I used the bottom of another pan. Make sure your bottom layer is getting uniformly toasted and the cheese is gluing the two pieces together. The whole process takes about 15 minutes including dicing and grilling. Cut into wedges.
Variations
Picky Eater Version: Quesadillas are so versatile, just fill one with whatever your picky eater enjoys. Cheese alone is probably a good place to start. Get him or her used to the presentation then add more adventurous ingredients over time.
Toddler & Baby Version: Dice the wedges for easy finger-to-mouth action or deconstruct the whole thing and feed the little one diced cheese and meat with a piece of bread or roll. Teething toddlers love gumming on cold, raw veggies but obvs watch them VERY carefully to avoid choking. Or grind up some meat, cheese and one veggie into a puree for babies. Sans BBQ sauce and onion dip…for now.